I'm Pansexual—Here's Why I'm Angry That I Have to "Come Out"
I've been an influencer/public figure for several years now. I started to identify as pansexual personally in early college, but it took me a few years to officially "come out" to my family and even more years to come out publicly.
For a while I didn't want to come out because:
It made me angry that coming out was this event I had to plan for
I'm very fortunate to have a loving family who is very accepting, but I was still nervous because I think that I was still searching for the right language to describe what I was going through
And there are all these labels — like we have to categorize even our preferences of love, when we are still figuring out who we are
Also – I saw many of my peers in the activism space who came out then being introduced/identified always with their sexuality, and I was worried it would detract from my work – an anxiety that was frustrating that I had to consider it in the first place
But learning more about history behind this day, and also LGBTQ history made me feel more inclined, interested, and proud to be who I am
Now, I'm regularly asked about it. While I am happy to speak on the experience and feel so supported by my personal circles, I'm frustrated that my sexuality is seen as a label that follows me everywhere. When we celebrate these terms and labels, it's a double edged sword because that pride is necessary, but we continue to establish heteronormativity. Today is National Coming Out Day, and I wanted to delve further into the history and my thoughts on this date.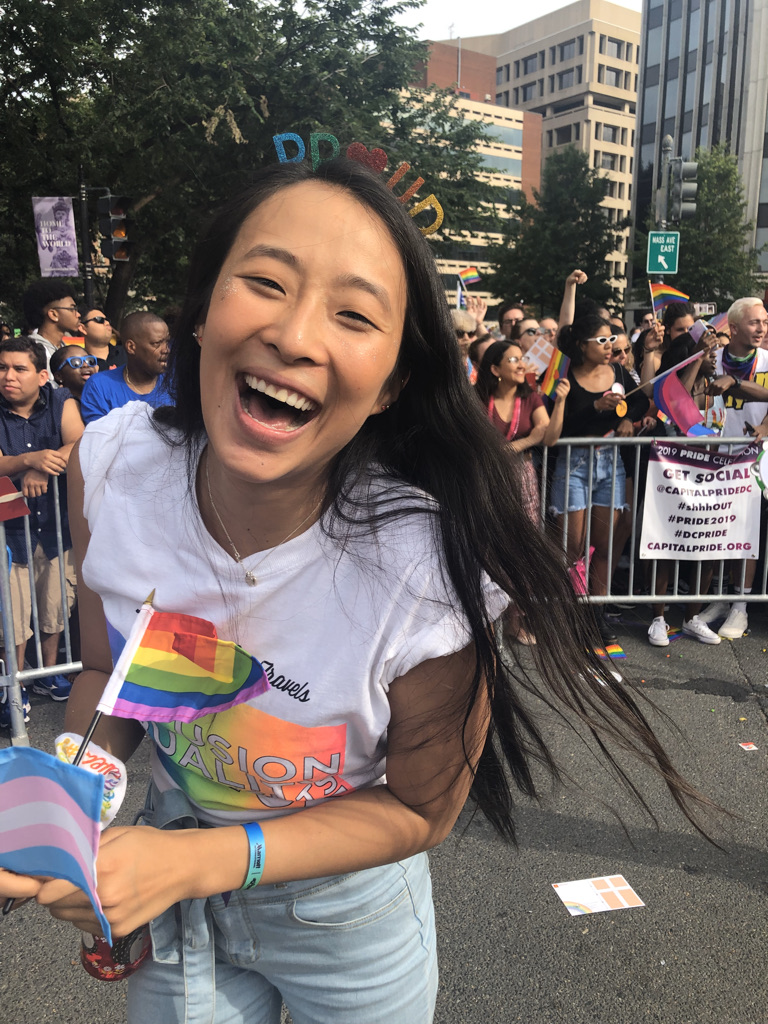 It's also important to note that October 11th is Indigenous People's Day and also the International Day of the Girl. In October alone, these are three different events highlighting the indigenous, queer, and women communities. We must recognize and honor the intersectionality of these three diverse spheres of identity, and use our efforts to uplift these marginalized communities. We must use this time to educate ourselves on the deep, nuanced history of each of these communities, as well as celebrate the progress that has been done and how much we still have to do.
The history of National Coming Out Day
National Coming Out Day (NCOD) is an annual LGBTQ+ awareness day observed on October 11th. It was inspired by the March on Washington for Lesbian and Gay Rights on October 11, 1987. Over 500,000 people attended the march, generating momentum to last for 4 months after the march had ended. During this period, over a hundred LGBTQ+ identifying individuals gathered outside Washington, DC, and campaigned to create a national day to celebrate coming out – this began on the first anniversary of their historic march. 
The idea of National Coming Out Day was proposed and finalized by Rob Eichberg and Jean O'Leary. At the time, O'Leary was the head of National Gay Rights Advocates. Eichberg, who would later die in 1995 of complications from AIDS, had said "the strongest tool in the human rights movement was to illustrate that most people already know and respect someone in the LGBTQ+ community," and NCOD helps these people come to light. The initial idea was also grounded in the feminist and gay liberation spirit of the personal being.
Over the last 15 years, the Human Rights Campaign has chosen a theme for every National Coming Out Day — 2014 and 2013 were both themed "Coming Out Still Matters," and the earliest theme (1999) was "Come Out To Congress." There have also been different spokespeople for each NCOD. Some notable names include "Frasier" actor Dan Butler and Candance Gingrich, half-sister of Newt Gingrich, in the 1990s.
NCOD continues to gain popularity and participants every year. Since its inception, countless public figures and celebrities have openly identified themselves as LGBTQ+, and yearly share messages of support and hope for those still "in the closet"
What is pansexuality?
As described in a Women's Health article, "'Pan' comes for the Greek word 'all,'" says Holly Richmond, Ph.D., a certified sex therapist and marriage and family counselor. "Pansexual is not bi-sexual, it's all sexual." That means a pansexual person could be attracted to a man, woman, a transgendered person, or a non-gendered person (a person who chooses not to identify themselves by gender), Richmond says.
There are a lot of misconceptions surrounding pansexuality, with many people even believing that it is a myth.
The biggest thing I'd want to say to my younger and even current self and others is that it's only for you to know your sexuality — you shouldn't have to prove it to anyone.
I've been in relationships/seeing people of all genders. At the moment I'm in a heterosexual relationship, and people ask often me if that means I am fully straight now.
Nope. I am pansexual and I will always be… and I don't owe proof to anyone.
By celebrating NCOD, we hope to continue its efforts to eradicate hate and homophobia with friends and family coming out to create a more loving environment for all.