Here's What Makes Bee-Infused Hemp Honey Different
[This post was created in partnership with Red Belly Honey. As always, we only partner with the brands we truly love and talk about the products we actually enjoy.]
We've come a long way from the sticky, impossible-to-fully-empty bear-shaped honey jars of our youth. Now, a spoonful of honey comes in a much more manageable snap pack—and it's packed with benefits for humans and bees.
Yup, there's a way to save the bees and sweeten your morning oatmeal at the same time. It all started with hemp-infused honey, with all the anti-inflammatory properties of CBD. Ready to be wowed? Here's why bee-infused hemp honey is a win-win for bees *and* humans. Plus, we'll share our favorite ways to enjoy this sweet treat from Red Belly Honey.
The origins of hemp honey
Hemp honey doesn't happen by accident. Red Belly Honey is the brainchild of Joline Rivera, a former creative director in the culinary world who smartly noticed the potential of high-end cannabis dining.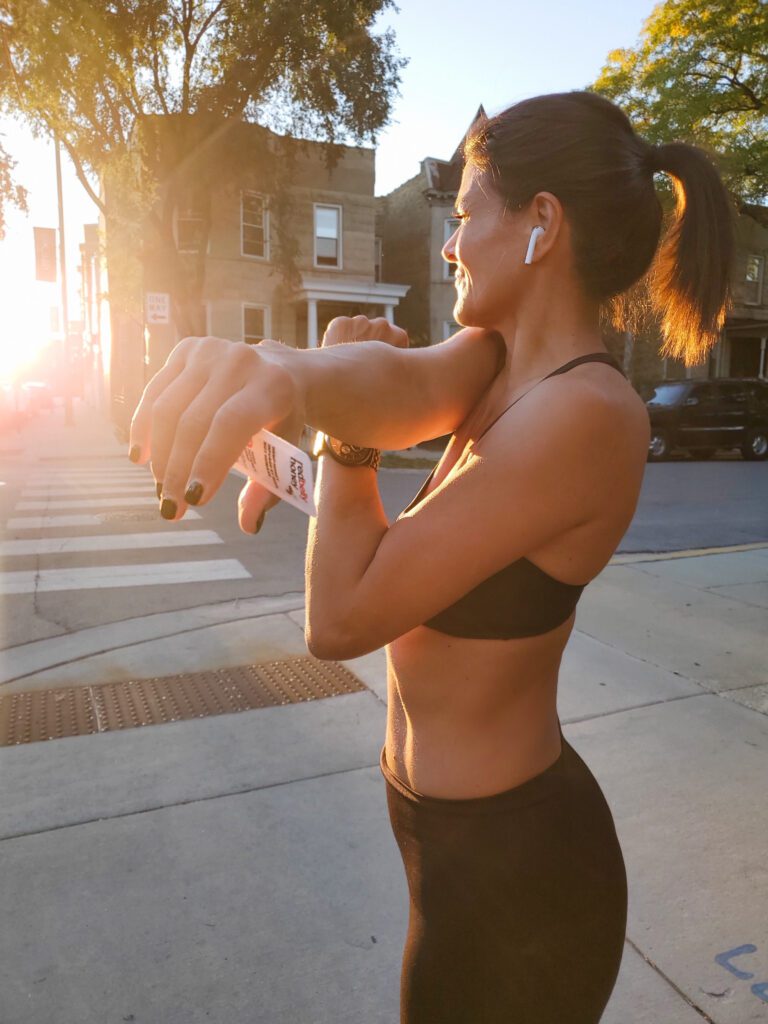 In fact, Rivera was so sold on the potential intersection of cannabis and wellness that she brought cannabis-infused chocolates to the bedside of her work partner's father, who was dying of lung cancer.
"You could see his face change," she remembers. "He relaxed more, he smiled more, he messed around with his grandkids. It was life changing for me. I was quite emotional, to be honest."
Inspired, Rivera asked her work partner, Nellie: "What if we take everything we know about food, flip it upside down, add cannabis, and teach people how to cook with cannabis for health and wellness?" With that intuition, they launched Kitchen Toke, a print and digital media company that took an editorial lens to cooking with cannabis.
As she became even more entrenched in the cannabis and culinary world, Rivera doubled down on the idea that we could do better than weed brownies and overly-flavored gummies. Serendipitously, Rivera learned about a company called Phytopharma who'd ideated and developed bee-infused honey.
"I read about them and no one was doing anything about it. So I tracked them down in Israel because I knew what a big deal this is, was, could be, and would be if I could bring it to market in the United States."
Together, Rivera and Phytopharma developed honey with a taste profile Rivera was confident would impress chefs and food industry professionals. In fact, Food & Wine endorsed Red Belly Honey in both taste and efficacy, says Rivera.
"They invited us to showcase at the Food & Wine Aspen Classic—arguably the most prestigious stage for the culinary industry," she explains.
Here's why it's so cool the bees are involved
Before you ask, Rivera wants you to know: no bees were harmed in the making of Red Belly Honey. In fact, quite the opposite.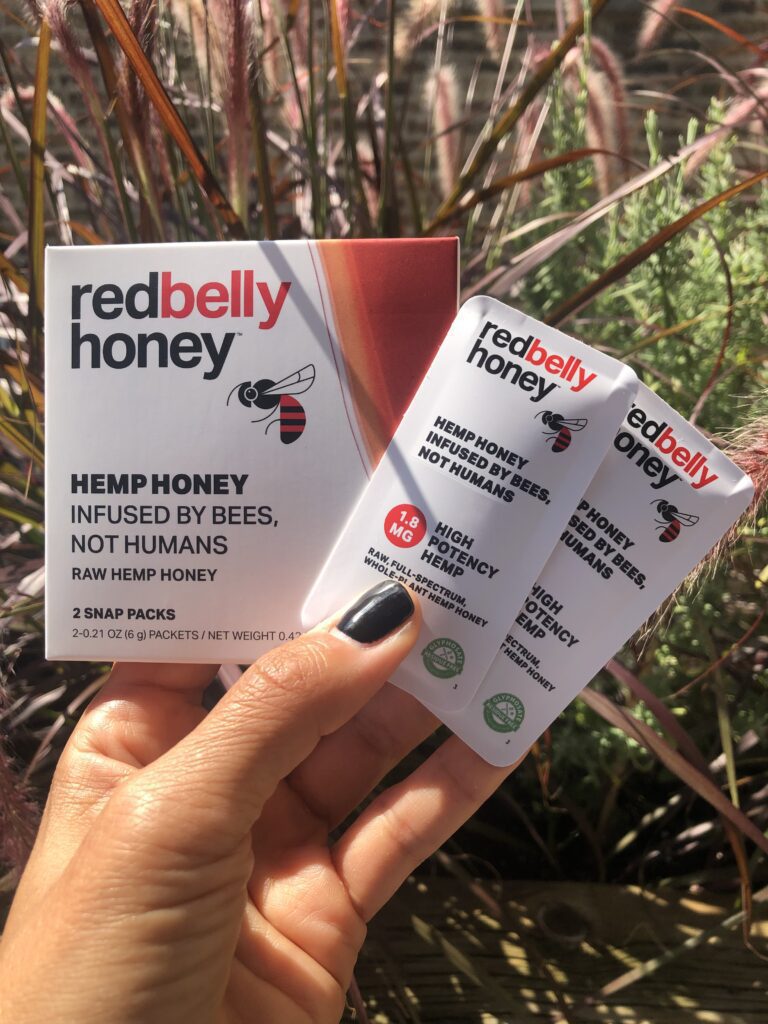 "We're actually adding bees to the environment," she says. "Our bees only make honey from June to August. We don't ship them or lend them out; they're on the same farm, all year long."
In fact, they've found that the bees are multiplying quicker than what's normal, because they're strong. And according to the Red Belly Honey website, "studies show that bees know instinctively what to eat for the strongest hives; they can forage nature for nectar but they prefer dining on the patented hemp CBD nectar to make our honey." Research also shows that hemp helps the bees fight off pesticides, giving them a longer life span and a better chance at survival.
The benefits of hemp honey
When you snap open a Red Belly Honey snap pack, you can relax knowing that it's filled with only the good stuff.
Says Rivera, "We're not adding anything to our honey. We spin honeycombs and jar it. Whatever the bee eats and puts in their belly, they deposit into the honeycomb cell—and that's what we're eating." So, no extra additives or unpronounceable ingredients.
And regarding the benefits of hemp specifically, it all comes down to inflammation.
"The biggest benefit of the hemp plant is anti-inflammation," says Rivera. "Injury and illness enflame our bodies. Hemp, as an anti-inflammatory, helps muscles relax and repair. It also helps you sleep, so you can recover, focus, and work out better."
Whitney Larson, head of Partner Relations at Red Belly Honey, has noticed the benefits of hemp honey in her active, outdoorsy lifestyle.
"Since COVID started, I have started cycling every day," she shares. "Having a ride first thing in the morning and following it with a smoothie with Red Belly Honey has been really nice. I don't get sore legs anymore, and I don't get wiped out from starting my day with a ride."
She also makes sure to stash a few snap packs when she's on longer hikes or camping trips.
"One of the first times I used the honey was after a three day ski camp," Larson recalls. "It was really intense and I was sore after the first day. I knew I needed to have strong legs and get a good night of sleep, so I used a snap pack at the end of the day for muscle recovery and a good night of sleep. I was fully recovered in the morning."
Try these 4 ways to include hemp honey in your daily routine
It's okay if you're drooling, we've definitely been there. If you're ready to give hemp honey a try, here are our Ambassadors' tried-and-trusted suggestions.
Evening tea. By far the most popular way to use a snap pack was in an evening mug of tea. Says one Ambassador, "I add it to tea at night. It's the perfect bit of sweet to balance it out."
However, if you're more of a morning tea or coffee person, you don't have to miss out. Adding hemp honey to your green tea or coffee can help you focus and reset your brain for a busy day. "I use it in my green tea and it's awesome," says Trice T.
Mixed with yogurt or oatmeal. "I drizzled it over yogurt with berries," says Lauren H, citing the great taste and single serving size as her favorite things about Red Belly Honey. Similarly, adding it to oatmeal was a big favorite (especially when paired with a spoonful of peanut butter).
On its own. Yup, no food or drink required. The snap packs are easy to eat on-the-go, and many Ambassadors admitted to trying it straight from the packaging. "I love it on its own as a little treat to start my morning," says Nimbe J. We like your style, Nimbe.
And when you're on long hikes or outdoor adventures, you don't need anything extra weighing you down. That's when the slim size of the snap packs come in handy for Kelly M.
"I used it on long hikes when I needed a little spike in my sugar levels to give me energy. The snap packs are such a smart packaging design that make it easy to pack, store and consume easily on a trail." The ultimate convenience, right?
Want to try Red Belly Honey for yourself? Use promo code ASWEATLIFE15 for 15% off until 10/31, and let us know—where are you taking your hemp honey?