CBD is having a serious moment—and it's not dying down anytime soon. People are using CBD for a variety of things, and it is pretty spectacular. I can say firsthand!
"People are using [CBD] to combat anxiety, help them fall asleep, to alleviate muscular aches and pains, skin inflammation, and to just overall chill out," says Brigitte Zeitlin, MPH, RD. And yes, you do feel awesome. Read on for the top benefits of using CBD.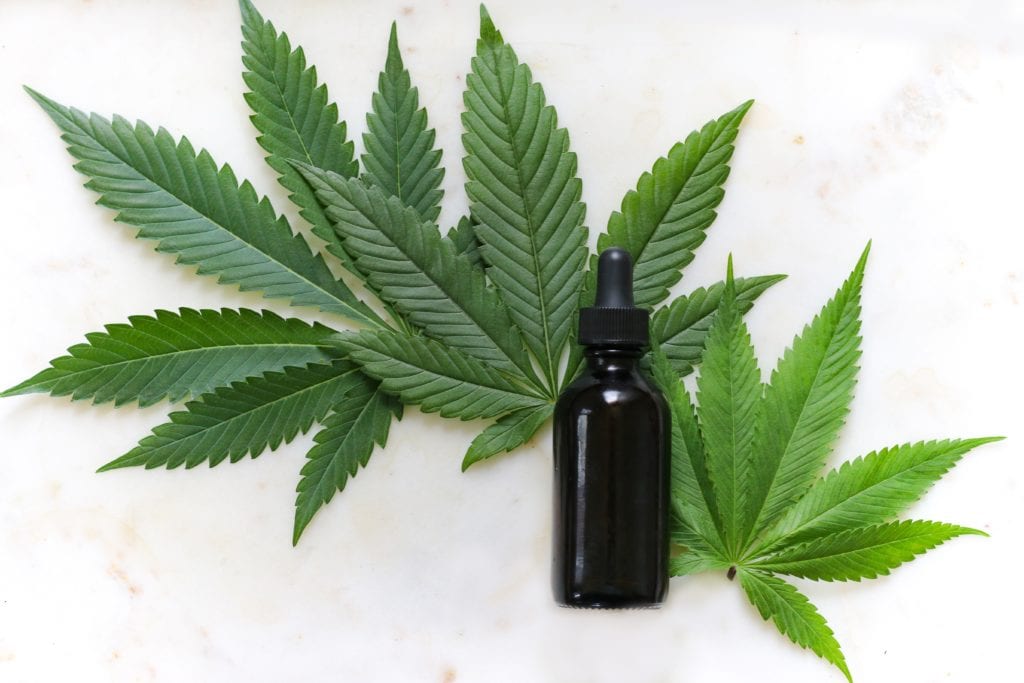 But first, how do I use CBD?
"You can get CBD in many different forms, from oils, to pills, to powders, to foods, to gummies, and lotions. Different forms will be better for you depending on why you are using it," Zeitlin explains. For example, if you are using it for muscle pains, joint pain, and arthritis, then you want to use a lotion to rub right onto the area hurting you. If you are using it to relieve anxiety, then the oil through a tincture or spray will be the quickest way for you to reap the benefits because your body will absorb that faster than in a food like a gummy or a coated pill or gel cap, she says. 
A pill gel cap would be great if you want to take it before you leave your house but feel the benefits about 20-30 minutes later—so this could be like when you're headed into a stressful meeting. 
Pick a brand and form that works for you based on the situation and quality.
"The brand I use and suggest to all my clients is Manitoba Harvest and their Broad Spectrum Hemp Extract products. This brand has been a leader in hemp foods. I'll usually take one of their gel drops 30 minutes before boarding a plane to help calm my flying anxiety and I love adding their Broad Spectrum Hemp Extract Plant Protein power to my smoothie and matcha lattes for a calming-balanced effect of the CBD plus a little extra protein for the day ahead," she says. 
And while more research needs to be done, there are some clear benefits that have been found. These are the awesome perks that may come with using CBD.
CBD can help you snooze
"Studies suggest that CBD can help you fall asleep and even more important, stay asleep throughout the night, helping to combat insomnia and sleep issues," Zeitlin says. So, take some before bed in whatever form works best for you and give it enough time to kick in before getting under the covers. 
CBD may calm you 
Most people seem to have started their CBD use for stress and anxiety reduction—and for good reason, as it seems to work.
"And research has linked CBD  (not marijuana with THC, just the CBD extract!) to helping to reduce anxiety for some people. It helps to calm people's anxious feelings in varying degrees depending on the person and the severity of the anxiety disorder," Zeitlin shares.
So, start off with a small dose and see how the effects feel. You can always go up from there if you need more.  
CBD might alleviate your pain
Rub some CBD lotion on your joints after a tough workout for better recovery and less pain. What's more, "some research has linked CBD to helping to alleviate chronic aches and pain in muscles, joints, and other pains throughout the body as it helps to calm neuropathic pain," Zeitlin points out. Think of it as a post-workout practice to keep your body free from injury or overuse.
CBD can help manage arthritis
If you have arthritis pain, taking CBD could alleviate symptoms.
"CBD has been linked to helping fight and reduce the inflammation that leads to arthritis and severe joint pain," Zeitlin says. Grab some lotion or a salve and lather it on.
"Applying CBD lotion to the area has been shown to calm the pain and inflammatory effects that come along with arthritis," she adds.