Better-For-You Halloween Candy That Actually Tastes Good
It's officially the most wonderful time of year. Fall is in the air, leaves are on the ground and Halloween is quickly approaching. While the Halloween candy is plentiful right now, all that sugar can make you feel kind of icky after eating it.
Don't get spooked. There's a whole crop of healthier Halloween candy out there that's low in sugar and free of artificial ingredients—while still being plenty tasty enough to satisfy your sweet tooth. Plus, many of these candies happen to be gluten-free and vegan too, making them the perfect option if you have dietary restrictions.
Here, we've put together a list of our favorite healthier Halloween candy to enjoy all fall long.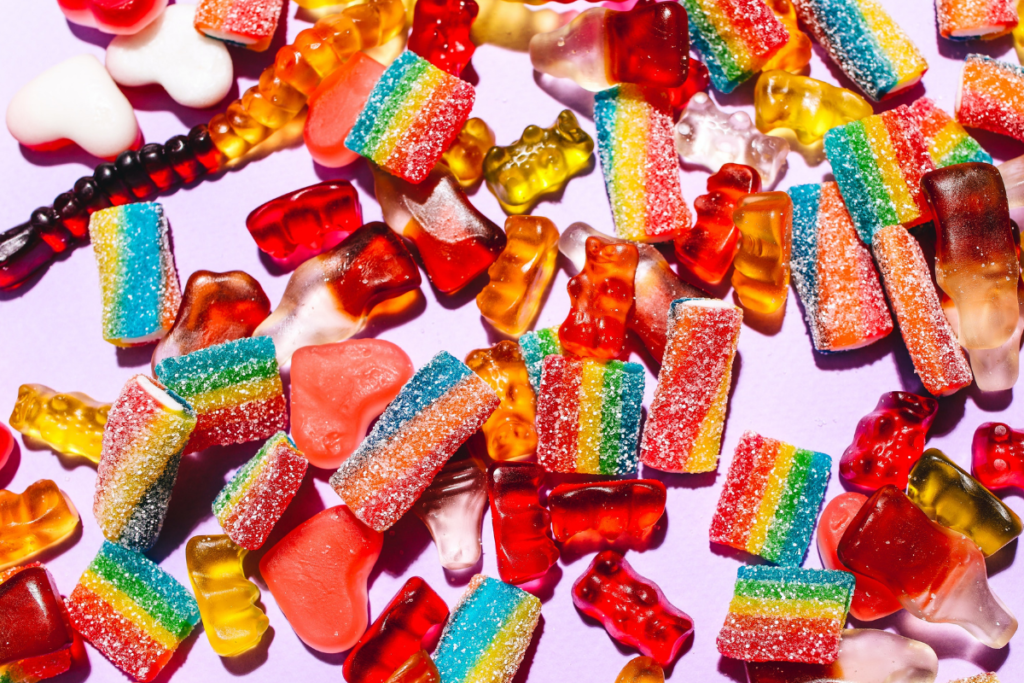 Unreal Dark Chocolate Peanut Butter Cups ($9.20, amazon.com): These are hands-down my favorite peanut butter cups (and one of my favorite candies of all time, tbh). They're certified gluten-free and vegan, made with real, organic ingredients, and contain only 5 grams of sugar per serving. I dare you to only eat one. 
Sourse Hype Bites ($34, trysourse.com): Get your vitamin fill while you snack with these high-quality dark chocolate bites that contain 250 micrograms of vitamin B12, as well as vitamin C, zinc, magnesium, and antioxidants. They're made with only a handful of ingredients, low in sugar, and allergen-free.
YumEarth Organic Candy Corn Snack Packs ($14.97, amazon.com): It wouldn't be Halloween without the candy corn, right? This organic version of the classic candy is free of high fructose corn syrup and artificial dyes. It's also free of peanuts, gluten, tree nuts, milk, eggs, and soy. Instead, it contains organic, non-GMO ingredients and is sweetened with organic cane sugar and colored with annatto.
Gigantic! Hazelnut Cafe Sortasweet Candy Bar ($27.99, giganticcandy.com): Remember how it felt to snag a full-size candy bar while trick-or-treating? That was pretty much like hitting the jackpot. This candy bar will bring back those good memories without causing a sugar crash. Made with Fair Trade organic dark chocolate and only 7 grams of sugar, this vegan, hazelnut latte-flavored candy bar hits the spot.
Lily's Sour Gummy Worms ($2.78, walmart.com): Use these gummy worms to create a creepy yet delicious dirt cup this Halloween. The two flavors, lemon raspberry and apple peach, are tart and tangy with less than 1 gram of sugar per serving. The gummy worms are botanically sweetened with a stevia blend and colored with natural ingredients like apple and carrot.
Tazzy Sour Watermelon Lollipops ($18, tazzy.co): Dress up like Olivia Rodrigo and get your sour fix this Halloween with these sour watermelon lollipops that are vegan and gluten-free. They're sweetened with stevia and contain natural colors and flavors for an out-of-this-world taste.
Russell Stover Roasted Almond Dark Chocolate Bar ($4.29, target.com): If you used to hoard all of the chocolate bars with almonds in them in your Halloween basket, then you'll love this almond-filled dark chocolate bar made from Fair Trade, organic, non-GMO ingredients. It's sweetened with stevia and is keto-friendly to boot.
SmartSweets Sweet Fish ($3.49, target.com): These vegan, gluten-free, fish-shaped gummies are so much more than a basic Halloween candy. They're sweetened with allulose, a non-artificial sweetener, and even contain 13 grams fiber per serving, meaning they actually make for a filling snack.
Little Secrets Milk Chocolate Crispy Wafers with Sea Salt ($27.99, amazon.com): These crispy wafers will have you reminiscing about your favorite crunchy candy from when you were a kid. Except, this updated take on a classic Halloween treat has no high fructose corn syrup, no artificial flavors, and is made with Fair Trade chocolate. Bonus: You can also use the wafers in baking recipes.