How To Mentally Prepare For A Return To The Office
Companies across the country have been asking themselves the looming question: Should we or shouldn't we have our employees come back to the office? With the delta variant in mind, some — including big-name employers like Microsoft, Google, and Facebook — have delayed a return to in-person work. Others have opted to return to the physical workspace.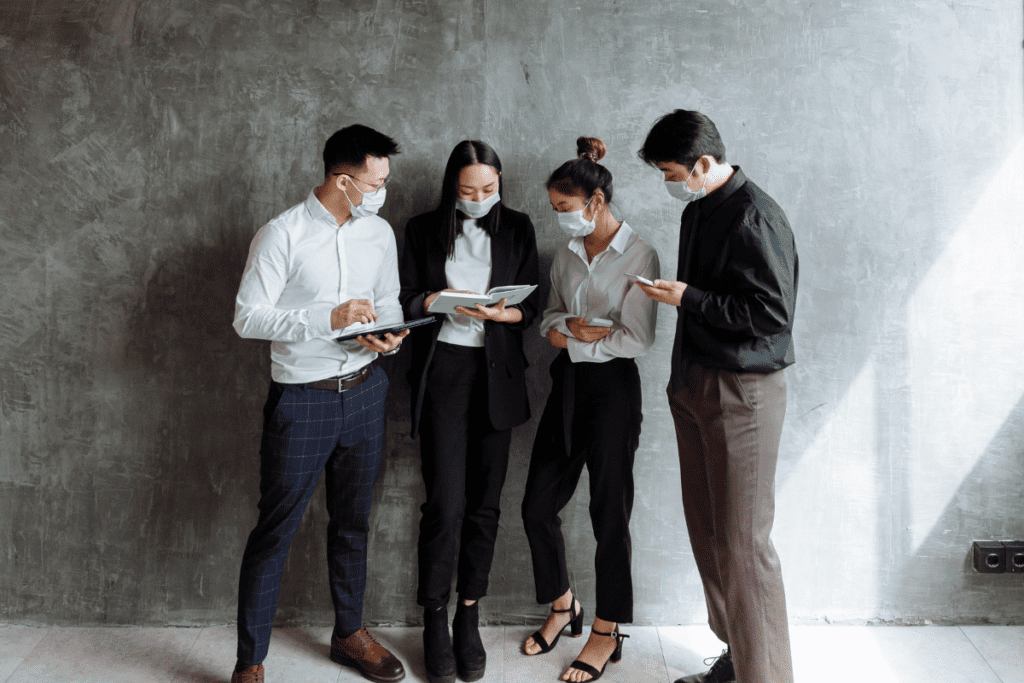 Why we're feeling anxious about returning to the office
If you're in the latter category, heading back to pre-COVID work life may be a bit daunting. And that makes sense. For some people, it's been more than a year and a half since they went into an office every day. In fact, a recent Harris Poll survey found that employees have multiple concerns about returning to work, such as losing the flexibility they have while working from home and making small talk with coworkers again.
Dr. Timothy Yen, a psychologist with a doctorate of clinical psychology, elaborated on the survey results. In addition to a fear of catching COVID at work, "there is a paranoia about not knowing who to trust and returning to the office adds to that stress," he said. If you have a family, "there is the possibility of kids being sent home … and being in the office makes it more challenging to address these sudden changes compared to working at home," Yen noted. Plus there's wearing a mask at the office, adjusting to the social scene again, and a general change in work-life balance.
Camille Tenerife, a licensed marriage and family therapist in the Los Angeles area, summed it up nicely: "Any type of transition can be nerve-wracking since there is some uncertainty behind it." When you return to work after a vacation, you usually know what to expect; but due to the pandemic, you're now returning to a changed atmosphere, Tenerife said.
How to mentally prepare for returning to the office
If you're feeling anxiety or nerves about shifting back to in-person work, the experts have some advice. Here's what they shared on how to mentally prepare for a return to the office.
Note your feelings. "Acknowledge your stress and worry," said Yen. Rather than pushing your feelings aside or pretending you don't have them, it's key to accept whatever feelings you may have. "Self-validation for these emotions will promote greater mental health and open up the dialogue for better problem solving," he added.
Know what's within your control. Yen also pointed out that you should keep track of your duties and stressors. "Categorize them as things within your control versus things outside your control," he said.

Think about how you usually handle transitions. This suggestion comes from Tenerife, who posed numerous questions to ask, such as "What has helped you navigate change in the past?" and "What has helped you cope with the uncomfortable emotions?"

Manage your expectations. "Things are not going to be exactly the same as the last time you were in the office," Tenerife noted. "Try to stay open to what this new setting is going to be!" Changes could include everything from new policies to a new workspace to new colleagues.

Stay present. Our minds frequently go to the worst-case scenario, said Tenerife. While this can lead to anxiety, it's key to be in the current moment. She suggested asking yourself three questions: What am I thinking? What am I feeling? What am I doing? "By focusing on these questions, you take your brain away from your imagination and bring it back to what's currently happening and what's in front of you," Tenerife said.

Practice self-care. Whether it's taking a long bath, working out, journaling, or something else entirely, don't neglect this part of your life. "Making self-care a priority will help create space to address [your] emotions in a healthier manner," Yen said. "Depending on the emotion, it will point to specific unmet needs."

Communicate. Both Yen and Tenerife noted the importance of keeping in touch with friends and family members for support.
Have you returned to your pre-COVID office environment? If so, how did you mentally prepare for the shift to in-person work? Share your experience with us in the comments!