Why Chomps Saved Me From My Own Hunger During #SweatworkingWeek
[This post was created in partnership with Chomps, the meat stick made of ingredients we trust. As always, we only post about the products that we actually love. And because relationships come with perks, you can
get Chomps for 20% off with code SWEATLIFE
.]
#SweatworkingWeek is a high-production week, meaning that our team leaves our laptops and cushy home-office set-ups to do hard labor for a week. We lift, schlep and sweat for days on end. Every #SweatworkingWeek – even though we're surrounded by a literal mountain of snacks – our team has a tendency to go, go, go until suddenly we're famished. It's a kind of famished that my family used to call "Red Bear" when we were on road trips. Think of it as hangry, but packed inside a fast, mean grizzly. Avoid an encounter with a red bear at all costs.
Every time we host #Sweatworking week, every team member has a snack we know will get us through a red bear meltdown.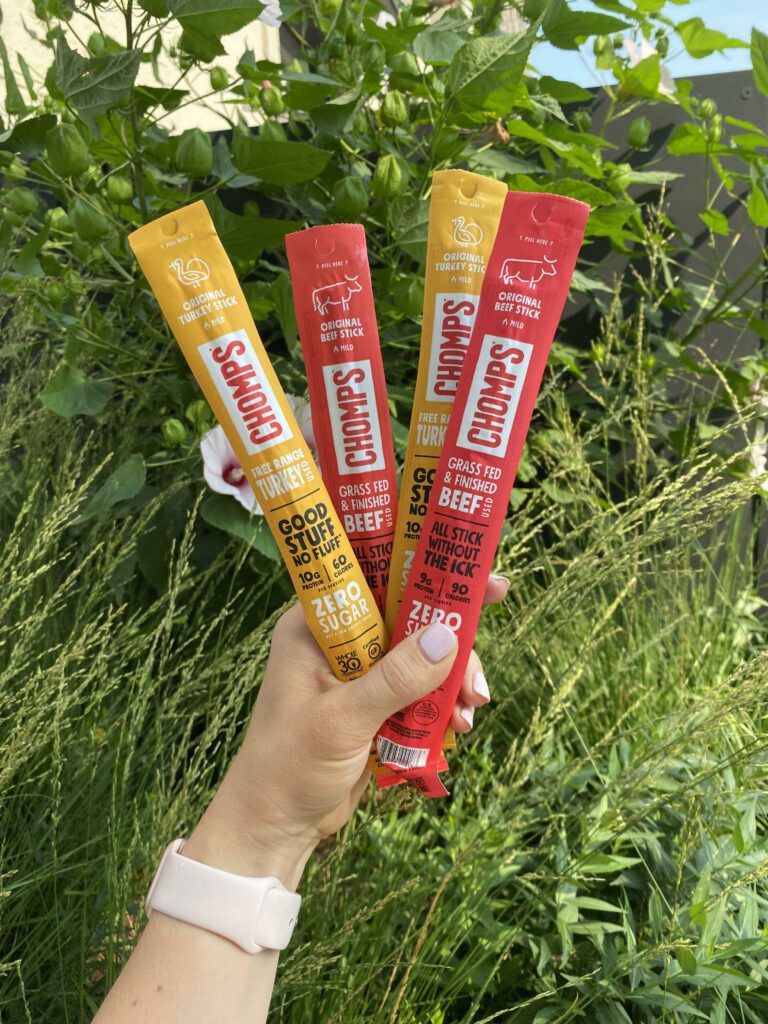 Because of a tricky colon (I used to have a whole colon, and now I do not) and a year of serious tummy troubles that followed, I recently adopted an anti-inflammatory diet under the guidance of a Registered Dietitian I know and trust to try to stop the flare-ups. I hate rules and limitations more than the average human, but I have to tell you, I haven't felt this good in almost a year. I'll dry-scoop turmeric and give up processed sugar, gluten and dairy to stop the nights awake doubled over in excruciating pain.
Because of this, when I'm out of the house and away from my fridge, I can't be as laissez-fare as I used to be PC (pre-colon surgery) about what I'm eating in restaurants and what's inside of my packaged goods. It's imperative that I know what's in my food to stay in an upright position. My husband thinks I should find a GI doctor, but I think I'm handling it just fine.
During #SweatworkingWeek, we couldn't afford to be down a teammate during our busiest week of the year. And when my colon is enraged, it's a one-day ordeal, minimum. I knew I could trust Chomps, with simple ingredients and none of the stuff I can't have.
And that's something that the founders of Chomps talked to us about on our podcast, #WeGotGoals – they were sick of the junk in food. Co-founder/CEO Pete Maldonado, got a little worked up when he said that, frankly, it pisses him and co-founder/COO Rashid Ali off when food is filled with junk.
And that's evident in the care they put into their ingredients, supply-chain, and the farms they work with. One look at any of the Chomps wrappers in my car or backpack and you'll see, they're Non-GMO Verified, Whole30 Approved, Keto-Certified, Certified Paleo, and Certified Gluten Free.
And best of all, my stomach still feels incredible.