5 Tips for Wedding Guests with Dietary Restrictions
After many couples delayed their nuptials due to the pandemic last year, wedding season is now back in action. While one of the best parts of going to a wedding is stuffing your face during cocktail hour and the reception, this can actually be a stressful experience if you have dietary restrictions or food allergies.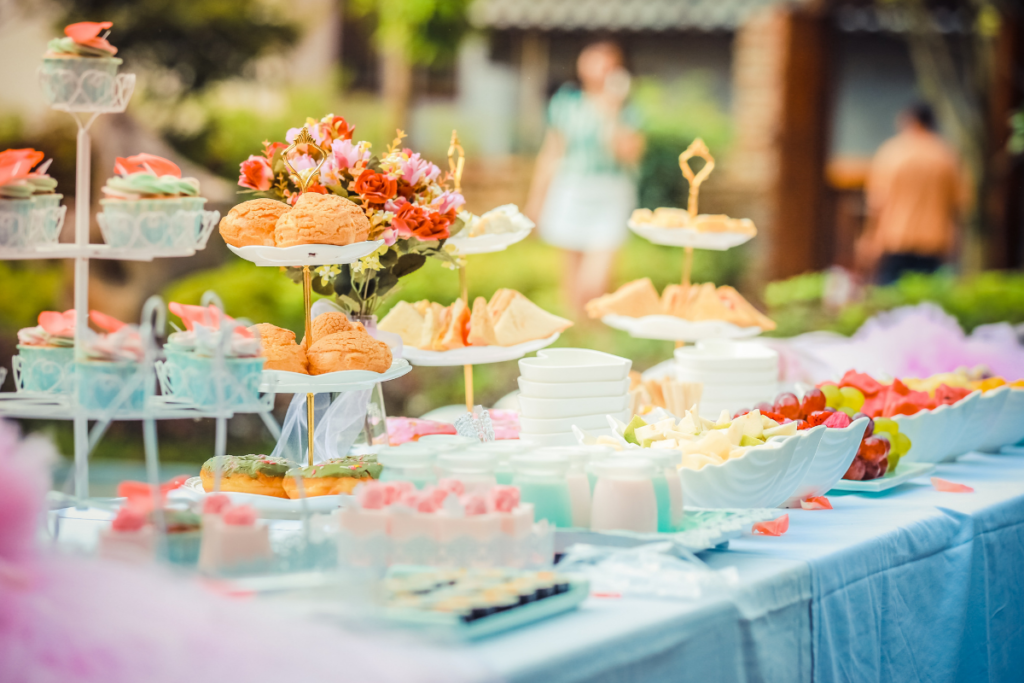 I say this from experience. I recently attended my first wedding since being diagnosed with celiac disease in early 2020, and I had a lot of anxiety leading up to the big day. Luckily, I learned a few strategies that made navigating the experience easier—and I even spoke with a few nutrition experts to get helpful info if you're in the same situation. 
Here are the best survival tips for wedding guests with dietary restrictions. Plus, bonus advice for couples on how they can accommodate guests with food allergies or intolerances. 
Make note of your dietary needs when you RSVP
"Some wedding invites have you determine your main entree or dietary needs when you return your RSVP," says Jamie Lee McIntyre, RDN, nutrition expert and communications consultant at JamieLeeRDN.com. "This is a great time to take advantage of their thoughtfulness and alert the kitchen of what you need." 
If the wedding invite doesn't ask you to select your preferred meal or write down your dietary needs, then check in with the soon-to-be-married couple about the menu.
"Reach out to the bride and groom and ask them what food is going to be available," suggests Erin Heidenreich, RD, founder of The Celiac Space. "That way you know what you're walking into and what you're working with—and then you can plan based on what you know is going to be provided."
Chat with the wedding venue's chef
You can also reach out directly to the wedding venue and chat with the chef to see what kind of options they might have for you.
"Whenever you are out to eat and are actively managing a food allergy or dietary need that determines your health, ask to speak to the chef," says McIntyre. "The chef in the kitchen will be able to assist you in identifying safe practices in the kitchen and can also discuss your comfort level regarding cross contamination."
Even if you know the menu already has an allergy-friendly selection to choose from, it's still good practice to inform the server and chef of your needs so you can truly enjoy the event, adds McIntyre.
Stick to foods you know are safe for you
Depending on your particular dietary restriction or food allergy, some meals might be safer than others to eat at a wedding.
"Fish is typically made with more simple ingredients and could be a safe choice for a protein," says Erin Lisemby Judge, RDN, owner of Gutivate. "You can also request for proteins to be made plain, without any added ingredients that may contain what you are avoiding." She adds that steamed veggies are also typically safe. 
If you follow a gluten-free diet like I do, Heidenreich suggests picking foods that are naturally gluten-free because this will reduce the risk of any cross-contact. (Cross-contact happens when a gluten-free or allergen-free food is exposed to a gluten-containing or allergen-containing food, making it unsafe for you to eat.)
To avoid cross-contact, Judge says it's best to avoid shared apps, trays that rotate with different food options, and shared serving utensils. These scenarios all carry a high risk.
"You should also not assume that a dish is free from an allergen simply by appearance," says Judge. "Instead, ask the staff about the ingredients and the allergen you are concerned with."
Pack lots of snacks
Let's say you've had a conversation with the chef to ensure you can get a safe meal at an upcoming wedding. Nothing's guaranteed, so it's always a good idea to come prepared just in case that meal doesn't work out. 
"You don't want to put yourself in an uncomfortable situation where you're so hungry that you have to eat what's available, even though you're not sure it's safe," says Heidenreich.
The solution that worked for me as a recent wedding guest—and that all of the experts I interviewed recommended? Bringing a few small snacks with me. I also ate a late lunch so I wasn't starving come wedding time.
If you know that you won't be able to get a safe meal, or you aren't sure about it, Judge advises you "prepare to eat a meal before you go and bring a snack that will be safe and filling during the reception." She adds that you can also prepare to pick up a meal on the way to the wedding or bring something from home that you can eat at the reception.
Sure, I felt a little silly carrying a pack of chicken jerky, bag of chips, and a chocolate peanut butter protein bar in my evening clutch. But, the snacks came in handy during cocktail hour and dessert, when I wasn't totally sure if anything was safe for me to eat.
Heidenreich recommends snacks that you can easily stash in your purse, like bars or nuts. McIntyre likes the granola bars and protein bites from Enjoy Life, a brand that makes products free of the top eight allergens, as well as the applesauce and pudding pouches from GoGo SqueZ. 
"Because the items do not require refrigeration, they can be saved and enjoyed later if you end up finding the fresh food served is a good option for you," she says. "They're also portable and mess-free to enjoy on the go between the ceremony, cocktail hour, and reception."
Try not to stress
Weddings are supposed to be fun, so don't spend all your time stressing about what you can and can't eat. (And remember: Stress can negatively impact digestion!)
"Do what you can to work around your restrictions, but don't forget about enjoying your time," says Judge. "If you bring your own food or snacks in order to avoid the stress that will take away from your night, that's a success."
Bonus tip for couples planning their wedding
If you're the one getting married, there are a few easy steps you can take to help make wedding guests with dietary restrictions or guests with food allergies feel more comfortable while they celebrate your relationship.
For example, Heidenreich, who's currently planning her wedding, has a section on her RSVP card that asks if guests have dietary restrictions. "If they say yes and they tell me what it is, I'll reach out to them and tell them what we have provided and try to work through anything we can to help give them a safe meal," she says.
Judge adds that you can ask your caterer to correctly label food with ingredients for your guests. You can also ask if they can prevent cross-contact for the most common allergens, like wheat, tree nuts, and peanuts.
"If you want to be the most accommodating, choose an allergen-free menu," she says.
The bottom line on navigating weddings with special dietary needs
"It can seem overwhelming to many to travel and dine out as a wedding guest managing a food allergy or special dietary need, but remember that you are not the first person to be doing this and you will not be the last," says McIntyre. "Many have come before you and therefore restaurants, venues and wedding planners already have much of this in mind when planning events." 
With a little planning and preparation, you can have a fun and safe celebration with loved ones.