Five Communal Eating Ideas to Try With Your Crew
After more than a year of cancelled barbecues, Zoom dinner parties, and treading cautiously around any sort of group dining experience, I'm more than ready to be able to sit around a table with friends and family. While there's nothing like a good old fashioned dinner party, some of us are craving as much interaction as possible after all the time apart. If you're ready to dive back into the world of sharing meals with loved ones, consider trying these five communal dining ideas for your next event.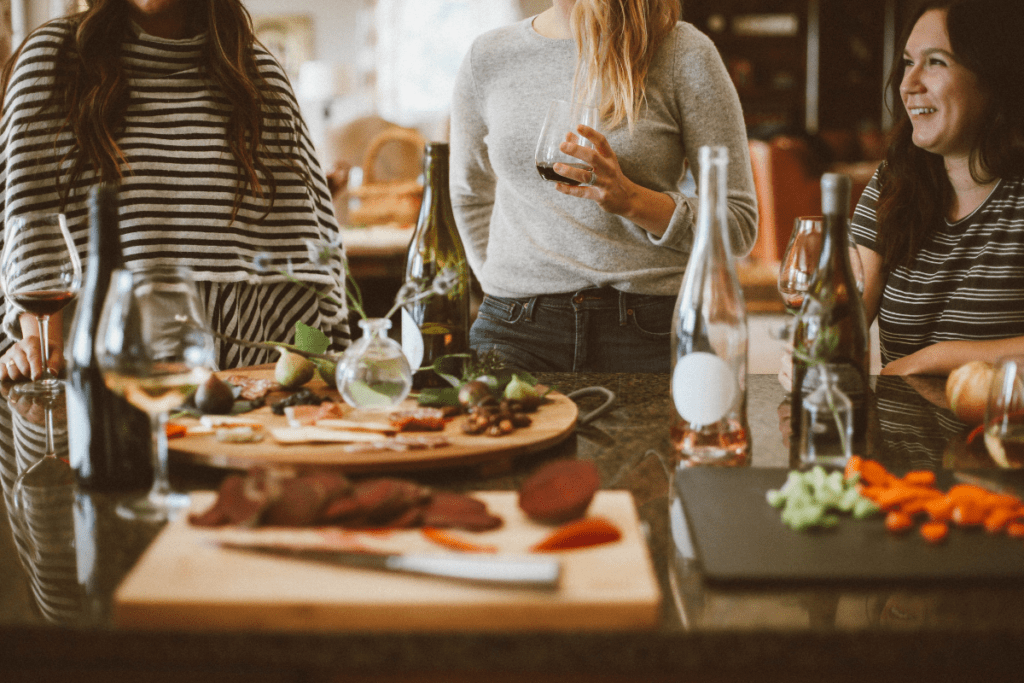 Potluck
We've spent the past year mostly cooking for ourselves and grabbing the occasional takeout meal, but there's something special about eating someone else's home cooking. A potluck is the perfect way to return to sharing your favorite recipes with friends and family and maybe even show off those new quarantine cooking skills. Potlucks are also perfect ways to find your next favorite recipe.
Got a competitive edge? Consider upping the ante of your next potluck by making it a cook off. Get specific with a chili cook off or keep things general with an appetizer or dessert contest. Either way you'll have a great time and probably find some new flavors you and your guests wouldn't have put together yourselves.
Pizza party
Who doesn't love pizza? Instead of ordering a few pizzas the next time you have people over to watch a big game, host a DIY pizza party. This idea is perfect for hosts of all cooking skill levels because you can make everything from scratch or provide plenty of store bought crust and sauce. Either way, guests will love having the opportunity to make their perfect pie, and you'll have provided extra entertainment for bonus hosting points. 
This idea is also perfect if you have guests with dietary restrictions, as everyone will have the chance to make their own individual pizza. Check in with your guests ahead of time, grab some gluten free crust or dairy free cheese if needed, and you should be all set to make sure everyone's happy.
Seafood boil
Nothing screams summer like seafood and corn on the cob, which are the major players in any good seafood boil. Plus, if you're looking for a way to mix things up from more traditional dinner parties, a meal that you can eat directly off a newspaper covered table definitely differentiates things from your typical night. This idea is completely doable at home with a large enough pot, but if you'd rather go out there are plenty of restaurants specializing in this fun and alternative group dining experience.
Fondue
When you need an excuse to dip bread in melted cheese and call it dinner, fondue is your answer. This is another perfect communal dining idea that works just as well from the comfort of your own home as it does as a big night out. Fondue also suits a variety of situations as you can do a full three course meal with cheese, broth, and chocolate courses or skip to the end and simply eat a bunch of melted chocolate – plus fruit, because life's about balance.
If you're hungry for more, consider variations of the DIY experience of fondue with Korean BBQ or Chinese style hot pot. These similar concepts involve cooking your own food over a shared table and completing the meal with plenty of fixings.
Afternoon tea
If you're feeling fancy, consider hosting an afternoon tea complete with finger sandwiches, scones, and mimosas if you're feeling boozy. This is a perfect way to entertain guests on a weekend afternoon and is also fun for kids to participate in. Consider this for your next bridal shower, baby shower, or Sunday brunch. Similarly to fondue or seafood boils, you can find a restaurant with all the scones and tea you can dream of, or get creative and make this happen from the comfort of your backyard or living room.