Building Inclusivity in the Fitness Space with Kiersten McCartney
July was Disability Pride Month, which sheds light and enables open conversations on physical, learning, hidden disabilities, and mental health conditions. In honor of Disability Pride Month and the upcoming Paralympics, I spoke to Kiersten McCartney — Doctor of Physical Therapy, Exercise Physiologist, and founder of RunYourDays —  about the need for inclusivity in the fitness world. Take some time to learn about the ways ableism is deeply ingrained and normalized within our society.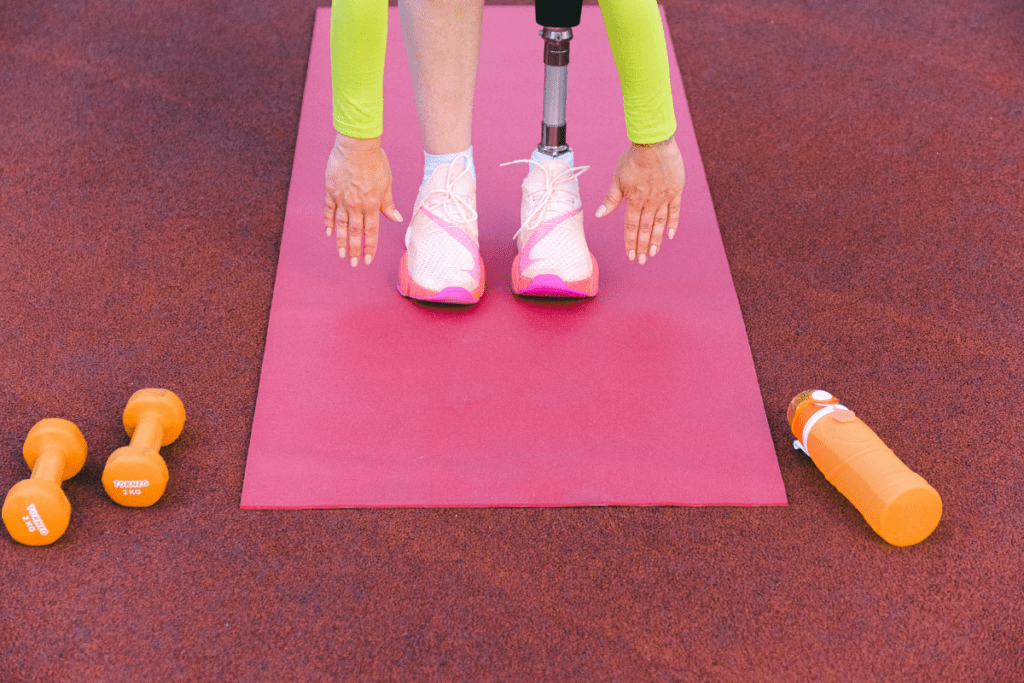 Nadya: Thank you for doing this interview! Please tell me more about yourself and your background.
Kiersten: Thank you for inviting me! My name is Kiersten McCartney and I'm a Physical Therapist in Newark, Delaware. I started my Ph.D. at Delaware in December and studied Biomechanics and Human Movement Sciences. I was also a member of the Neuromotor & Behavior Lab researching exercise in people with chronic strokes. Prior to my time at Delaware, I earned my BS in Biology from Ohio State and then moved to Chicago to pursue my masters in Kinesiology and Nutrition. I became a personal trainer and started my own coaching business, RunYourDays. I was also an exercise physiologist at the Shirley Ryan AbilityLab.
What sparked your passion for adaptive training/fitness?
My best friend's dad was in a car accident that led to a spinal cord injury when we were five, and I don't know I could ever measure the influence and impact he's had on my life — he's truly my hero. I remember him showing us how he'd pop wheelies, and I'll never forget going to Madison Square Garden to watch him play with the NY Knicks affiliate wheelchair basketball team. We've talked about his experiences with multiple adaptive sports programs and how he believes they completely changed the trajectory of his recovery. That has continued to drive me to increase the engagement of people with disabilities in exercise and sport.
I think the combined experiences I've had — school, volunteer, work, coaching, training — are what fostered my passion for adaptive training and sports. I love helping people uncover just how capable they are, despite any limitations they may have.
Are there any myths or misconceptions when it comes to disabilities in fitness or adaptive training you'd like to clarify?
We often assume someone has a ceiling on their potential due to some sort of diagnosis or injury. In reality, maybe we as a society have never given them a chance to pursue that potential. When we look at those who have an impairment and are pursuing that potential, it's incredible.
Don't assume that everyone with a certain disability is going to look or perform the same, or that you can train them the same.
How can gyms and trainers strive to be more inclusive when it comes to disabilities?
Twenty percent of Americans have some sort of physical disability. I truly believe it's not if someone with a disability enters your gym, but when. The question you can ask yourself as a trainer is are you prepared for that day? For example, a person who uses a wheelchair may not be able to squat, so what can they do? You could program tricep dips.
Is your gym accessible to someone who uses bilateral crutches or a wheelchair? Could they navigate your space? How can you incorporate your athletes into the community and ensure they aren't forced to a different part of the gym for the workout?
Lastly, there is fear on both sides — both trainers/gyms and athletes who want to pursue fitness. It's okay to be nervous if you've never trained with someone with a disability. Don't be afraid to ask your client about their limitations and how they'd like assistance. There is no one size fits all for any athlete, and that makes it fun!
From a financial standpoint, people with disabilities inherently may have more financial burden, which may make a gym membership cost-prohibitive. Gyms could consider sliding scale options and/or discounts, similar to what is offered to students and veterans.
Make it accessible for all people to pursue exercise and fitness, and I bet you'll be amazed at your community's growth.
Are there any gyms or fitness apps that you'd like to highlight that are inclusive and attentive to differently-abled clients?
I cannot recommend the Adaptive Training Academy (ATA) course enough — they break down frequent diagnoses you may see, programming, adaptations, scaling, making your gym accessible, and more. It's very comprehensive and there are virtual and in-person training sessions you can attend.
The University of Illinois has one of the oldest and most successful collegiate adaptive sports programs, and the University of Alabama also has a strong presence!
CrossFit Invictus, Watchtower Crossfit, United HP, BarXFitness are some I follow and look to. There are many in the space and I hope we continue to see more grow!
What are some actions able-bodied people can take to make fitness more inclusive?
Similar to above, I think it's not being afraid of befriending someone. It takes a lot of courage for anyone to walk through the gym doors — it can be much harder for someone with a disability, especially if you're not sure if the gym is accessible, if people will be welcoming, or if the trainer can adjust the workout appropriately. If you're in a gym and see someone with a disability, go and say hello, just as you would do for an able-bodied person.
Another great way is to promote the normality of people of all abilities in the sports world. Start following adaptive athletes on social media or blogs and repost them. The more that we are all exposed to seeing people with disabilities in exercise and sport, the more it becomes inclusive and slowly, it becomes the norm.