11 Best Canned Cocktails to Sip at Your Next Happy Hour
There's just something so refreshing about drinking an alcoholic beverage out of an ice-cold can during the warm summer months. While I usually stick with spiked seltzer at happy hour (yes, I'm a basic b*tch when it comes to alcohol), I'll admit I've been influenced by all the canned cocktails I've seen stocked at my local grocery store this year.
So when I got the chance to write about them for aSweatLife, I took the opportunity seriously and tried a variety of drinks from the most popular brands. I'll be honest: I didn't love every one, but I found more than enough gems I'm excited about sipping this summer and beyond.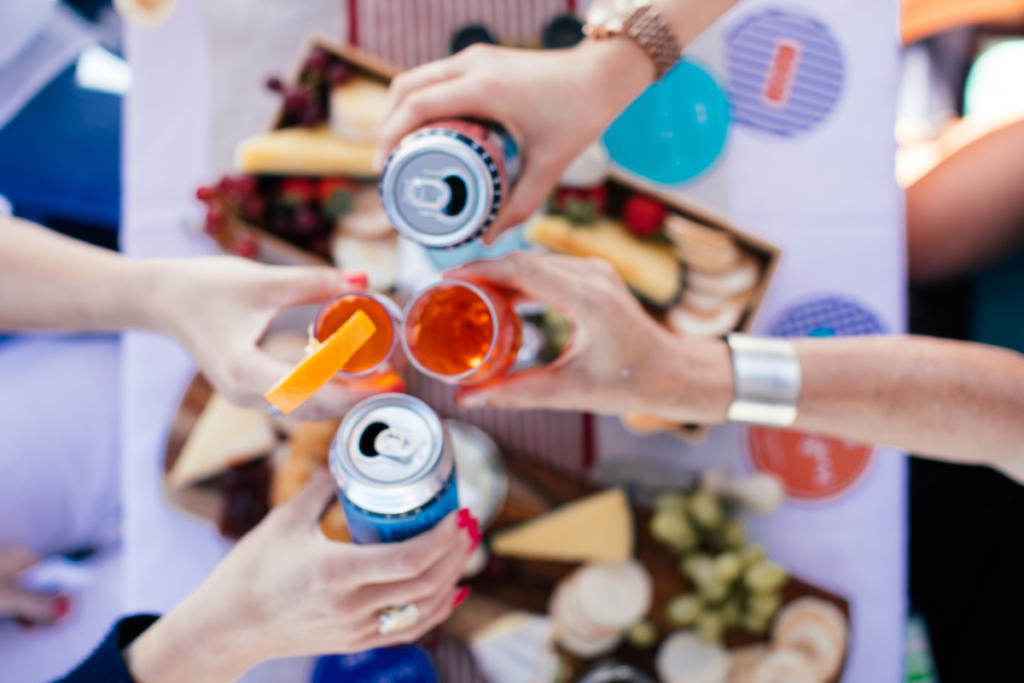 Best canned cocktails for your next happy hour
Taste, of course, is subjective—but the following canned cocktails get my stamp of approval. From mai tais to margaritas and gin and tonics to vodka sodas, here's an unofficial list of the best canned cocktails to try at your next happy hour. Just remember to drink responsibly, OK?
You may not be able to travel to an island paradise right now, but this canned cocktail will make you think you're at the beach. This mai tai blends orange, lime, almond, and spice with Virgin Islands rum for a tiki treat that can't be beat.
Alcohol by volume: 8%
Where to find it: Visit boulevard.com for stores near you
This canned cocktail from this woman-owned brand perfectly marries fresh pink grapefruit with light tequila blanco. It's crisp, simple, and delicious—plus, the packaging is stunning.
Blood orange really elevates this canned vodka soda. I like pouring it into a glass over ice with some fresh fruit slices for an extra sophisticated touch.
If a gin and tonic is your go-to happy hour order, then you'll love this upgraded take on the classic. This canned cocktail mixes the sour, fruity aroma of marasca cherries with notes of juniper from the gin.
Alcohol by volume: 10%
Where to find it: Sold exclusively at Whole Foods and Total Wine locations
With the Sex and the City reboot on the horizon, I'm calling it now—the cosmopolitan is due for a comeback. This version mixes tart cranberry, refreshing lime, and a hint of pear with crisp vodka and bubbles.
Alcohol by volume: 7%
Where to find it: Visit joiaspirit.com for stores near you
One of the most popular drinks in Finland is known as the "long drink," a mix of gin, club soda, and citrus juices. You can now enjoy this cocktail without traveling abroad. This canned version that blends gin with natural flavors goes down easy.
One of my all-time favorite cocktails is the margarita, and this canned strawberry version doesn't disappoint. When poured into a glass with a touch of salt on the rim, I'd never guess this one came in a can.
Alcohol by volume: 10%
Where to find it: ReserveBar
This canned cocktail is the ideal choice for brunch. I'd enjoy it with a platter of waffles and pancakes. It contains a double shot of 100% Arabica Colombian cold-pressed espresso and premium gluten-free vodka, along with a small amount of cane sugar and monk fruit so it's not overly sweet.
Brazil's national cocktail gets a carbonated twist. This canned caipirinha combines organic silver cachaça, a clear liquor distilled from fermented sugarcane juice, with mango syrup and lime. Trust me, you'll feel all the tropical vibes when drinking this one.
I'm a big fan of Moscow mules, but like most other cocktails, I'm too lazy to make them on my own. This canned cocktail is an excellent alternative and tastes super-fresh. It's made with vodka, of course, along with home-made ginger beer, tamarind, and coconut water.
If you like flavored seltzer, then you'll definitely appreciate this fizzy, tart cranberry lime vodka soda. It's made with all-natural ingredients, including real fruit juice, so you don't have to worry about any artificial aftertaste.