How to Run With Friends At Different Paces
I've been a runner since my early days as an elementary school soccer player. My favorite part of practice was when my coach had us run sprints at the end of scrimmages. Running as fast as my seven-year-old body could felt freeing, but it also felt exciting to see where I stood among my teammates. Twenty years later, my relationship with running looks a bit different as I prefer to run long distances, but I have always loved to run with others for both the camaraderie and the healthy dose of competition. 
As I am training for my fourth marathon, I have noticed many more people on the lakefront path logging their miles. This is not a fluke. According to Good Times, Runkeeper, a popular run tracking app, reported a, "252 percent increase in registrations and a 44 percent increase in monthly active users compared to 2019, as well as a 62 percent spike around the world in people heading out for a weekly run." Additionally, ASICS, a popular running shoe company, completed a study that reported that 62 percent of individuals who took up running in the past year (2020) plan to continue running.
It's exciting to see the sport grow and to witness my own community fall in love with a sport that has been a staple in my routine. However, for all runners, it is easy to become burnt out if the miles begin to get challenging or lack purpose.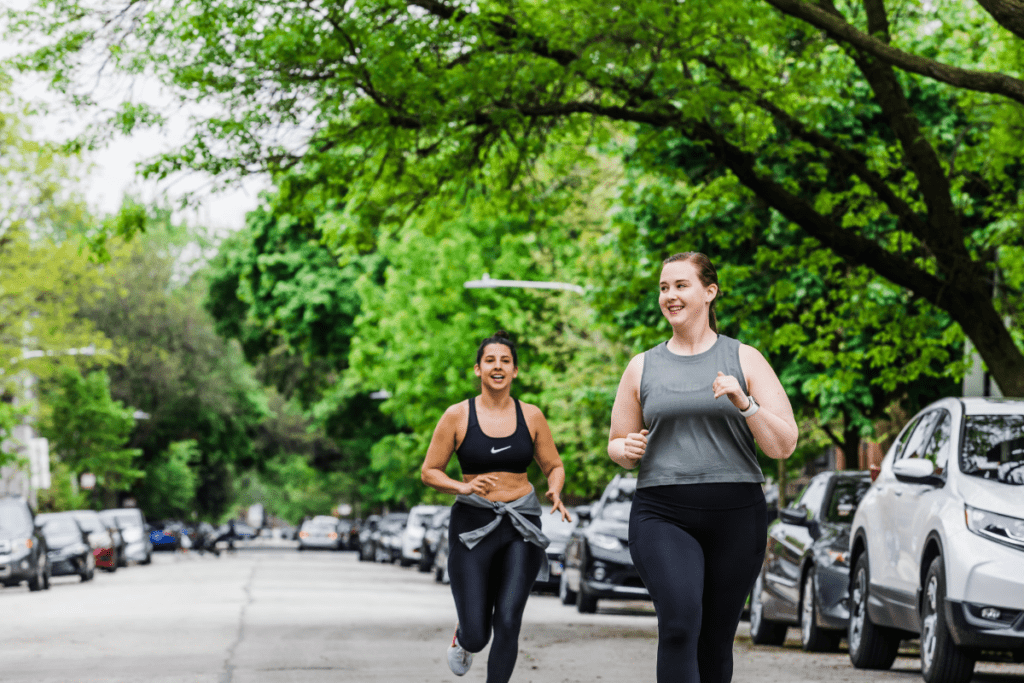 Benefits of group running
To challenge the burn out, many turn to running with other people. Aside from avoiding burnout, there are many benefits to group running. Women's Running provides some information on the benefits of running in a group:
Your group members may help you feel accountable. I am currently training for the Chicago marathon. To put it lightly, I am not a morning athlete, but Chicago summers necessitate running before the deep heat of the afternoon. My track group and long run group help me feel accountable to my training and my runs.
Your speed may increase. When running in groups or with friends, many people experience the Köhler Effect which is performing better than they believe they may perform individually. 
You may run farther. According to a study from the University of Aberdeen, those who run with friends tend to run farther and more often than those who regularly run alone. The study also indicates that those who have emotionally supportive running partners ran even farther. 
Post-run socializing can build morale. In my opinion, there is often nothing that feels better or more fun than grabbing breakfast or a beverage with a friend after having run together. I tend to be more drawn to group runs if I know a donut, cup of coffee, or social activity is waiting for me at the end of the run. 
You will learn more about running than you would expect. Prior to running my second marathon, I knew little about running recovery, what to look for in a running shoe, or how to best create a training plan. For my second marathon, I trained with a group and received a dearth of knowledge about all of these topics and more, which made the training more fun and safer. 
How do I run with friends who are faster or slower than me?
Clearly, there are many benefits to running in a group and with friends, but a common challenge that most runners experience is that they want to run with someone who has a different pace than them. This is an experience that I know all too well. I tend to run at a relatively average pace of between nine- and ten-minute miles, but my partner tends to run between seven- and eight-minute miles. We enjoy running together, but depending on the day, we have different goals. Here are some suggestions that I have found helpful for running with friends whose paces differ from mine. 
Define your purpose for your run. Some running days are easy miles, while others are more intentional or definitive. When my partner and I are wanting to go on a run together, we choose a day that is meant for easy miles and run at my slower pace. On those runs we are able to talk, and both of us feel accomplished when we finish. If we have a more specific run, we may not run together, but we are intentional about sharing about our experience or feel of the run we accomplished.
Run a race together. A couple of my good friends run with the Nike Windrunners, a Nike sponsored competitive racing team in Chicago. Due to the goals of the team, we are not typically able to run together, but we've found enjoyment in signing up for the same races. That way, we have a shared experience that allows us to start and finish the same course and enjoy a post-race party together.
Join or start a run club together. An excellent way to run with a friend of a different pace is to join a running club. Some popular running clubs in Chicago are Gumbofit, Three Run Two, and CARA. These organizations support runs for runners of all types. If you are outside of Chicago, run clubs can typically be found through social media or a Google search. If you do not find a running club that meets your needs, consider beginning one. The Runner's Club Podcast does a great job of exploring the process of starting a run club in this episode.
No matter what your running experience is, whether you are new to the sport or have been running for years, there are many benefits to running with others. Running may be an individual sport, but the community can make you a stronger runner. Next time you lace up your shoes, consider bringing a friend along.