Why You Should Track Your Running Data With Good Old-Fashioned Speadsheets
I work as a data analyst and I'm currently in graduate school studying data science, so it's no surprise that I love tracking … everything … via spreadsheets.
However, you don't need an advanced quantitative degree to find value in tracking your running data via spreadsheets. Here's why I recommend runners of all paces track their runs via a good old-fashioned spreadsheet. (And TL;DR – I may have even created spreadsheet templates for you!)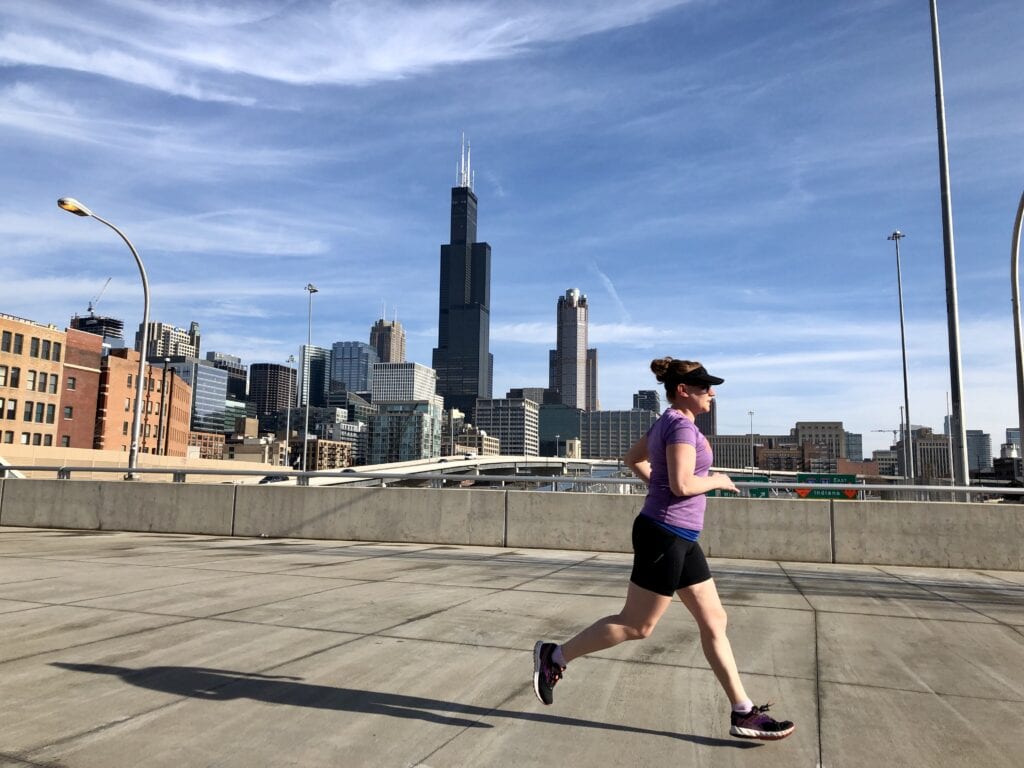 Tracking your running data helps you feel accomplished 
I've been tracking my running mileage since I started running seriously in 2010. (By which I mean signing up for races and following a proper training plan, instead of just casually jumping on the treadmill for 10 minutes after using weight machines at the gym.)
From 2010-2020, I ran a total of 5,977 miles. My highest mileage year was 2012, when I ran 1,271 miles. My highest mileage in one month was 127.4. My average is 46 miles per month.
A few months ago, I was listening to a professional development webinar, and the speaker suggested creating a Hype Doc, and adding your accomplishments every month. This would be helpful when it comes time to updating your resume, or writing out your annual self-assessment at work, or just to remind yourself of all of your awesome accomplishments. 
But I realized my running data spreadsheets are my fitness hype doc! Looking at them reminds me how much I have accomplished, and even when I'm at a running low, I remember that I have it in me to do more. 
You can see how far you've come
In addition to tracking mileage, I also track my paces and race times. It's fun to go back and see how much my pace improved during my first few years of running, and remember all the PRs (personal records) I set. Even though my times aren't quite so fast these days, it's fun to reminisce. And think maybe someday I can get back there. It's also fun to see how my mileage progressed over the early years, which motivates me to ramp it back up again.
Running spreadsheets are completely customizable
I didn't always use spreadsheets. At first, I used Daily Mile, which predates Strava as the social fitness tracker. I could log all my runs and workouts via Daily Mile, and it served up lots of fun visualizations (aka bar charts). I loved reviewing my dashboards every month … week … day.
But every third party tool has its limitations. I found myself wishing I could view my data in different ways than what Daily Mile presented. So I exported my data and built my own spreadsheet. Now I could visualize my data however I wanted, track whatever metrics were important to me instead of what Daily Mile prioritized, and categorize my runs in a way that worked for me.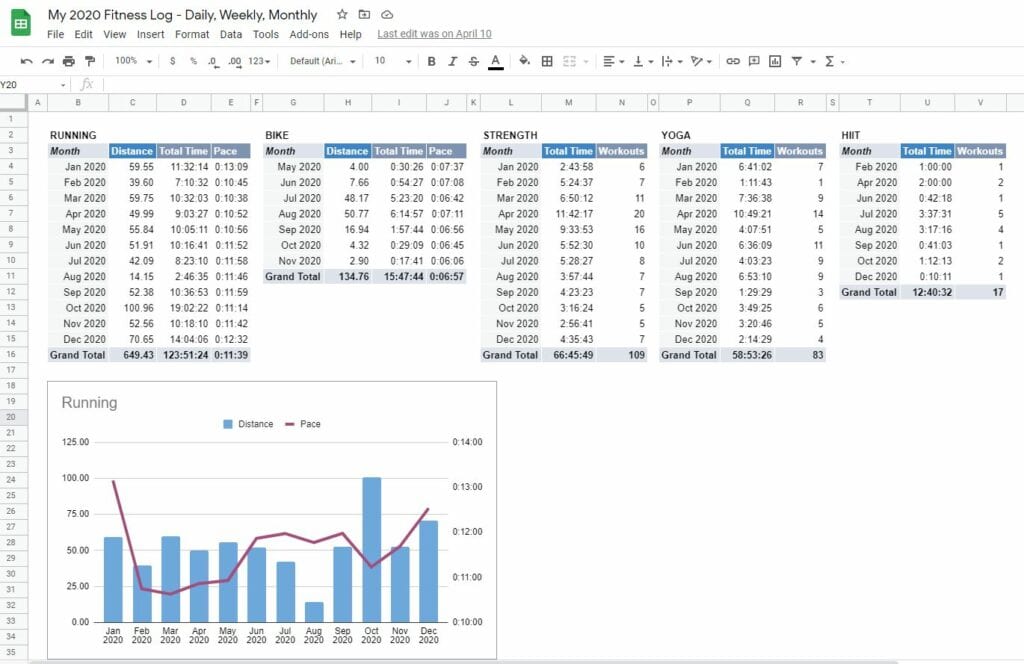 You don't have to rely on third-party technology
In 2019, Daily Mile shut down. All my historic data was gone. Thankfully, I still had my spreadsheet!
And I had other options. Strava had become the popular choice for social fitness trackers. So I started logging all my runs there, and again—data! Visualizations! My favorite things!
And then Strava switched to a premium model and all of my favorite visualizations required a paid subscription. So I recreated them on my own via, you guessed it, spreadsheets.
Tracking your runs with spreadsheets is free!
I personally use Google Docs to create my running data spreadsheets, but you can also use Microsoft Excel. You can log your data however you want, categorize your runs and workouts in a way that is relevant to you, track your favorite metrics and skip the ones that don't matter. (I'm in Chicago—elevation isn't an interesting data point for us, yet every fitness tracker displays that by default.) You are only limited by what you know how to do in spreadsheets! 
Not a spreadsheet guru, and/or don't want to take the time to make a custom spreadsheet? I've created running & fitness tracker templates from some of my favorite personal spreadsheets, all for $5 each via Etsy. Try them out and let me know—what do you love about tracking your runs?