Join Us Thursday, May 20, and Take A Mental Health Day for Yourself
May marks the start of Mental Health Awareness Month, and to honor that goal, we're inviting you to Take A Mental Health Day with us on Thursday, May 20. If you're sitting on a few PTO days that you're not quite sure how to use, this is your chance to take one—but if that's not in the cards, our events are scheduled around normal working hours and will be recorded for viewing later.
We've taken what we loved about our #SweatworkingSummit (workouts, workshops, and panels) and edited it slightly to fit into one thoughtful, reflective day. Just like at the Summit, you'll receive a gift box of materials and products meant to enhance your day (and your Mental Health). To make this event even more accessible, the tickets are pay-what-you-can, meaning that you'll be able to choose from ticket prices based on what you can afford right now. Your ticket gives you access to a workout, a workshop, a keynote panel, and a package shipped to your doorstep.
Want to know more? Here's what to expect about Take A Mental Health Day.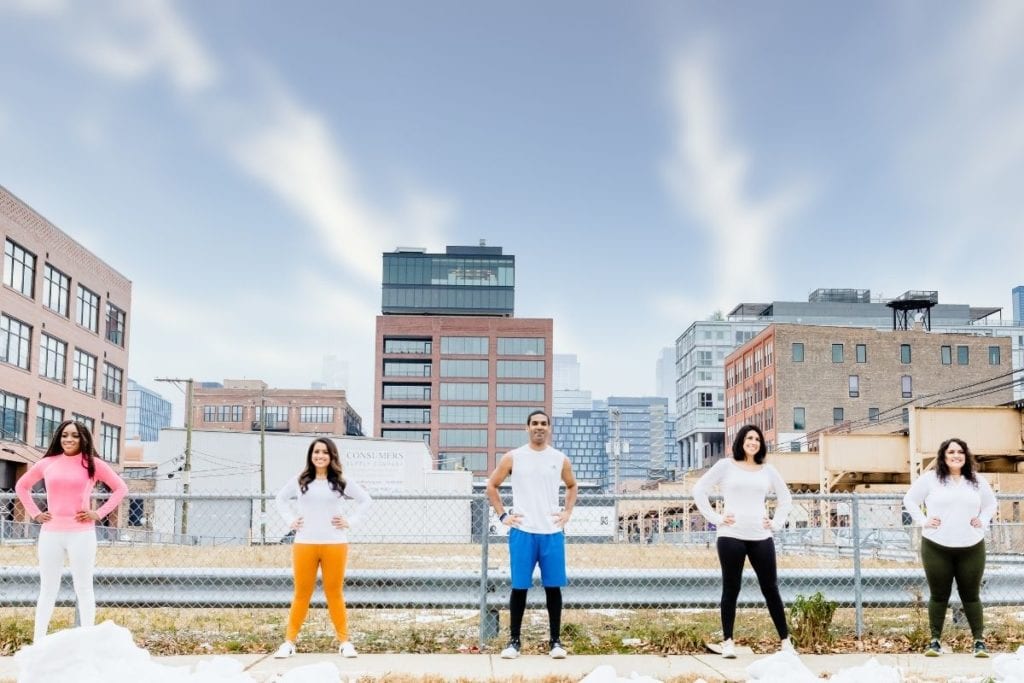 The schedule
Wednesday, May 19, 6pm Central: "Get Present" Mental Fitness Class with Liberate
Get in the mental health day mindset with our mental fitness class led by Liberate. This 60 minute class will be a guided experience over Zoom to help you destress (a single session can lower stress by 28%) and strengthen mental muscles. Classes flow through mindful movement, journaling, conversation, and meditation. We encourage you to come as you are – this isn't a performance, this is "you" time. No prior experience is required.
About Liberate: Liberate is the first mental fitness studio, founded on the belief that health is multidimensional. We offer an approachable, safe space for humans to proactively work on themselves. Through an empowering blend of physical movement, mindfulness practice, and community, Liberate classes build key skills like courage, gratitude, and resilience, to help strengthen well-being. Follow them at @liberatestudio for weekly meditations and mindfulness tips.
Perk for all customers: Enjoy a free two week trial to virtual mental fitness classes and courses for Mental Health Awareness Month.
Thursday, May 20, 7am Central: Dance Twerk-out with 305 Fitness
Dance like no one is watching with 305 Fitness. 305 exists to make fitness more inclusive, empowering, and fun. Movement is more than calorie counting or being the 'best' in the room. Movement is about radical self-love and self-expression. No equipment necessary for this dance party.
Thursday, May 20, 12pm Central: Empathy Workout with Michael Tennant, Founder of Actually Curious
Participate in an empathy workout with the Founder of Actually Curious, Michael Tennant. It takes empathy to foster safe space to talk about the difficult topics facing our country. Come strengthen your empathy muscles through this virtual talk, and game night-style workshop that helps deepen empathy for self and others, while helping set actionable intentions.
Thursday, May 20, 5pm Central: Keynote Speech with Poppy Jamie, Founder of Happy Not Perfect
Poppy kicked off her career while studying at the London School of Economics when she became the youngest television host at ITN. After graduating, Poppy moved to Los Angeles to work with MTV, ITV and later launched Pillow Talk with Poppy, Snapchat's first chat show.
In 2015, Happy Not Perfect was born out of a clear need for a tool to deal with anxiety. Poppy received hundreds of messages from viewers opening up about their stress and anxiety. With her mum being a neurotherapist, Poppy decided something needed to be created to help everyone manage their mental wellbeing better. This year, Poppy launches Happy Not Perfect, a deeply personal project combining years of scientific research, inspiration from her mother and real life experience.
Thursday, May 20, 6pm Central: Keynote Panel on Loving Yourself Today
In this discussion panel, we're bringing together experts to talk about why size inclusion and body positivity are good for your mental health—no matter your size. Moderated by Natali Villaruel, plus-size athlete and Team USA member, the panel will feature:
Charlotte Oxnam, the founder of Cue the Curves, a community and social platform that empowers plus-size women to discuss fashion and discover their style. Charlotte founded Cue the Curves from her own struggles with finding clothing she loved in her size and feeling isolated from the fashion world."
Gianluca Russo, a freelance fashion and culture writer who recently moved from New York to Arizona. His monthly NYLON column titled "Plus Us" explores the many ways the plus-size community is discriminated against in our society today. He is also the co-founder of The Power of Plus, a size-inclusive digital community promoting love, style and respect for every body.
Dr. Marissa Toups, a board-certified psychiatrist. She grew up in Louisiana, and attended Rice University and Tulane Medical School. She completed psychiatric training, including a specialty fellowship focusing on the study of treatment outcomes for Major Depressive Disorder, at UT Southwestern Medical Center in Dallas TX. She performed research and provided clinical care focusing on depression and its relationship to inflammatory medical illness at UT Southwestern and UT Austin prior to establishing Singularity Psychiatry and Mental Health, where she provides expert psychiatric care and develops professional education media for psychiatrists.
The swag
Let's get to the goodies. Here's what you'll find in your Take A Mental Health Day box, packed and shipped courtesy of our friends at PackDash.
…plus a few more surprises we're working on.
Ready to sign up? Reserve your pay-what-you-can ticket and your event box here—we can't wait to see you!