Chris Tuazon on Magic Ingredients that Build Muscle and Community
Every Tuesday and Thursday morning, my alarm clock goes off at 5:15 am. I have never thought of myself as an Early Bird, and for many years, I argued that my body was not supposed to lift a weight or do a burpee before I had two full meals in my belly.
And then Chris Tuazon became the Head Coach and Programmer at Lazy Laowai, the gym that opened right outside my door in November of last year, and somehow I became a sweet lil' lark. My friends and family who have seen me before the sun rises know that generally I am mostly mute and wear Resting Scowl Face for the first two hours of any day.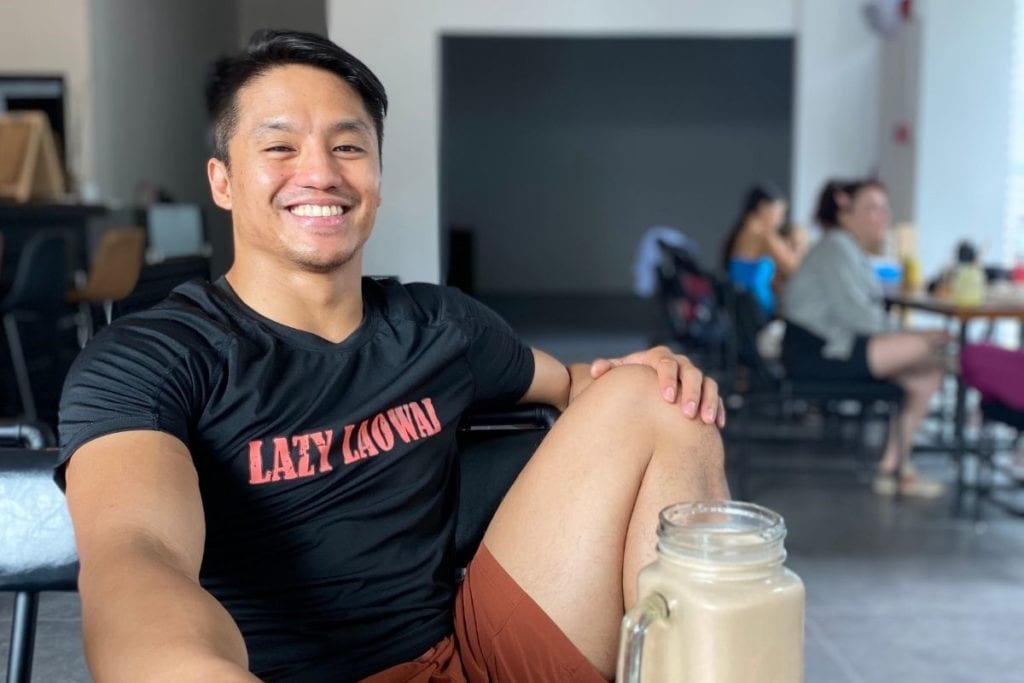 And yet, somehow, Chris has had me literally skipping into the gym for 5:45 am classes since November… and it's now March! This is nothing short of wizardry.
Well, wizardry, or dynamic workouts, inspiring support while I am feeling crushed under the weight of barbell back squats, and an incredible intelligence for building a fitness community.
Over my last eight years as an international teacher, how people build community has become something of increasing interest. Over the course of the last four months, I have been witness to the many ways in which Chris has effortlessly attracted and kept increasing numbers of fitness newbies and fanatics alike walking through the doors of Lazy Laowai. 
I walked into the gym one afternoon recently to sip chocolate smoothies and talk with Chris about how his brain full of gym knowledge and intuition wields a power we can liken to a wizard's wand.
Chris hustled over to sit across from me, having just finished leading a Saturday morning Boot Camp. This uber-fit, Filipino-American has a bright smile and a rather enchanting charm.. 
As we waited for our smoothies, I listened to Chris talk about the boot camp a bit, mainly his excitement for the participants. At this time, it dawned on me that Chris was sharing the recipe for his Fitness Community elixir:
First, ladles full of personality
While Chris was telling me about the day's boot camp, I was admittedly less interested in who was there and what the workout was on this particular day as I was leaning in because Chris' energy is just so fun. Arguably, nowhere is this more apparent than at the end of a workout when we take a group photo.
At first, when I was finishing the workouts and was requested in a photo looking a soggy mess, I was that kid in class who rolls her eyes a bit behind the teacher's back. As the weeks wore on, Chris brought more and more flair and spunk to the photos that are shared on social media, adding in hair flips and high-kicks and best of the worst of those awkward family photo moments. Chris will take the live photos and make gifs and send them out later in the day, and inevitably I'll still be giggling about it when I walk in to the following morning's class.
Then, stir in a high-powered program
As a CrossFit coach and competitor, Chris is the saffron in the Lazy Laowai brew. As we are chatting, he tells me, "My parents brought us from the Phillipines to the USA for better opportunities, so hard work in the classroom always came before things like sports."
I wonder if this push to excel is largely the reason that Chris is a husband, father to two young girls, and is a senior marketing manager with Shenzhen-based DJI, and that all comes before his work at Lazy Laowai. Except you'd never know it. Prior to joining Lazy Laowai, I lifted weights, but I wasn't into the big stuff so much. The back squats and bench presses and pull-ups, not for me, I thought.
Over time, Chris has reached out to ask Lazy Laowais to offer feedback. And he's listened. This has built a good deal of my trust. It's Chris's ability to create a 5-day program that combines cardio and lighter-weights some days with the bad-ass stuff on others that has me swirling around exclaiming, I'm a real lady who lifts now!
Next, gently drop in fresh coach's eyeballs.
As an athlete at Lazy Laowai, I have felt safe to push myself to add more weight to my barbells because Chris, and the coaches he mentors, are trained to pay attention to the minutiae of my form. All of the micro-movements matter, that is what we are all learning from Chris, and our bodies, while really sore some days, are hurting so good rather than broken so bad.
I love that Chris offers me feedback on what is going well with my form, so I know what to continue doing and why I should be doing it, and how to adjust to protect my back and my knees and my joints. It's when Chris's voice raises just a little octave with, "OMG, this is SO big! This is so amazing," as one of the athletes sets a personal record with their weight or reps, that I am buying into this space the most.
As not just athletes, as humans, we all want to be safe. We all want to be seen. Chris has created that space for us, and that's really establishing the flavor of the community.
Finally, whisk in and let simmer communal connections
What I have been savoring most about my time at Lazy Laowai is the way we have all become so supportive of one another. It's Chris, but it's also Jessica who says, "always try the heavier weight first," and Alli, another trainer and friend, who loves to dance when we have 30-second breaks, Shannon who likes my workout postings on WodUp, a gym tracking app that we all use now.
In the four months that I have known Chris, he has made an effort to get to know us all inside of the gym, and connect with who we are outside of the space as well. The real potion that Chris has brewed is one of endorphins and sweaty revelry. As people who have chosen to live in a city thousands of miles from their places of origin, the communities that we engage with become our families far from home. I've never had a fit fam quite like the one Chris has had such a hand in blending.
The truth is, I don't walk into Lazy Laowai chirping like a blue bird every morning, but I am always laughing by the time the sun comes up. And when I walk the half-block home to get ready for work, there's enough pep in my step and blood flowing through my bod that I am attuned to the real early birds singing in the neighborhood.