The Best Non-Stick Pans For Home Chefs
Non-stick pans are essential pieces of cookware. Because you don't need to use oil or those chemical-filled canola sprays, you not only save calories, you save time and frustration cleaning. After all, is there anything as annoying as trying to scrape a pan with stuck-on food?
But not all non-stick pans are created alike. Note that no matter what pan you buy, proper care is essential to keeping pans in good condition. While many are dishwasher safe, you're always better off hand washing your non-stick cookware. And as tempting as it is, it's best to avoid sticking them in extremely hot water or cold water when you're finished cooking.
I tested four brands of non-stick pans to see which ones worked, the pros and cons, and what's really worth the money.
Our Place Always Pan
If you aren't seeing a million ads for the Always Pan on Facebook, you probably aren't spending enough time on Facebook. But in all seriousness, this pan is one of my favorite kitchen tools. It's designed to replace eight pieces of cookware— a frying pan, sauté pan, steamer, skillet, saucier, saucepan, non-stick pan, spatula, and spoon rest. If you are wondering how this is possible, this pan comes with a wooden spatula that rests on a peg integrated onto the pan, making a spoon rest a thing of the past. I wish all pans had this capability. Also included is a steamer basket perfect for making dumplings or potstickers. 
The Always Pan can braise, sear, steam, strain, sauté, fry and boil. But you can't put it in the microwave or dishwasher. Still, food comes off the non-toxic ceramic coating very easily, making it a breeze to wash by hand. It's also available in lots of pretty colors including Lavender, Blue Salt, and Spice (a pink-orange hue).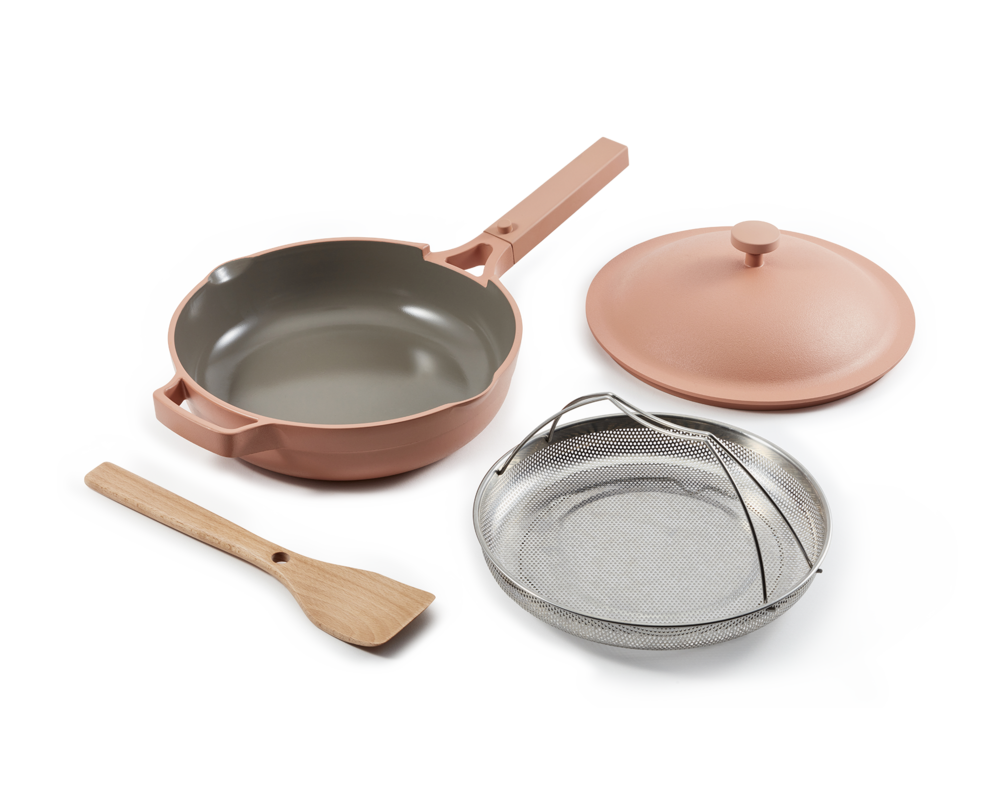 While it's not cheap ($145, but they do run occasional sales), if you have a small kitchen with limited storage (or live in a studio apartment), it's a great choice because it's the only pan you need. And because it really does replace several other types of cookware, the price ends up being more reasonable.
T-Fal Endurance Collection 14-Piece Cookware Set
If you need an entirely new set of cookware and don't want to break the bank, The T-Fal Endurance Collection is the one to go with. It has everything the average home chef needs and more for $99.99. This set includes a 1-quart saucepan with lid, a 5 quart Dutch Oven with lid, 8 inch frying pan, 3 quart sauté pan with lid, 2 quart saucepan with lid, and a 10.25 inch frying pan with lid. There's also a metal pasta fork, spatula, and spoon. Yes, this set is metal-tool safe, as well as dishwasher and oven safe.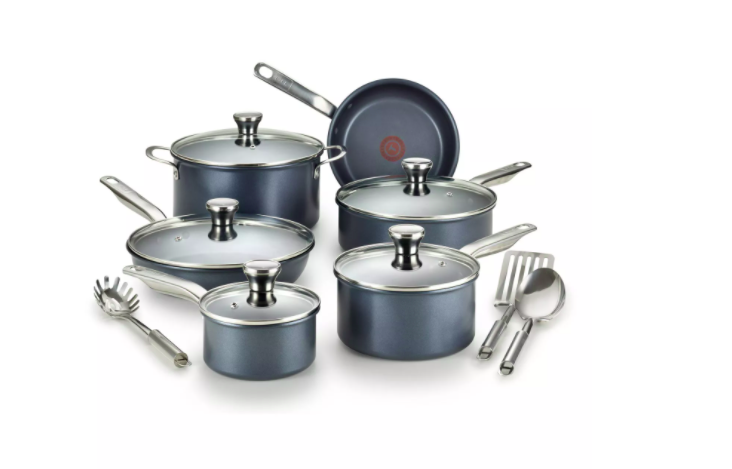 I tried a set and I have to say, I was very impressed with not only how well it cooked, but also how easy it was to clean. These pans also feature handy Thermo-Spot Technology, which is a heat indicator that turns solid red when the pan is properly preheated.
While I more than gladly recommend this set to anyone who has a limited budget, I feel it's fair to note that this set is scratch-resistant and not scratch-proof. I know this because I went hard making an omelet and managed to scratch one of the pans. So, it's probably best to use a wood or rubber spatula instead, or just be extra careful if you're using metal.
Le Creuset Toughened Non Stick Pro
Le Creuset is known for its gorgeous Dutch Ovens and baking dishes. So, I was very excited to try their new Toughened Non Stick Pro line, which is both dishwasher and metal utensil safe.
The triple-reinforced PFOA-free (so, it's safe) coating is one of the most powerful I've ever experienced. However, it's important to note if you aren't using oil, you need to let the pan heat up for two minutes before putting anything in. I was super impressed by how easy it was to make almond-flour quesadillas, eggs, and grilled chicken. The quesadillas in particular had a lovely brown coating and the pan cleaned up almost instantly.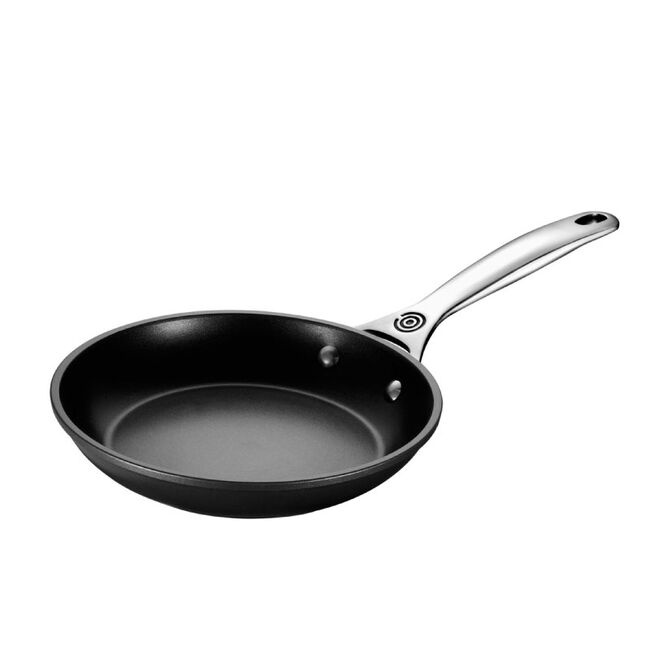 Le Creuset even offers a 90 day money back guarantee as well as a lifetime warranty. So if you don't like it for any reason or something goes wrong, you're not stuck. Prices start at $100.
All-Clad FusionTec
All-Clad FusionTec is a new line from the high-end brand that has a heavy steel core and natural ceramic finish. The coating feels like the cookware version of a slip and slide. 
Using these pans gives you the feeling of being a professional chef. There is even a little hole on the top of the lid to release steam. Overall, these pieces feel heavier and more substantial than most cookware I've tried. It's also oven and broiler safe for up to 500°F.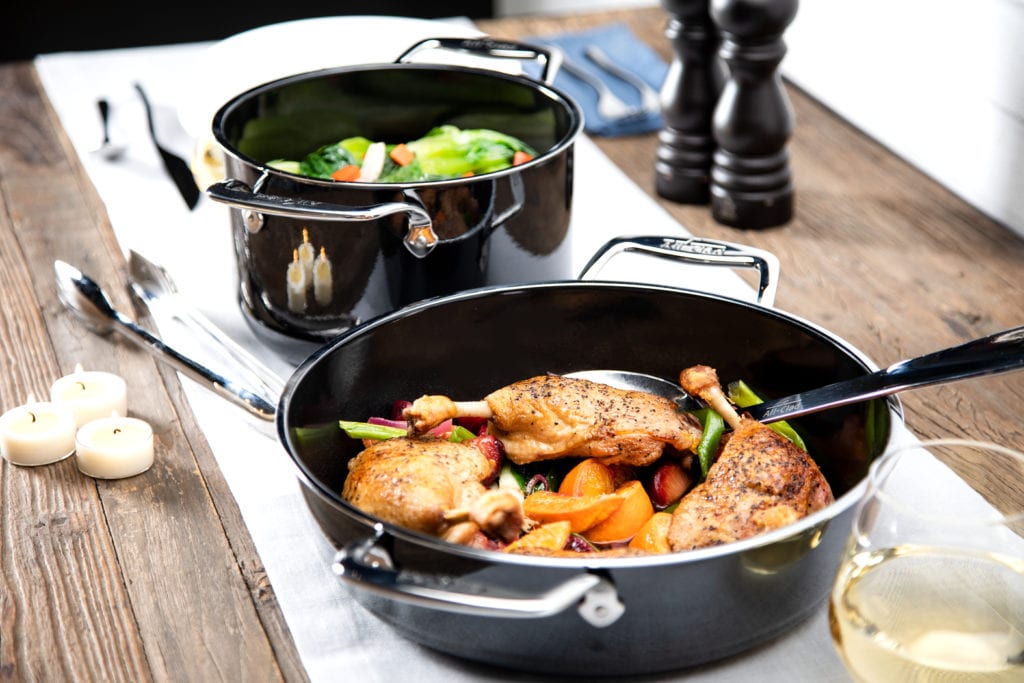 In addition to the soup pot, a Skillet Fry pan and Universal Pan are also available, as well as a stockpot. You can also buy the whole set for $999.95, which is definitely on the high end. But if you're a true home chef, it may be worth the splurge.