How to Keep Your Skin Soft and Smooth All Winter Long
'Tis the damn season for dry skin. Yep, we're in the thick of winter right now, which means many of us are dealing with rough, flaky, and sometimes downright irritated skin. Ugh, what's the deal?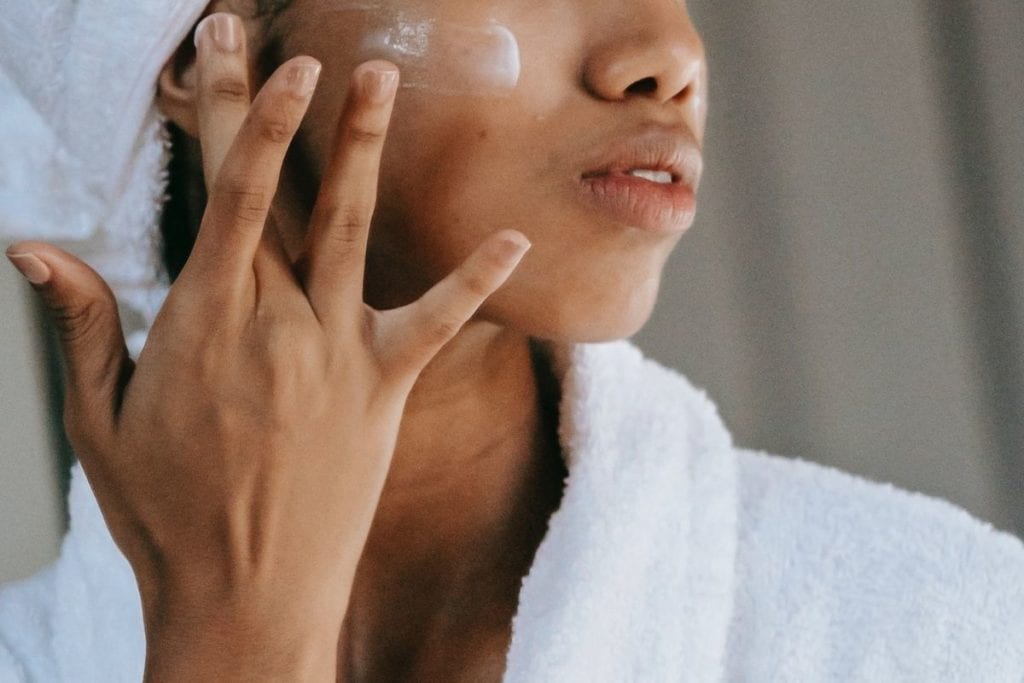 Here, learn what's really to blame for your parched skin this season—and what you can do to keep skin hydrated in winter so you're soft and smooth from head to toe. 
Why does winter cause dry skin?
It all has to do with the change in temperature and lack of moisture in the air during the cold weather months.
"Without enough protective oils, moisture escapes from the skin which leads to dryness, an effect that intensifies as the temperature and humidity drop during the winter months," explains Peterson Pierre, MD, dermatologist in Thousand Oaks, California. Wind and indoor heaters contribute to this problem as well, he adds. 
"Unfortunately, dryness can lead to itching and cracks in the skin which can predispose you to infection and it can also cause eczema to flare," says Pierre. "Lack of hydration can also accelerate wrinkle formation."
How to keep skin hydrated in winter
The good news: There are some easy things you can do to pump up your skin's hydration while you've got your heater blasting inside and it's freezing and windy outside.
1. Switch up your moisturizer. This ingredient is probably the most important part of your winter skin care routine, says Pierre. He notes that moisturizer comes in several different bases, ranging from serums, which are the lightest and least hydrating due to a higher alcohol content, all the way to ointments which are the heaviest and most hydrating but tend to feel greasy. (Vaseline is an example of an ointment.) 
"Most of us would settle for cream or oil moisturizers which strike a nice balance between hydration and cosmetic elegance," says Pierre.
Some good winter moisturizers include:
Honest Beauty The Daily Calm Lightweight Moisturizer ($29.99, amazon.com):  This moisturizer provides 24 hours of hydration, helps repair your skin barrier, and calms irritation. It does this all with a lightweight texture that won't clog pores.  
Meebak Cica Cream ($19.97, meebak.com): Cica cream is a must-have for anyone dealing with skin sensitivity as it soothes irritation by helping to repair your skin barrier. This cica cream contains a variety of ingredients that lock in hydration, protect your skin from environmental damage, and prevent further damage. 
Skinfix Barrier+ Triple Lipid-Peptide Face Cream ($50, sephora.com): Nourish dry skin with this thick moisturizer. It not only deeply moisturizes but also protects skin from environmental damage and makes skin look tighter.
2.  Add powerful hydrating ingredients to your routine. One of the best ingredients to use in the winter? Hyaluronic acid, which holds up to 1,000 times its weight in water.
"Its light consistency makes it a pleasure to use," says Pierre, who explains that it helps restore moisture to the skin and is great for all skin types. 
Depending on how dry your skin is, though, you may need to layer a hyaluronic acid with dimethicone, which can moisturize the skin further while still maintaining a soft, silky feel, says Pierre.
Try The Ordinary Hyaluronic Acid 2% + B5 ($6.80, sephora.com), an affordable lightweight serum that can be layered under moisturizer for an extra dose of hydration. 
"You can also use ceramides, which are lipids that are part of the skin barrier and help the skin retain moisture while protecting against irritants," says Pierre.
Shea butter, fat that comes from the nuts of the shea tree, is another great option, says Pierre, because it moisturizes the skin and helps it to heal.
Coconut oil is another hero hydrator.
"Coconut oil, with its nourishing fatty acids and anti-inflammatory properties, is an excellent choice," says Pierre.
He also likes marula oil, which is high in antioxidants, essential fatty acids, and amino acids. Drunk Elephant Virgin Marula Luxury Facial Oil ($72, sephora.com) is a rich facial oil that hydrates and brightens. 
3. Steer clear of irritating ingredients. "By the same token, there are ingredients that should be avoided because they can irritate the skin and actually exacerbate dryness and eczema," says Pierre. These ingredients include parabens, formaldehyde, phthalates, polyethylene glycol, artificial dyes, fragrances, and lanolin.
4. Apply moisturizer the right way. It's not just which moisturizer you use, it's when and how you use it.
"The best time to apply your moisturizer is right after the bath or shower," says Pierre. "Pat the skin dry then immediately apply your chosen product to seal in as much moisture as possible." 
If you continue to experience dryness and irritation, Pierre suggests visiting your dermatologist because you may have a skin condition that requires the help of an expert to address.
5. Pay attention to the rest of your body. It's not just your face bearing the brunt of the dryness during the winter. Your legs have a hard time holding on to moisture, especially as you get older, explains Pierre. He recommends looking for a body cream with shea butter, ceramides, and squalane to keep your legs in tip-top condition this season.