What to Know About Athleta's Extended Sizing Expansion—And How to Advocate for More Inclusive Options
Athleta: It's one of our (well, at the very least my) favorite places to find stylish and functional activewear. And now the brand is making a major shift in a very positive direction. While they've always offered Regular, Petite, Tall, and some extended sizing, in January 2021, they announced the expansion of Athleta extended size offerings. By spring 2021, 70 percent of Athleta's clothing will be available in sizes 1X-3X. By the end of 2022, these sizes will be offered across all categories.
Here's what to know about this initiative from Athleta.
The process
Activewear is one of those categories where functionality is of the utmost importance. After all, there's nothing quite as awkward as adjusting your sports bra in spin class or trying to pull up leggings after squats during HIIT. No one wants to deal with a wardrobe malfunction while trying to work up a sweat.
Making extended sizing activewear is more involved than simply making regular clothing in bigger sizes, since extended sizing lines require their own specific approach to fit. Fitted, functional garments like activewear also need to support the body, unlike, for example, a loose-fitting dress. So, creating extended sizes of activewear can take quite a bit of work.
Fortunately, Athleta sees the value in doing this the right way.
"We don't make assumptions for personal preference when it comes to fit, color, pattern, or trend, says Jolene Danielson, Director of Technical Design at Athleta. "Each piece is tailored and designed to look and perform the same, regardless of a woman's size, to provide her with choice based on style, first."
These are the in-store changes Athleta is (and isn't) making
Athleta is implementing policies to make their stores friendlier and more appealing to all customers. One example of this is adding size-inclusive mannequins at all 200 locations across the country. These mannequins go beyond general merchandising—they're designed to show an accurate representation of fit.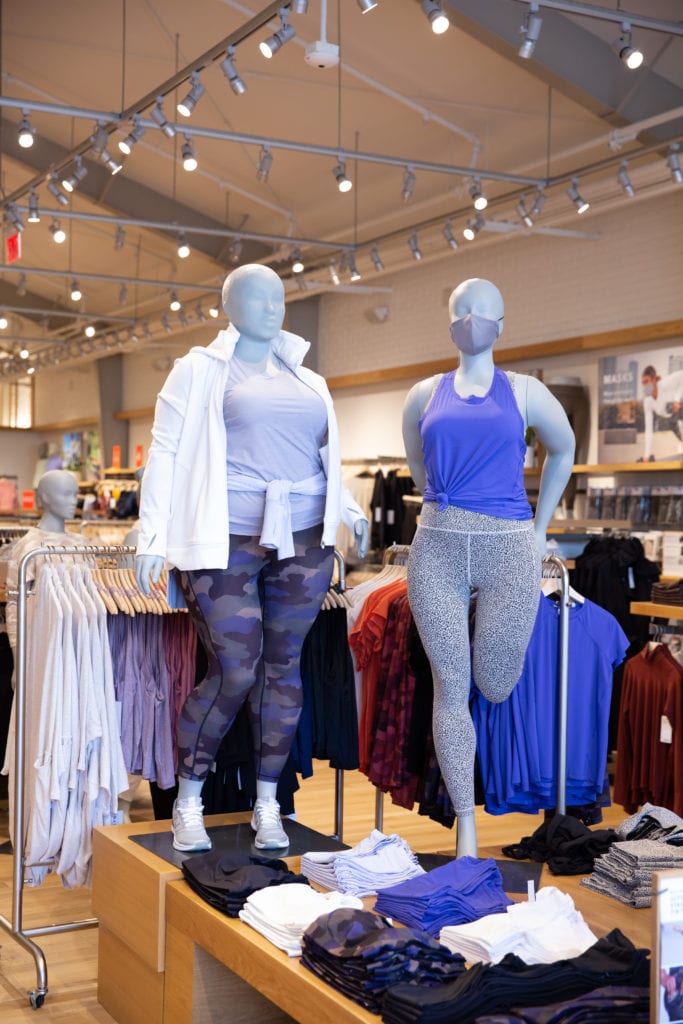 But one thing you won't see at Athleta is a special section for extended sizing. Every size of a particular item will be available on the same rack, promoting inclusivity more than a separate section does. (However, it's noteworthy that their website still separates 1x-3x sizing in the top menu bar, which goes against their inclusive ambitions.)
In addition to all of this, Athleta store employees will have mandatory training about inclusive sizing, through their bodySTRONG® certification program. This program teaches the principles of body-positive language as well as tools to increase comfort levels to better serve shoppers.
How consumers can support extended sizing initiatives at Athleta and other fitness apparel retailers
While Athleta's steps towards size and body inclusivity are certainly the real deal, the apparel industry still has a long way to go. After all, according to the International Journal of Fashion Design, "Findings suggest that, contrary to popular assumptions, the average American woman's (AAW's) clothing size is larger than anticipated. The AAW wears between a Misses size 16–18, which corresponds to a Women's Plus size 20W, with greater distinctions found when considering race and ethnicity. It is suggested that updating Misses and Plus-size clothing standards should be a major priority."
As consumers, you have the power to take action and demand more inclusive and extended sizing options from your favorite brands. Sarah Piggott, founder of Officially Curvy, offers these recommendations for those shopping at Athleta:
Support their marketing and sizing by engagement with their content on social media, sharing it, and talking about it with your friends and family.
In stores, make it a point to talk to associates and express your satisfaction with the variety of mannequins and the expansion of extended sizing options.
In stores, ask associates about the body positive training they received and how it's impacted the store and customers.
Online, leave positive reviews on their website about the efforts for inclusivity and for any specific fit wins you've experienced.
Shop with a diverse group of people. As Sarah says, "Plus-size people have always wanted an inclusive shopping experience with their friends, mothers/daughters, sisters, etc."
Not in Athleta? Piggott recommends being straightforward and asking store associates if they have expanded their sizes to be more inclusive. If they haven't, ask why not. That store associate may not have all the answers, but they're able to pass your feedback on to people with the ability to make change.
How inclusive sizing can extend beyond the fashion industry
If the fitness apparel industry expands their sizing ranges, it's possible that the perception of "healthy" bodies will also shift beyond straight sizes, athletic figures, and weights that fall outside of "normal" body mass index—and that shift could have positive repercussions in how we view weight as a culture. Or, as Health At Every Size advocate and educator Katia Piza puts it, "What would happen if we included the importance of our mental and physical health over the importance of the number on the scale or the back of our favorite leggings?"
She continues, "There is a strong positive reaction to being able to walk into a store, see a mannequin in your size AND find your size on the rack. This is what it feels like to be included. Athleta has offered multiple sizes a seat to the fitness apparel table, will you take a seat with their inclusion?"
This piece was edited with the help of Katia Piza and Sarah Piggott.
Let us know!
Did this post help you get closer to achieving one of your goals?