How to Cope If You Can't Be With Your Family For The Holidays
The holiday season is approaching, and it's safe to say it's going to look a little bit different this year than usual. Typically, the holidays are a time to gather with loved ones, share traditions, and celebrate. While this time of year can present mixed emotions any year, this year in particular it's likely to be more melancholy as we aren't able to gather and connect the way we would any other year. Some of us may be adjusting to the idea of spending the holidays without family, and might not be quite sure what to expect.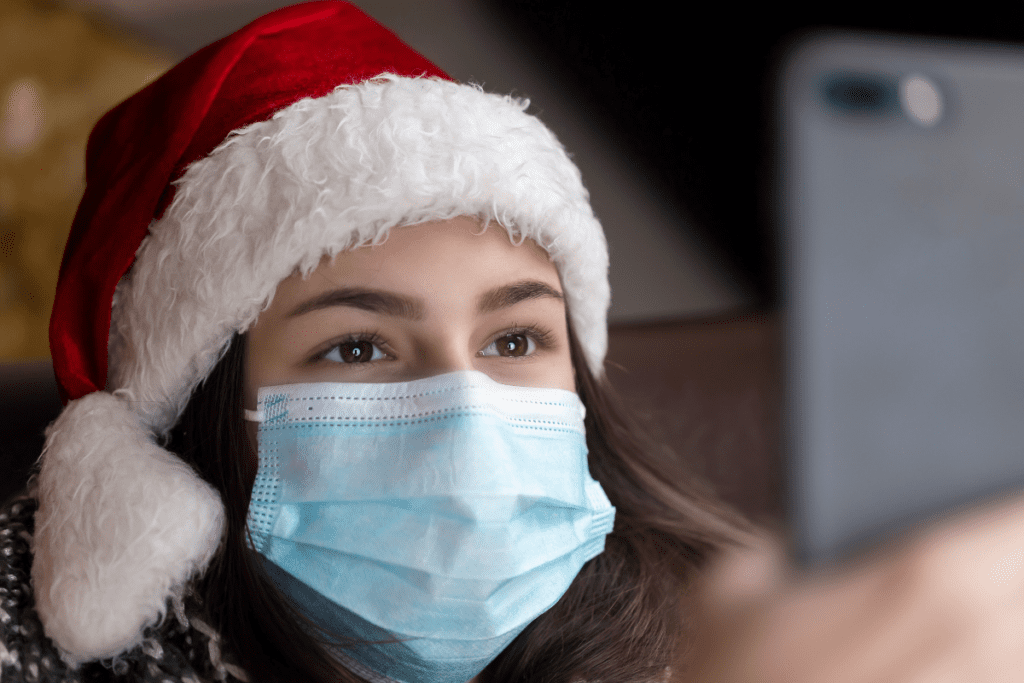 Dr. Sabrina Romanoff, PsyD, weighs in confirming that this very well may be a challenging holiday season for many.
"Not only have individuals been more depressed, anxious, and lonely, but the pressure that comes with expectations about what they should be doing during the holiday season further exacerbates these challenges because reality all too often falls short of the Hallmark movie blueprint," she says.
"Even in the pre-pandemic world, when we were able to be with loved ones in person, emotional distance still loomed over dinner tables and holiday parties," she reminds us. "This is further intensified during the pandemic because we are not able to connect through physical proximity."
While this may paint a bleak picture of having no family at Christmas and feelings of isolation, there are things that we can do to make the most of this holiday season.
Remember you are not alone
First, it's important to remember that we are not alone in our feelings of isolation as everyone will be dealing with a different type of holiday this year.
"While you may feel alone," Dr. Romanoff says, "many people wish they could be with loved ones, but are isolated. Others are more aware of the absence of important figures in their lives, and some wish they could improve their relationships with family."
Temper your expectations
"When the image of the jovial dinner table is enshrined in our minds, you can't help but compare your reality to this assumed marker for what this time is supposed to look like," Dr. Romanoff warns.
She urges us to avoid comparing this holiday season to previous seasons and instead make the most of the reality in front of us.
"Let go of what you think you should have and should be doing during the holidays. Instead, focus on all that you do have and practice gratitude," she encourages.
Make new traditions
Leah Rockwell, Licensed Professional Counselor (LPC) provides additional guidance on how we can make the most of this new type of holiday season, rather than lamenting what we've lost this year.
"I recommend attempting not to recreate what has been, but to use this year as an opportunity to do something truly different by starting a new ritual or tradition," she suggests. "If you've always gotten a Christmas tree several weeks prior to Christmas, make it your Christmas Eve activity, knowing that you can spend the entire Christmas Day decorating," she offers.
She also suggests we rethink the ways in which we stay connected with others and add a more personal touch this year.
"This may be the year in which you scrap those holiday cards and instead opt for a phone call, a la 1999, or a Zoom call to far-flung family and friends," she says. "There is such power in the connection of the human voice and there is so much more value in the reciprocity of an old-fashioned phone call rather than the sometimes sterile card."
Regardless of how you choose to spend this holiday season, remember to allow yourself the time and space to feel any emotions that may come up while staying as connected to loved ones as possible.