5 Tips to Keep Your Running Motivation During Coronavirus
With canceled races, social distancing and a new reality, it can be hard to keep your running motivation during coronavirus. If coronavirus has got your fitness training out of whack, take solace—here's 5 tips to keep your running motivation during coronavirus. From running coaches to everyday road warriors, runners weigh in with their tips for staying motivated to run through this pandemic: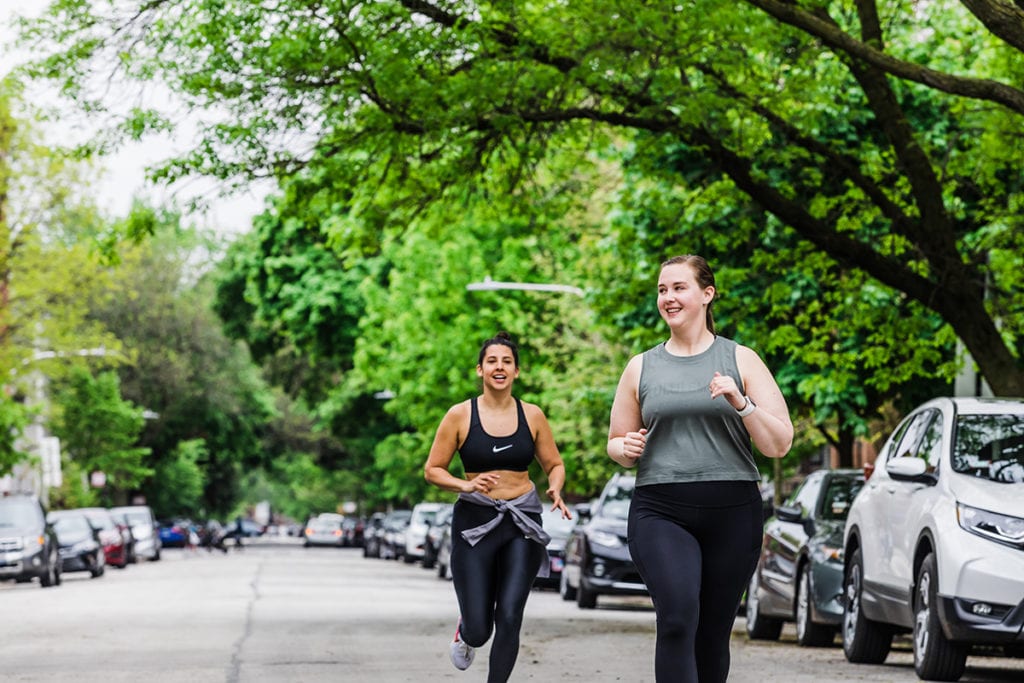 Mix it up
NYC running coach Mariel Feigen advises runners mix up your runs so you don't get bored and burned out doing the same route and distance every day.
"Try to stick to some sort of schedule with different reasons for different runs," Coach Feigen says.
For instance, you can do a more intense speed workout day on the track for your own Track Tuesday every week, she says. And if you want to build your endurance, do one long run a week, building your miles gradually. It's important to incorporate rest days into your training as well, she advises.
"With variety, you're not just sticking to the same running distance and pace everyday," she says.
Forget the numbers
Since most of us are not training for races right now, it's a great time to relax and enjoy running without obsessing over pace and times.
"Every day that I can go out and run without my watch and phone and see what happens is a great day," says Coach Feigen.
Try leaving your watch at home, and just enjoy your run. You will most likely notice more beauty on your run and feel more connected to what's going on around you without the distraction of apps and times.
Listen up
"I actually find listening to podcasts most inspiring," says NYC runner and race director Jamaal Jones. One of his favorite podcasts to run with is "The Art and Science of Running."
Whether you're amped to listen to a fave playlist or want some mental stimulation with podcasts, a soundtrack can definitely make your run more enjoyable.
"I love the thinking intellectual component of running," Jones says.
Join a virtual run
Virtual runs are a great way to still be able to share in the social side of running and keep your running motivation during coronavirus. Join a virtual run that supports your favorite cause or organization, or organize your own. Virtual runs may include bibs and medals or support a social cause or group. Once you pick a virtual run, you can register and run your virtual race and share your results on social, connecting with your fellow runners.
Rest
Rest is an important component of training and helps your body refuel. Whether you do active recovery days, such as a slow 1-mile run to keep a run streak going, or you take off completely, rest is key to sticking to your running program.
And if all these tips don't work and you are just not feeling your running these days, take some time off, advises Coach Feigen.
"If you're bored with running, it's a good time to try other activities like yoga or swimming or cycling, and see what you like," she says. "It's fun to try new things and you can always come back to running when you're ready."
What is keeping you motivated to run during this time?