Yoga and Yogurt with Supermodel Rachel Hunter
It's been a challenging year for all of us. Everyone has been deeply affected by the pandemic, causing not just COVID, but also an increase in depression, stress, and anxiety. We've all had to find new ways to adapt. And while the worst has hopefully passed— many of us still feel stuck to varying degrees.
For supermodel and yogi Rachel Hunter, the practice has been life-changing, not just during the lockdown, but for years. And although she's been sheltering in place in a foreign country, yoga now more than ever has truly deepened her strength and ability to stay healthy. I recently spoke with Hunter to discuss her quarantine and why yoga is such an important part of her life, as well as how working with DAH! (DAHlicious Organic), which is a line of Indian-style almond milk and dairy yogurt aligns with her personal brand.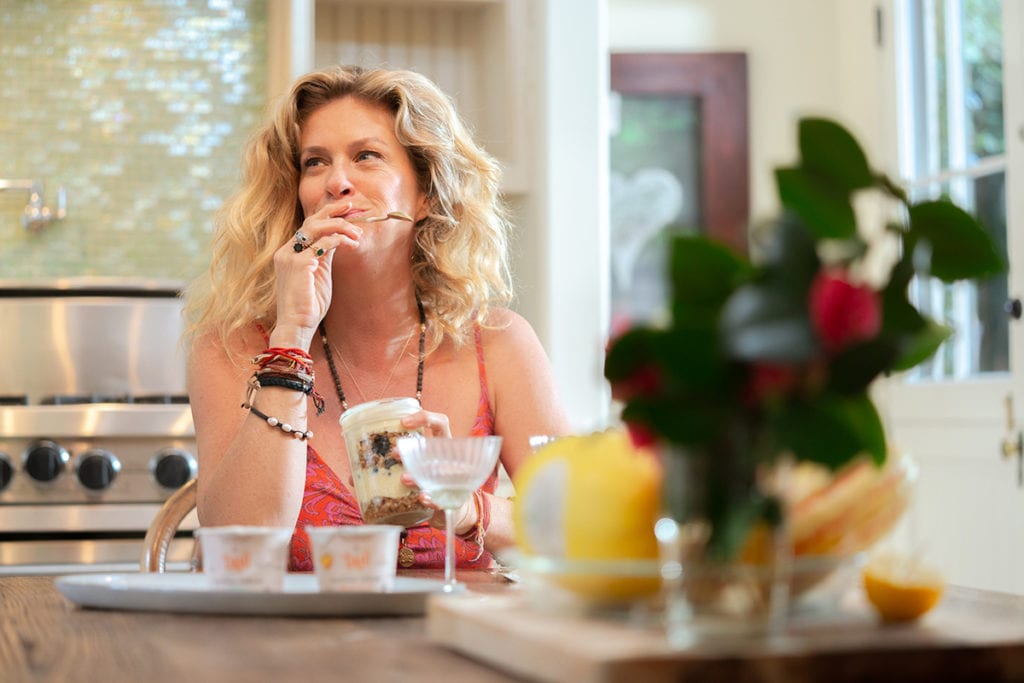 When did you start practicing yoga?
My love for yoga started in 2004 because of back problems. As I deepened my practice, there was a newfound strength, meditation, and a sense of calm.
Three years ago, after training, spending time studying and practicing in India, I would learn the true meaning of Yog. To unify. For me, this was creating that unity in self. This is a lifelong practice.
At times, something happens and tips us off track. So incorporating the limbs of yoga helps create that balance and brings a sense of centeredness and being grounded.
How have you benefited personally from your practice or yoga?
Yoga is a lifelong practice and has benefited me in so many ways. Calming. Fully on all levels— breath, posture, meditation, focus and self study. Taking responsibility for self. So, it's essentially a full life study— physical, mental and spiritual.
How do you recommend starting to practice if you've never done it before?
Find a place that welcomes you and go easy. I love going to places that bring in the ancient teachings, as they are incredible foundations. Don't be intimidated or worry you can touch your toes or what outfit you wear. Meet yourself where you're at.
What are your best tips for maintaining a practice?
Show up. The bottom line is to be present for yourself.
Any favorite yoga classes, books, or videos you can recommend?
Pantanji sutras; I love the Swami Satchitananda translation and The Upanishads. Yoga is finding your own unity within. But there are so many platforms out there as far as online.
Where have you been quarantining and how does yoga help you stay sane during these times?
I have been in, and still am in, the lockdown in India. I have been practicing meditation and doing asanas. Keeping focused, practicing self-study while watching the fluctuating states, allowing myself to let emotions arise—then sitting with them and watching them pass. Meeting myself where I am at that day. Yoga is an entire system to create that inner unity.
Is yoga practiced differently in India?
It's the home of yoga, but there are different lineages and paths of yoga. What a gift India has given us! This is what I give great reverence to, as nothing is limited or reduced in the evolution of self.
It isn't "working out." It's breath, mediation, focus and joy for all the Eight Limbs of yoga. To create that awareness isn't just physical. It's a way of life.
How often do you practice? What's your usual routine?
Every day. I do rituals in the morning. Meditation, then breath work, asanas and chanting.
Tell me about your partnership with DAH! and why it feels so authentic to you.
Partnering with DAH! is a dream— incorporating real life with work. Their message and the product is a natural relationship for me. Their yogurt is as incredible as it is delicious, filled with probiotics, which are important for gut health. It's organic, made with natural flavors. They have plant-based almond milk and dairy offerings. I truly enjoy eating DAH! and am excited to introduce people to the brand. This is where that tether of unity I'm talking about comes from— even your work isn't work because you are united with the same outlook. Life starts to flow.
Why is DAH! so special?
They are a happy and healthy brand. There is a connection to India. The slow cultured element of DAH! I just love working with this company. For me, now, it's all about the authenticity all the way through as far as being involved and it's been an amazing journey with them.
It tastes so yummy on its own or paired with berries and other natural elements! The inner health, what we put in our bodies, is of great value, and DAH! embodies this.
What are other ways you take care of your body?
I love a good bath, walking in nature, and spending time with family and friends.