Our Digital Workout and Workshop Schedule for the Week of July 6
As we gear up for our first in real life event since March (#SweatworkingWeek 8, July 20-24, 2020), we will continue with our weekly digital morning workouts to showcase a variety of trainers and workout formats. See you on aSweatLife Facebook Live this week (week 17) with this rockstar trainer schedule: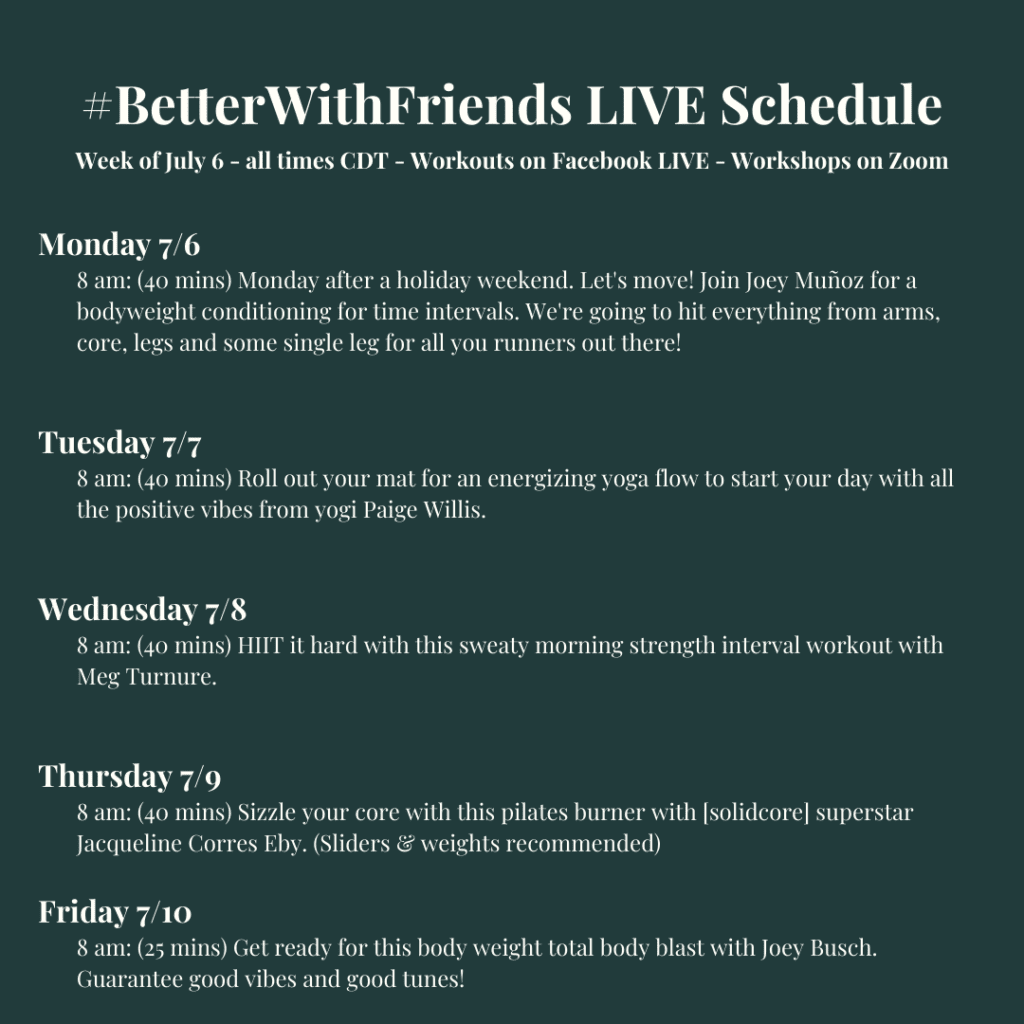 Coming off from a holiday weekend, get some movement back into your routine with a little bit of yoga, pilates, HIIT, Cardio and Strength to keep you on your toes.
Race in Wellness, Part 4: Learning from Community Leaders
The finale to our virtual Race in Wellness series will take place during #SweatworkingWeek in person (it will also be streamed live and recorded) at Maggie Daley Park. We'll be speaking with community leaders we admire to learn more about walking the walk as we finish talking the talk. Stay tuned for more details to be announced soon, and remember, all donations will go to My Block, My Hood, My City!
Daily morning workouts to take you to the long weekend.
All our workouts take place on our Facebook page via Facebook Live—right here!
Monday 7/6
8 am CDT: (40 min) Monday after a holiday weekend. Let's move! Join Joey Muñoz for a bodyweight conditioning for time intervals. We're going to hit everything from arms, core, legs and some single leg for all you runners out there!
Tuesday 7/7
8 am CDT: (40 min) Roll out your mat for an energizing yoga flow to start your day with all the positive vibes from yogi Paige Willis.
Wednesday 7/8
8 am CDT: (40 min) HIIT it hard with this sweaty morning strength interval workout with Meg Turnure. Total Body Strength + HIIT: Strength drills with HIIT bursts sprinkled in that will get that heart rate up, sweat dripping and strong body working. (No equipment needed/Bodyweight only.)
Thursday 7/9
8 am CDT: (40 min) Sizzle your core with this pilates burner with [solidcore] superstar Jacqueline Corres Eby. [solidcore] at-home is a high intensity, low impact pilates-based workout with sliders & weights.
Friday 7/10
8 am CDT: (40 min) Fri-yay! Get ready for this body weight total body blast with Joey Busch. Guarantee good vibes and good tunes!
Let us know!
Did this post help you get closer to achieving one of your goals?