#TrainersConnect 5/20: COVID Series – Digital Training Success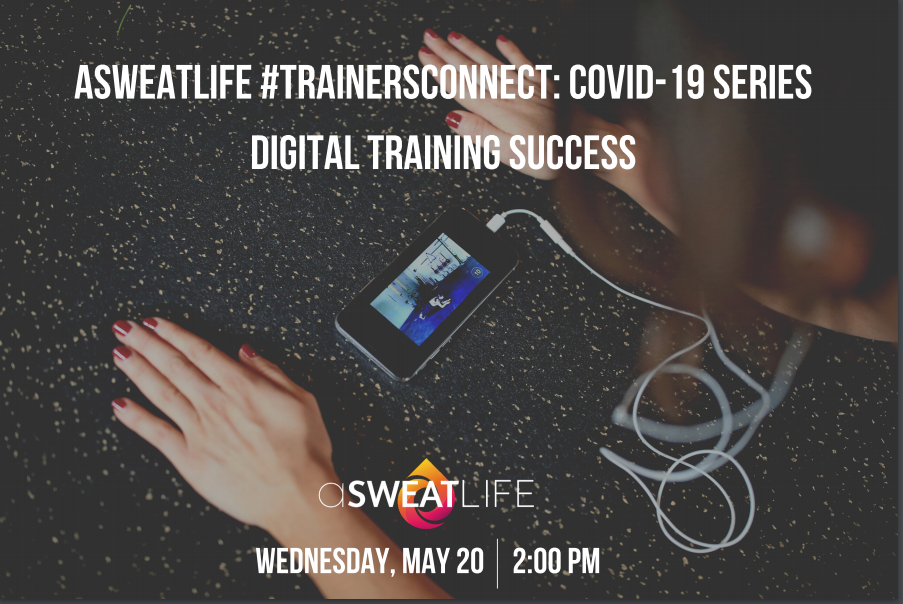 Get your ticket to #TrainersConnect on 5/20 right here.
March blindsided us, April was a mixed bag of trial and error, and in May we began to find a new routine. But what comes next?
As trainers, we have experienced an array of pivots, changes, feedback, behavior adaptation, and uncertainty along with hope. We know our trainer community is strong, and as we move through the rest of 2020, we want to be able to provide you with suggestions from your peers, advice from industry experts and tools to set you up for your own success, whatever that might look like right now.
On May 20th we are coming together for part 1 of 2 workshops focused on training during COVID-19. We're partnering with fitness professionals to talk through all of the hard stuff so we can come together strong as trainers and plan for successful next moves.
We would love to hear from you on what specific questions you have right now!
Come prepared with questions and get ready to hear from industry professionals on their experience and best practices for on-demand, streaming, virtual platforms and live workouts. What's worked? What hasn't? What steps did they take to get prepared? How has this changed their business model and what are they anticipating for the future?
We will hear from panelists:
Darcey Wion, System of Strength, Director of the Digital Studio System of Strength is a boutique fitness studio with three locations in Ohio. They created a digital studio in 2016 and recently rolled out live streaming.

Jerry Yudt, Founder/CEO of Y3 Lifestyle Coaching Taking a personal trainer out of the gym, removing all of the tools and disabling the physical adjustments of a client is a challenge. Jerry has overcome some of these challenges through the relationships he has built as a trainer with his clients to be able to coach and motivate through a screen. Jerry is offering up daily free IG workouts as well as working with his 1 on 1 clients virtually.

Gideon Akande, Fitness and Wellness Coach Gideon has used social media, community and content to create daily live and interactive workouts. He has also partnered with brands to produce creative workouts for new audiences while he continues to motivate his devoted followers.

Ashley Rockwood, Founder of Free MVMT Shop From pop up shop, to brick and mortar fitness studio to a full schedule of zoom classes, Ashley has not been afraid to try something new and see what happens. Through it all she has been able to create and grow a loyal community and lean on social media to come up with new ways to continue to grow.

Kaye Straub, The Barre Code, Director of Training and Operations The Barre Code, a boutique fitness concept with over 60 locations nationwide, adopted an on-demand service prior to COVID. The Barre Code on-demand offers a growing library of over 80 digital workouts, guided meditations, playlists and more, additionally TBC is offering 50+ live-streamed classes per week featuring their top trainers from across the country!
During this workshop, we will also be sharing some of the insightful data that we have received so far from the addendum to the State of Fitness Survey. You can fill the 5 minute survey out here and please share with your community!
#TrainersConnect Workshops are free for all attendees. We'll host the event in a private Zoom room. If you don't have Zoom, you can download it here!
Details for #TrainersConnect
What: A virtual (free!) #TrainersConnect COVID Series
When: Wednesday, May 20, 2 pm Central
Where: Zoom link is provided in the confirmation email and you'll get a reminder email send out on Tuesday, May 19th.
What you need: Any questions that you might have about digital training and continued community building.
Where do I snag a ticket? Right here!
Let us know!
Did this post help you get closer to achieving one of your goals?