aSweatLife's Digital Schedule – Week of May 4 Presented by Lakeshore Beverage and Roosevelt Collection
[Disclosure: This week's digital content is created in partnership with Lakeshore beverage and The Roosevelt Collection Shops. As always, we only write about the brands we truly love]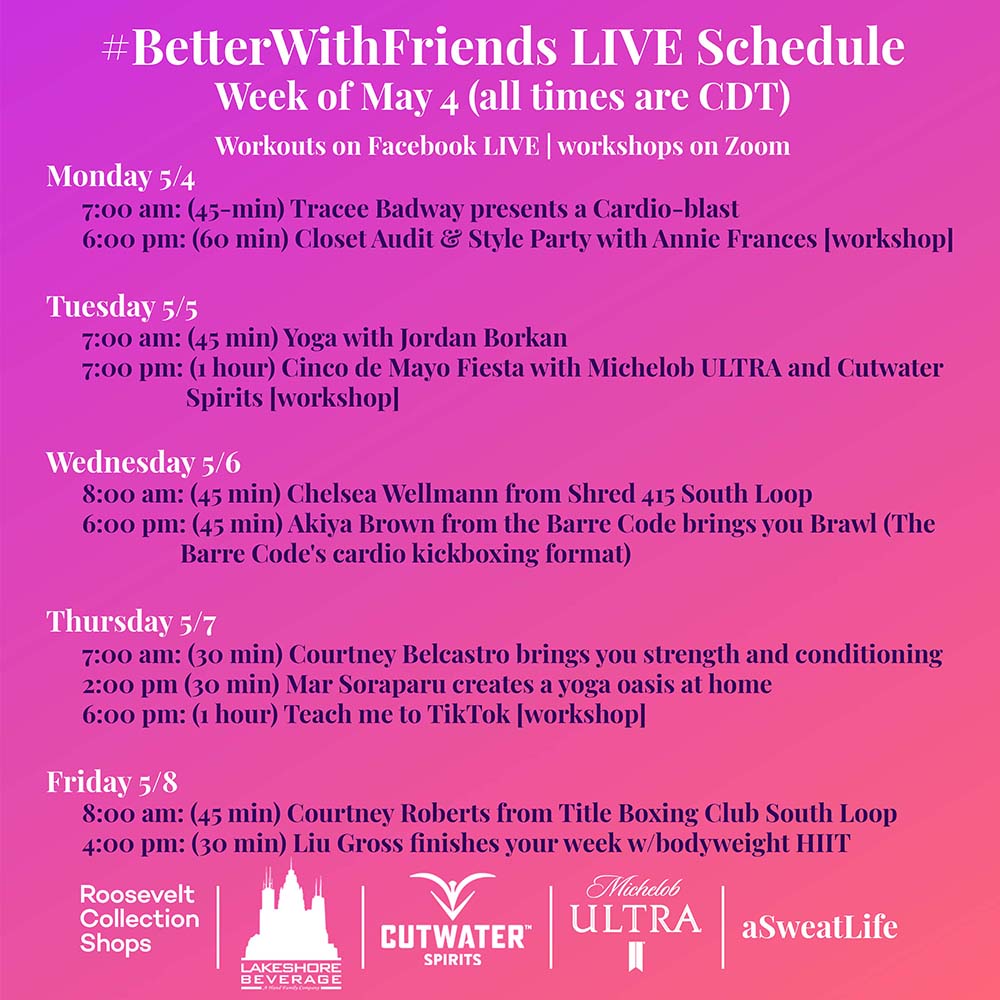 This week, our eighth week of all-digital workouts and workshops, is brought to you by two brands: Lakeshore Beverage (which distributes spirits we love like Michelob ULTRA and Cutwater Spirits) and The Roosevelt Collection Shops.
And because we love shaking things up, we're also issuing you a challenge this week: declutter your life a little bit at a time. We'll have a workshop to help and bite-sized daily challenges meant to keep this from being daunting. Learn all about it (including prizes) here.
Three workshops to bring something different to your days
Monday, May 4 at 6 pm CDT: Closet Audit & Style Party
aSweatLife is coming into your home via Zoom to take over your closet! With the help of styling consultant Annie Frances, we will go through a clothing audit and walk away with options to making you feel confident (even if that includes your favorite PJs)!
The Purpose: This audit will give you a fresh take on your existing closet & help you feel confident with your wardrobe by:
Helping you to dig deeper into your style.
Clearing out pieces you've needed the extra nudge to get rid of.
Learning the best strategies on how to organize your closet now and in the future.
Tuesday, May 5 at 7 pm CDT: Digital Cinco de Mayo Fiesta With Michelob ULTRA and Cutwater Spirits
We're here for any excuse to have tacos and margaritas and this year, we've been given the greatest excuse of all – Cinco de Mayo is on a Taco Tuesday! And just because we can't be together in-person doesn't mean we can't still celebrate together!
On Taco Tuesday, 5/5, aSweatLife is hosting a fiesta of Cinco de Mayo proportions. We invited our friends at Lakeshore Beverage to join and they are bringing Michelob ULTRA and Cutwater Spirits Lime Margarita to the party
We're getting festive in the kitchen with our favorite wellness Chef Alia Dalal. She'll show how to make a lightened up, creamy and craveable Elote Dip, inspired by Mexican Street Corn. You can serve the dip with chips or veggies, or she'll show you how to add black beans and a chopped bell pepper to justify eating this for dinner. You'll also learn how to make an agua fresca, a refreshing fruity beverage that's perfect for spiking with Cutwater Canned Cocktails or your spirit of choice for a juicy, minimalist cocktail.
Both recipes are flexible so you can substitute what you have on hand, and Chef Alia will be answering your questions and sharing her top tips as we go. The party doesn't end there—the DJ Firm will be live on the turntables to really turn up the heat! If you don't feel like cooking, Moe's Cantina (both River North and Wrigley locations) and La Luna have you covered with some delicious Cinco de Mayo packages!
Thursday, May 7 at 6 pm CDT: Teach me how to TikTok Workshop
No matter your age, if you are even a little bit curious of the social media platform, TikTok, join us for a basic TikTok 101 Workshop! Warning: If you're new to the platform, prepare to go through these stages of TikTok obsession.
This workshop will allow you to dip your toe in the world of TikTok and give you the confidence to post your first video. We promise that it wont actually feel like this because it can be as basic as this!
On Thursday, 5/7, aSweatLife is throwing it back with aSweatLife Ambassador, Mary Kesinger. Mary will guide you through the following.
What is TikTok and why is everyone talking about it?
How can I strategically use TikTok for my brand or business?
How do I navigate and create on TikTok?
How do I learn dances and add creative effects?
Throw it back like Charli D'Amelio so you to can reach 52.4 million followers! (Okay, maybe not this last one, but you will learn a dance during this workshop!)
Lots of ways to get a workout in!
Monday, May 4
7 am: (45-min) Tracee Badway presents a Cardio-blast – a mixture of plyometrics, cardio kickboxing and thoughtful strength-building exercises
Tuesday, May 5
7 am: (45 min) Yoga with Jordan Borkan
Wednesday, May 6
8 am: (45 min) Chelsea Wellmann from Shred 415 South Loop brings Shred415 to your home
6 pm: (45 min) Akiya Brown from The Barre Code brings you Brawl (The Barre Code's cardio kickboxing format)
Thursday, May 7
8 am: (30 min) Courtney Belcastro brings you strength and conditioning with stuff you have at home
2 pm: (45 min) Mar Soraparu creates an oasis at home with 30-minutes of yoga
Friday, May 8
8 am: (45 minutes) Courtney Roberts from Title Boxing Club South Loop takes you through jabs, crosses, and hooks
4 pm: Liu Gross finishes your week with a 30-minute bodyweight HIIT workout
Let us know!
Did this post help you get closer to achieving one of your goals?