You've likely seen taro chips in the grocery store or read "taro" on menus, since taro root is becoming more and more popular. Taro basically resembles a potato—so perhaps you think it's a potato and eat it, mistakenly or you think it's at least safe to eat and familiar looking, so it's worth a shot.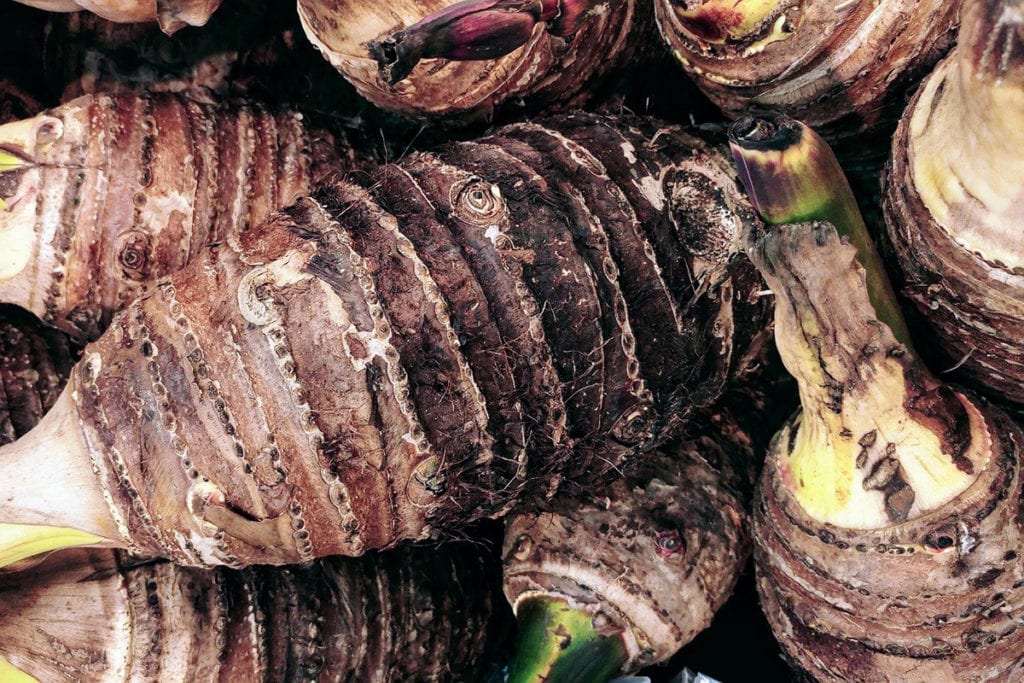 And you would be right, since taro root is a starchy vegetable, much like turnips, potatoes, and parsnips. It also happens to be super nutritious and tasty when cooked in your favorite dishes in the same way you would use potatoes.
But what is taro root?
"Taro roost are a starchy root vegetable that originated in Asia. It has a brown outer skin and white flesh with purple specks throughout," says Maggie Michalczyk, MS, RD. "When cooked it has a similar texture to a potato and a lightly sweetened taste," she says, so it might be better for those recipes that need that bit of sweetness to complement the starchy, sturdy texture of that spud. 
How to cook taro root
To be clear, taro is like other root veggies, which means it's pretty darn dirty. Before you decide how to cook taro roots, take a few minutes to clean it.
"You're going to want to clean off the outside of the root just like you would with a potato and you can use a veggie peeler to get the peel off," Michalczyk says.
Discolored parts should also be removed—you don't want to eat those.
"Taro can be boiled, steamed and roasted similar to how you would cook a potato. Most simply, you can cut it into chunks or slices, steam it, then sprinkle salt on it, and eat it just like that," Michalczyk continues.
But you can have fun eating taro roots, too
It can actually be fun to experiment putting different sauces or seasonings on it, like herbs and spices for roasted taro or chips and fries.
You can even use it in desserts, like ice cream and baked goods.
"You may often see taro in sweet things too like fro-yo," Michalczyk adds.
"Taro powder is a more popular (and processed) way of incorporating taro (and vibrant purple coloring) into baked goods and sweets like bubble tea and fro-yo," she continues.
Online, you can find different recipes to bake with it, such as using it in cakes and cupcakes or adding to acai bowls and fun places for that pop of purple. Yet, be sure not to consume undercooked or raw taro, as it can cause food sickness, Michalczyk warns.
Plus, taro is pretty nutritious!
Taro root is a good source of nutrition, so feel free to eat it up!
"It's high in fiber, manganese, vitamin B6, E and potassium," Michalczyk says, so it could be great after a workout to replenish electrolytes or in the morning to boost satiety levels.
Similar to other root veggies, taro root is made up of mostly carbs.
"That's not necessarily a bad thing, however I would recommend incorporating it into a balanced meal that also contains protein and healthy fat," she says.
And be careful about prep if you are eating it out.
"In some cases taro is deep fried, which I would say is not the healthiest way to consume it," Michalczyk reasons. And FYI, powder does not have the same heath benefits.
"If the purple taro powder is used in something, it does not have the same nutritional value as the vegetable itself," she says.
So, have some fun with taro root this week! Browse online for a few recipes and see what you think!