Tips for Waking Up to Work Out in the Morning
I am the first born of three daughters. I have read, somewhere, that first born children look more like their fathers. This is true in my case. I look like my dad, and share a number of his qualities: an affinity — no, a need —for chemical balance through fitness, (in)frequent moodiness, and knack for making the family homemade ravioli recipe.
Where I seem to have gotten some genes from my mother is in the circadian rhythm department. My dad, and sister, rise very early, at 3 am, or maybe it's 5:15 am, but it seems to be the middle of the night, to get out the door to work out in the morning. My mom, and I (and my cat Patacón), on the other hand, prefer to wait for the sun to rise before we do. 
As a high school teacher, I have had to adjust my natural clock; school days begin at 7:45 am officially. While I have a short yoga and meditation practice before school, I have had a hard time wrapping my head around regularly setting my alarm earlier enough to get my sweat life living on before my work day starts.
This year, though, I have listened to my friends Alli and Ann discuss their morning running routine, and I've developed a bit of envy for how accomplished they feel by the time the first class of the day begins. Perhaps it was the competitive side of me that piqued my curiosity about this morning workout business enough to give it a shot for a week.
If you are, like me, part of the afternoon fitness fan club, but wondering if it's worth it to zombie walk your way onto your yoga mat, or into the spin class before your sweet cat has peaked out from under her paw, I learned some useful hacks as I attempted to work out in the morning this week. I am here to share them with you, and I am here to hear your morning workout hacks too! 
Give yourself enough time to get ready in the morning
For the first day of Operation Pre-dawn aSweatLife Living, I arose 30 minutes before I met my friends at school in our mini-gym to create our self-made workout. (Gyms are currently closed here in Shenzhen, China, as we figure out this coronavirus situation.) I had approximately 17 minutes to get myself out of bed and out the door.
I made it to the mini-gym on time, which was a win. However, I forgot shower sandals and socks, and I was hungry as hell because I had not given myself time to consume anything to fuel the workout. This was a bit of a loss — my workout was fine, but not particularly strong, and I spent my shower trying not to imagine what was crawling on the tile floor. (Perhaps nothing, but also perhaps grimy, little microscopic bugs. Ew.) While I had hoped that working out in the morning would boost the blood to my brain, thus making me feel more productive from the onset of my workday, the way that I had rushed around from the moment that I woke up led me feeling frazzled and forgetful.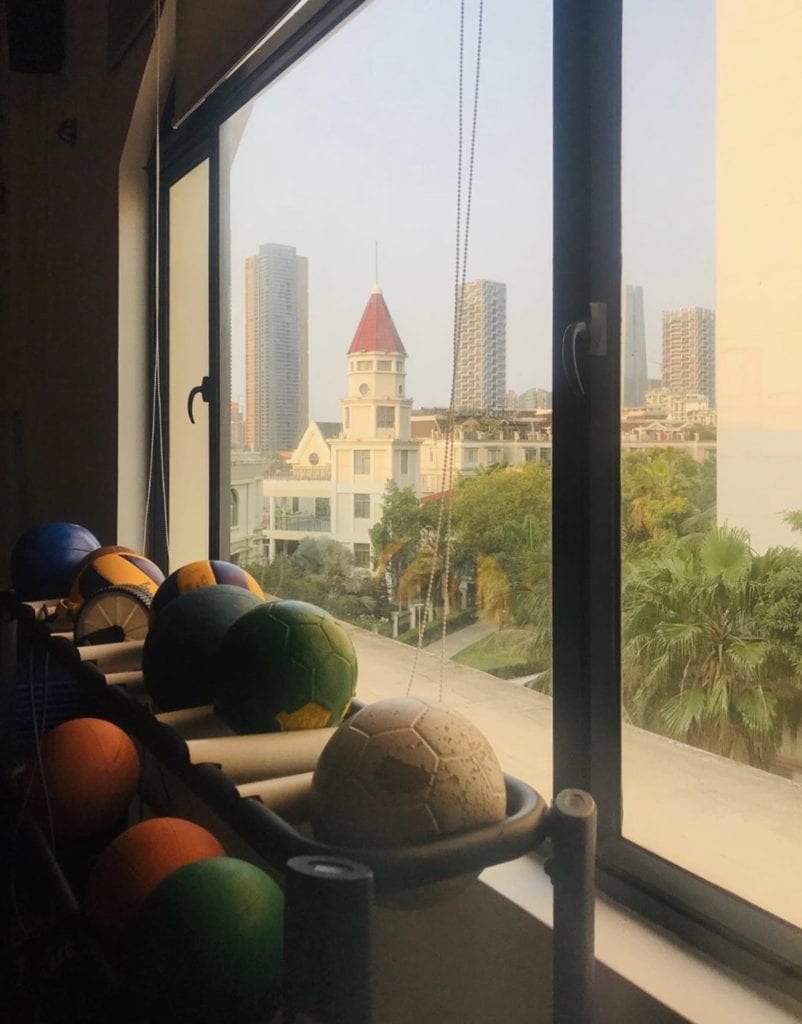 For the remainder of the week, I offered myself 45 minutes to get ready and get to our meeting spot to work out in the morning. This also offered some time to eat a small breakfast, and to lose the low blood sugar shakes. I found these strawberry muffins to be a suitable fuel as they did not leave my stomach feeling heavy, but offered a feeling of satiety after just one medium-sized muffin. I did then fuel up further after the workout. 
Accountability is key for morning workouts
In truth, left to my own devices I probably would have completed the week of early bird workouts, but it would have been so much less fun. While accountability was not imperative to completing the workout, knowing that I was meeting up with friends to work out helped me to cheer up when my alarm clock interrupted my dreams. Since here in Shenzhen we are not able to work out at a gym right now, knowing that Ann, Alli and I had scheduled a time to meet helped me to avoid dawdling about and pushing the workout to 15 or 20 or 30 minutes later.
Reaping the rewards of working out in the morning
In my current context, keeping with routine and starting the workday at the same time it would start if students were actually in my classroom (rather than scattered around the globe at the moment), has been part of how we have saved our sanity in the midst of great uncertainty and ambiguity. It is possible right now to adjust the time of my work day, but I have found that I just feel a bit more off when I do that. Establishing as much normality as possible has kept me feeling emotionally strong, and the accountability of workout partners at a set early hour has indeed contributed to that sense of well-being.
So, after a week of this new lifestyle, has my workout identity undergone a real shift? Not yet. After I figured out the calorie deficient brain fog, I did really enjoy the way that an early morning workout freed up the rest of my day, and I loved taking one shower a day. Plus, it was a useful challenge to try something new.
I do think, though, that understanding a new routine — be it a new food plan, a new approach to communicating in a relationship, or a new approach to working out — takes more than a week to evaluate if this routine will serve us well.
As it stands, at this week's end, I set off for a yoga retreat in Phuket, Thailand, where I write to you from today. I would like to try out the Early Bird Life again, soon, and this time for a month. To try something new for 30 days, that's a true commitment to figuring out if we are doing something a certain due to an appeal to ritual, or because what we have been doing actually is what works best for us.
I would love some morning hacks for how to give this a good go — what advice do you have on how to work out in the morning?