Meet the QVC Host Who's Training for the Olympics
If you thought you had a busy schedule, you might want to think again. Not only does Courtney Webb have a full-time job as an on-air host for shopping network QVC, but she's also training for the 2022 Winter Olympics in skeleton. The sport is no easy feat; it involves lying on a sled and hurtling headfirst down an icy track. Oh, and by the way –– she performed with Beyoncé at the 2016 VMAs.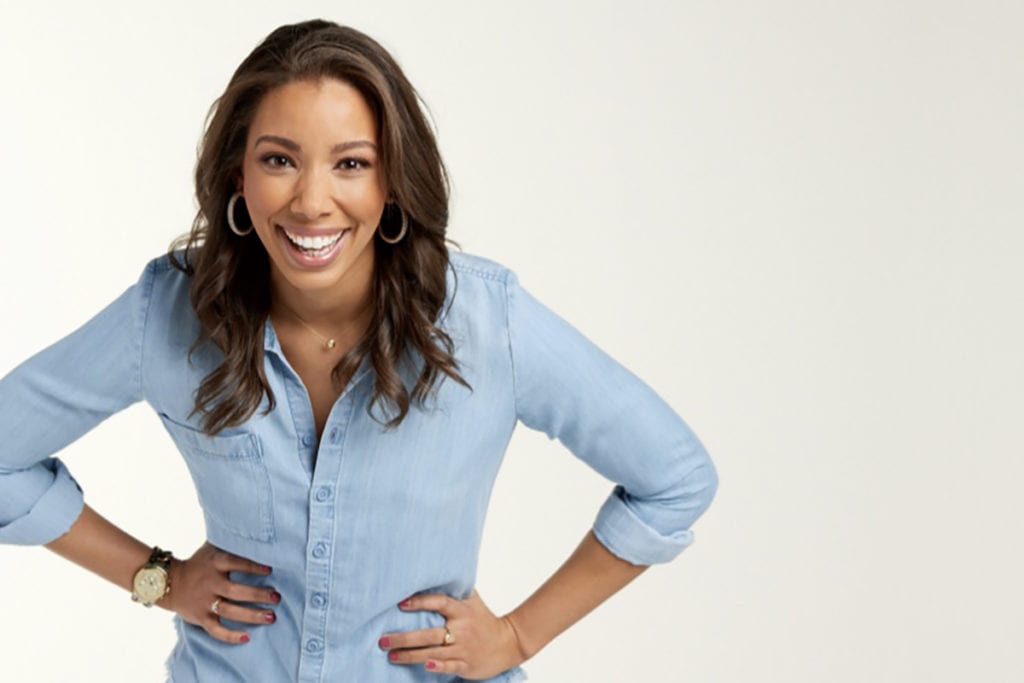 Though she's based in Pennsylvania, Webb was training in Park City, Utah, for the entirety of February. At the end of the month, she took time to chat about the importance of quick-mindedness, being an Olympic-caliber athlete, and what it was like to work with Queen Bey.
This exchange has been lightly edited for clarity.
You have a full-time job as an on-air host at QVC. Tell me about the position and what your day-to-day schedule entails.
I've been working at the Q since September of 2018. I was one of 17,000 applicants and they only took six of us. There are only three of us still left.
The job entails being quick-minded. We have six months of training, and we usually have three hour shows. I typically work in the middle of the night; that's when the newbies tend to start. We have 27 products in that three-hour span, and there's no delay. If you say something, it's on live television.
What I love about QVC is that it's helped me to think quicker, which transitions to skeleton. We have to be aware of our surroundings, and there are no breaks or delays. That helps my mind prepare for when I'm on the ice. You just have to be in the moment and work with what you have.
How did you get involved in skeleton?
I didn't know it existed until I was working at a WeWork in Manhattan. There was a girl who worked at a different company [that I saw frequently]. One day I went to get something to drink and she said, "I always see you in workout clothes." I said I played lacrosse in college and I work out. She said, "You have the perfect body for skeleton." I asked what it was and where one tries out. She said, "The OTC –– the Olympic Training Center." I said, "I'm sorry –– you want me to try out for the Olympics for a sport I've never heard of?"
That's what she did, and she was training for 2018. Her name is Lauren Gibbs and she ended up winning silver. It was her first Olympics.
I went back to my desk and started Googling skeleton. I found out you have to do a combine, which is a series of fitness tests, including a sprint, a broad jump into sand, and an underhanded shot put toss.
I show up for my first one and am not prepared for it. The second time, I do a little better but not that great. I go again for the third one and the coach says, "You did a little better. Come out to Park City, Utah, and go down the ice to see if you even like the sport."
I went. I lay down on the sled face-first, and the coach holds my ankles and pushes me down the last few turns of the track. I have no idea how fast I went.
Later, all the people who came to tryouts were in the locker room. The coach thanked everyone for coming and they all left. I ended up being the last person in the locker room. The coach said, "You have something I can't teach. I want you to come out to Park City for two months."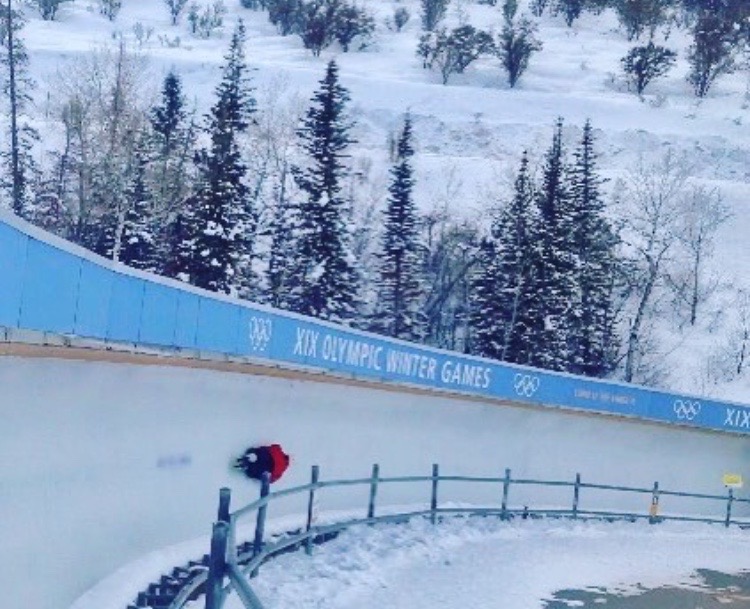 For the month of February, you [were] in Utah training for the 2022 Olympics. What was your schedule like?
I'll typically wake up and do Olympic lifting. I have a coach in Philadelphia named Austin White who writes a plan for me.
After that, I go to the track. I get my sled ready and make sure it's sound. You can only go down two to three times per day on the ice, and each run is 50 to 53 seconds. I warm up, go to the top and push off my sled. If you want to fix anything on that 15-turn track in that 50 second run, you have to remember to do it.
Then I cool down, go home and watch point of view videos. I pretend I'm going down the track. That's a typical day in the winter.
What are the next steps in your journey toward making the USA Olympic team? How does the process work?
I [had] my Western Regionals race [on February 29].
You need to do five races on three different tracks in two years. Once that's under your belt, you have qualifiers for the Olympics, which is one month before the Olympic Games.
How do you balance your full-time job, skeleton training and your personal life?
I 100 percent can't do this without the Lord. Everything I run into, I just pray and he makes the way every time. For me, it really is about being OK with not knowing how you're going to balance everything. Don't put a capacity on what the Lord can do. I just have to tell myself, "I don't know how we're going to do it but I have to keep putting one foot in front of the other."
I read in your QVC bio that you performed with Beyoncé at the 2016 VMAs. I have to ask: What was that like?
That was surreal. That performance at the VMAs was a secret; no one at the VMAs knew she was performing.
I went to casting not knowing what it was, but my agent said, "If you get it, you will thank me forever." I made time on my lunch break to go. I got it, and they said to go to a studio, but I was so frustrated because I didn't know what I was doing. I was the first one there and Beyoncé walked by and said, "Thanks for being here!"
We trained with her for an entire week. She's the most hardworking person I've ever seen. She would pray before our practices. When she walked by you, she'd acknowledge you. She was just genuinely a nice person.
Because you perform with Beyoncé –– which still blows my mind –– you are equal to her because you are one unit. I was [backstage] with Kanye, Kim Kardashian and Heidi Klum. I got invited to Beyoncé's dressing room, since they pick one girl to come in and Beyoncé looks at the outfit and asks if it's comfortable.
It was just a fun, cool experience in general.