The Best Plant-Based Swaps for Your Favorite Meaty Dishes
If you're thinking about what to make on the grill as spring draws near, but you're on a plant-based diet, you might be wondering what your options are. It can be hard to figure out how to enjoy a plant-based swap, especially for meats like beef and chicken, when you want that meat-like texture but without all the animal protein. 
The good news is you can totally enjoy your favorite meat dishes from plant based proteins and healthy foods, like legumes, beans, quinoa, tofu, setian, and more. Here are a couple of wonderful plant-based swaps to choose from, thanks to Chicago-based dietitian, Maggie Michalczyk, MS, RD.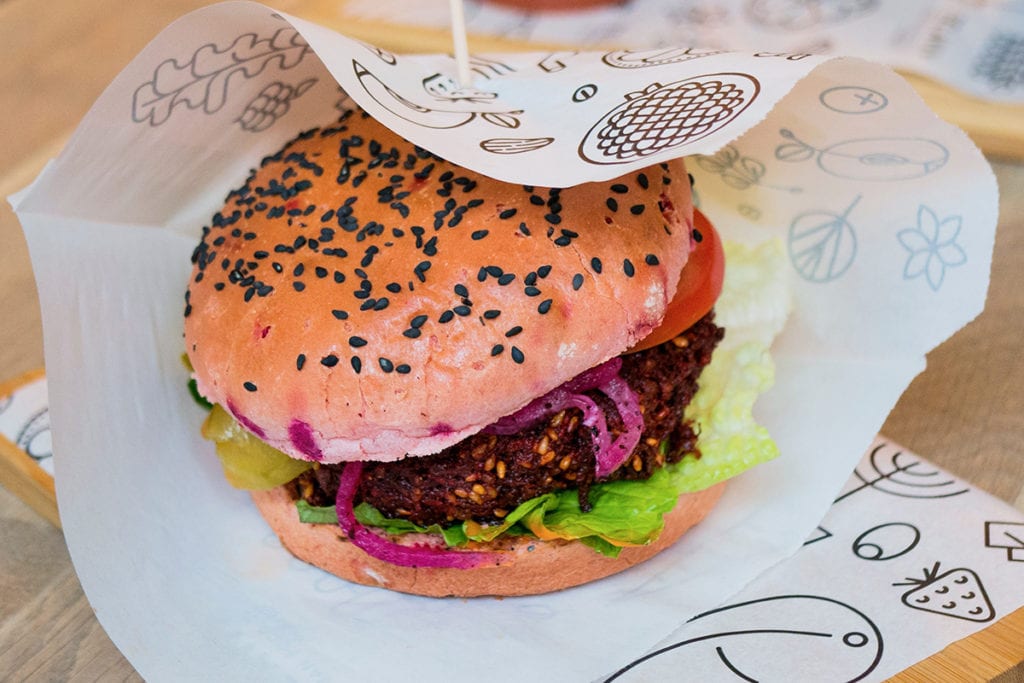 The best plant-based swaps for a burger
"Something like a quinoa burger would be a good alternative to a meat burger and provide a good amount of plant-based protein," Michalczyk says. The Impossible Burger is another plant-based alternative for regular meat and it's made from textured meat protein, soy and potato protein. So, it's worth giving that a shot!
"Salmon burgers are another meat-free option if you're trying to fill your burger fix," she says. 
The best vegetarian replacement for chicken
Tofu makes a good substitute for chicken as a vegetarian replacement because it's a good source of high-quality, complete protein. And it can be flavored to taste like chicken or take on any flavor depending on how you spice it, she says. That means you can use different marinades on the grill, sauces in the wok, or dressings if cubed for a salad (think citrus—yum). 
The best plant-based swap for steak
Cauliflower steak is a legit thing—for good reason. It's delicious.
"Here, a great alternative [to steak] would be a cauliflower steak. Again, there are so many different ways you could season a cauliflower steak and pairings to make it a filling and delicious meal," Michalczyk says.
You can make it spicy with spices and hot sauce, give it some fresh herbs and keep it plain and simple, or you can lather with a bit thicker of sauce, as you would put on steak. 
The best plant-based swaps for taco meat
"Mushrooms are a great alternative to for any ground meat. You can do a blend of half regular meat, half mushrooms or all mushrooms. To give it even more of a meatier texture, try adding walnuts too like in this recipe," Michalczyk advises. The mushrooms are veggies but have a meatier texture than say zucchini or bell peppers, which are normally in these tacos. You can also do fish—like mahi mahi or salmon!
The best plant-based swap for meatballs
"Consider trying a baked falafel option that is reminiscent of meatballs but gets its protein from chickpeas. These baked butternut squash falafels are easy to make and still give you a good amount of protein," Michalczyk says. You can then use in pita bread for sandwiches or top on pasta or zucchini noodles for a take on spaghetti and meatballs. 
The best plant-based swap for deli meat or sandwiches
"In terms of alternative meat that is deli style, most are packed with sodium and some may contains fillers, etc. so I would definitely check out the ingredients of those before purchasing," Michalczyk says. 
Yet, you can make a sandwich with veggies (most contain a little bit of plant-based protein); a green, like kale leaves (these contain 3 grans of protein per cup); cheese, which contains protein; and whole-grain or sprouted bread for extra protein, she suggests. It'll still work! And if you do find a seitan slice (those are good for deli meat types) that is low in sodium and free of additives, you can go for it.