How Sarah Larson Levey Took Y7 Studio from Pop-Up to One of the Fastest Growing Companies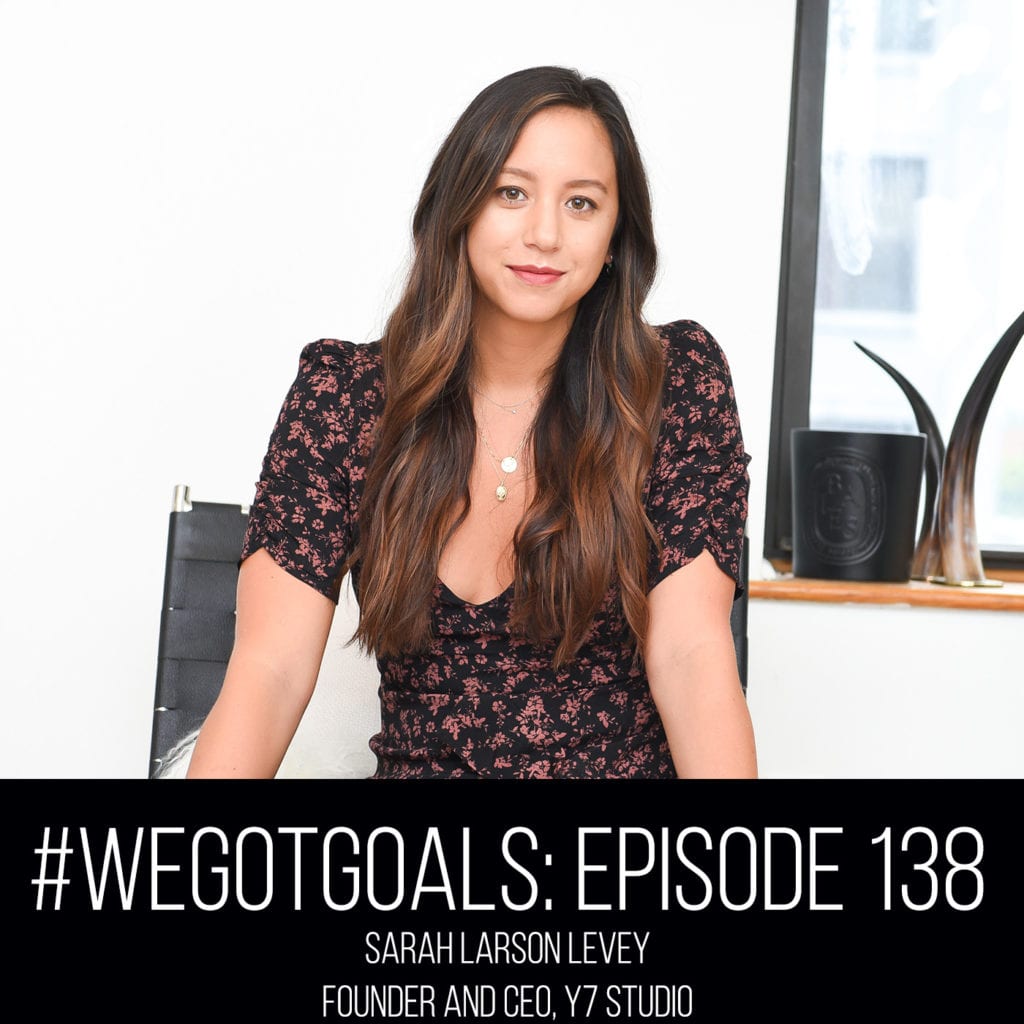 Sarah Larson Levey, founder and CEO of Y7 Studio, hopped on stage as our keynote speaker, visibly pregnant and spilling truths at the #SweatworkingSummit January 25 and 26. And along with dropping knowledge ("It's like this now") on the opening date of Y7's Chicago location (March 12) like one of the albums that plays in class, Larson Levey also opened up about the tough moments that came with building her yoga empire.
Along with the success she's experienced, like being featured on the cover of INC and earning countless other accolades, Larson Levey dealt with her share of personal challenges. In being extremely open about those struggles – like having two pregnancies end in miscarriage over the past two years – she empowered our #SweatworkingSummit attendees to share their own struggles, too.
In this episode, we discuss:
4:30: Sarah explains the totally-free Y7 Studio pop-up that started her on the journey to studio ownership in 2013.
5:41: Sarah talks through the injury that led her down a path to try yoga – her doctor pointed her towards yoga.
8:00: Sarah explains a Y7 Studio class and why the music played is a pivotal part in the programming.
9:40: Sarah talks about co-founding Y7 with her husband Mason Levey (who was her fiancé at the time – he's also been featured on #WeGotGoals with his company Wave Meditation) and how their skill-sets complemented each other.
11:15: We talk about her accolades – everything from being on the cover of INC to Create and Cultivate's 100 women to watch.
15:30: Sarah talks about how she learned skills in business, which she definitely did not major in.
16:30: Sarah explains the service mindset at Y7 and how her expectations for the consumer experience came to be from her background in fashion.
18:30: Sarah talks about taking on private equity funding to grow the business and how that changed things for her.
21:00: Sarah talks about getting a "work divorce" from her husband with whom she founded Y7, what working together did to their relationship, and what she learned.
25:00: We talk sacrifices and how sometimes starting a business can lead to other thing falling to the wayside. Sarah talks about how in the early days, she played a lot of roles and worked a lot of hours.
29:00: Advice on building your own path – this is when Sarah talks about staying focused and learning whom to take advice from.
31:00: On learning to put on blinders to keep your focus – for everything from understanding negative client feedback to how to look at new competitors as they emerge.
34:30: Who the most important person in the studio is (spoiler: it's the front desk staff).
36:30: Sarah talks about her lack of a morning routine and how there are elements of Y7 Studio that were created to help her trick herself into wellness.
40:00: Sarah shares the best piece of advice she's ever gotten – "It's like this now," and unpacks the simple phrase.
41:30: Sarah shares one piece of advice for anyone who is trying to start anything. "Start now."
42:30: Sarah shares her big goals for 2020 – opening 5 studios this year in new cities other than NYC and LA.
43:20: We take questions from the audience – one audience member and studio owner asked about how to implement consistent feedback and create a consistent customer experience.
46:00: One audience member asked about the balance between taking feedback and staying true to your vision. "You're never going to be everything to everyone," Sarah said.
48:20: One audience member asked about personal growth and mindfulness. Sarah advocates for therapy and counseling – and talks through going to couples' counseling with her husband.
51:00: One audience member asked about Sarah's pregnancy and her plan for the future. Sarah talks through the two miscarriages she had over the two years before this pregnancy and how that's given her a long time to think about the kind of parent she wants to be.
Resources:
If you love this episode and Sarah Larson Levey as much as we do, subscribe to the #WeGotGoals podcast wherever you like to listen to podcasts, including on Apple and Spotify (and hey, leave us a rating while you're at it!).