How Pinole Blue's Eddie Sandoval Is Spreading a Family Tradition While Supporting a Tribe of Ultrarunners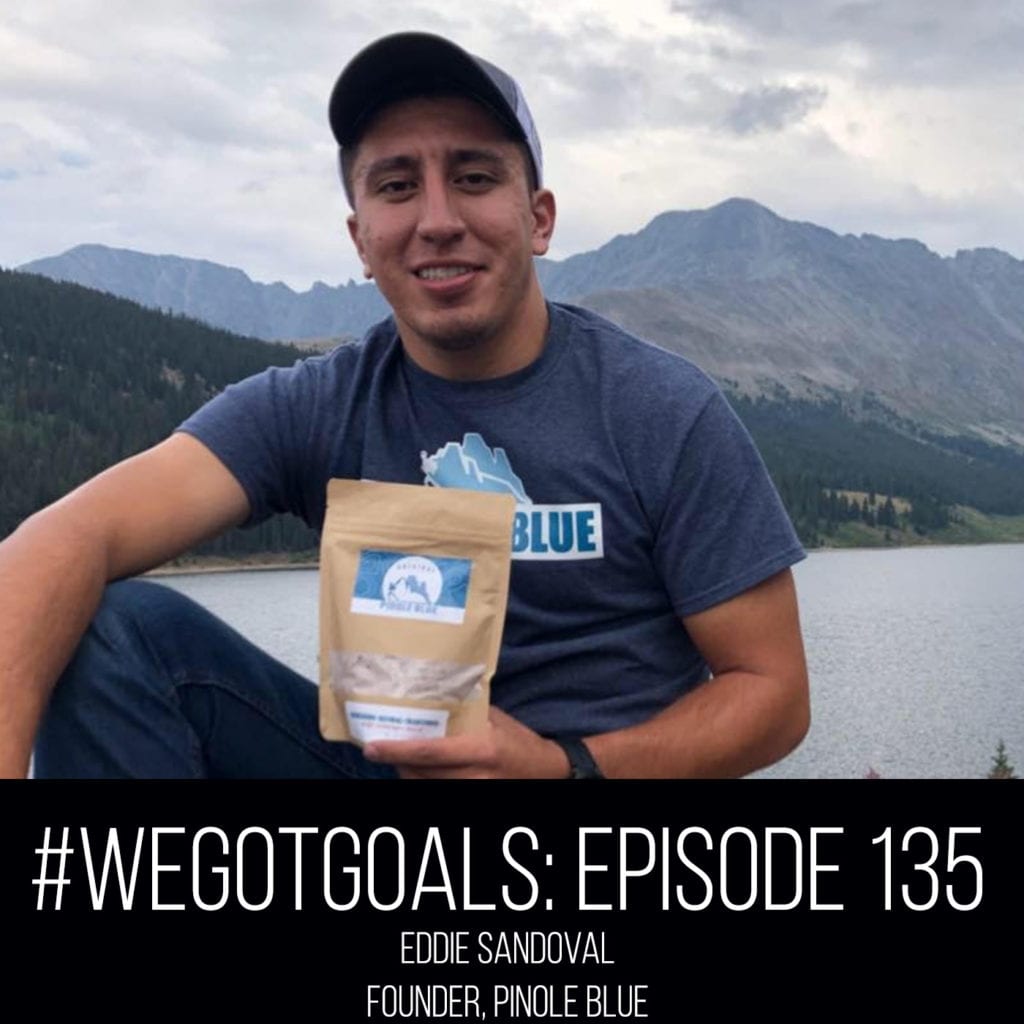 Long after they moved from Mexico to Wichita, Kansas, Eddie Sandoval's parents still savored the taste of home. Each time the family went back to Mexico for a visit, they'd pick up some pinole—roasted, ground corn that's made into baked goods and drinks. Eddie remembers mixing it with water to quench thirst in the summer, and sipping it warm with cinnamon and sugar in the winter.
Wichita has a sizeable population of people who have immigrated from Mexico. Still, the Sandovals couldn't find their beloved beverage nearby. So, Eddie decided to start a company to provide it.
On this week's episode of #WeGotGoals, he explains how and why. One key motivator was the Tarahumara—the sandal-wearing ultrarunning tribe made famous by the book Born to Run. They hail from the same region of Mexico as the Sandovals, and drink pinole to power their endurance efforts.
During Christmas break of his senior year at Wichita State University, Eddie tracked down a supplier of organic, non-genetically modified blue corn (given its hue by the same types of health-promoting antioxidants as blueberries). He loaded up a truck in Mexico and drove it back to his parents' garage. That was the start of Pinole Blue, a company that now sells powders, energy bites, cookies, and tortillas online and in close to 300 stores in 18 states.
In line with our focus on Contributing Generously, giving back has always been central to Eddie's business model—a portion of his proceeds go to benefit the Tarahumara, and he's sponsored Tarahumara runner Lorena Ramírez. On this episode, we discuss:
2:29: Exactly what pinole is, and why it's so popular with the Tarahumara
4:48: Why Eddie decided to start a business as a college student
6:38: The big goal he's accomplished, and why keeping a focus on generosity has been critical
10:25: The first steps to getting the word out—including Craig's List and Facebook marketplace—and the big break that helped him take things to the next level
13:39: Challenges he's faced along the way (including some top-notch cornmeal puns—the grind never stops!)
15:53: How his age—he's still only 24—both hinders and helps him
17:37: The advantages pinole has as a fuel for athletes
20:07: His big goals for the future, including the dream sports stars he'd love to sponsor
24:57: How he stays balanced as a busy entrepreneur
25:49: His number-one secret to success thus far
Links/resources we mention:
If you love this episode as much as we do, subscribe to the #WeGotGoals podcast wherever you like to listen to podcasts, including on Apple and Spotify (and hey, leave us a rating while you're at it!).