How Sarah Neukom and Matt Woodburn Elevate Non-Profits, Artists, and Each Other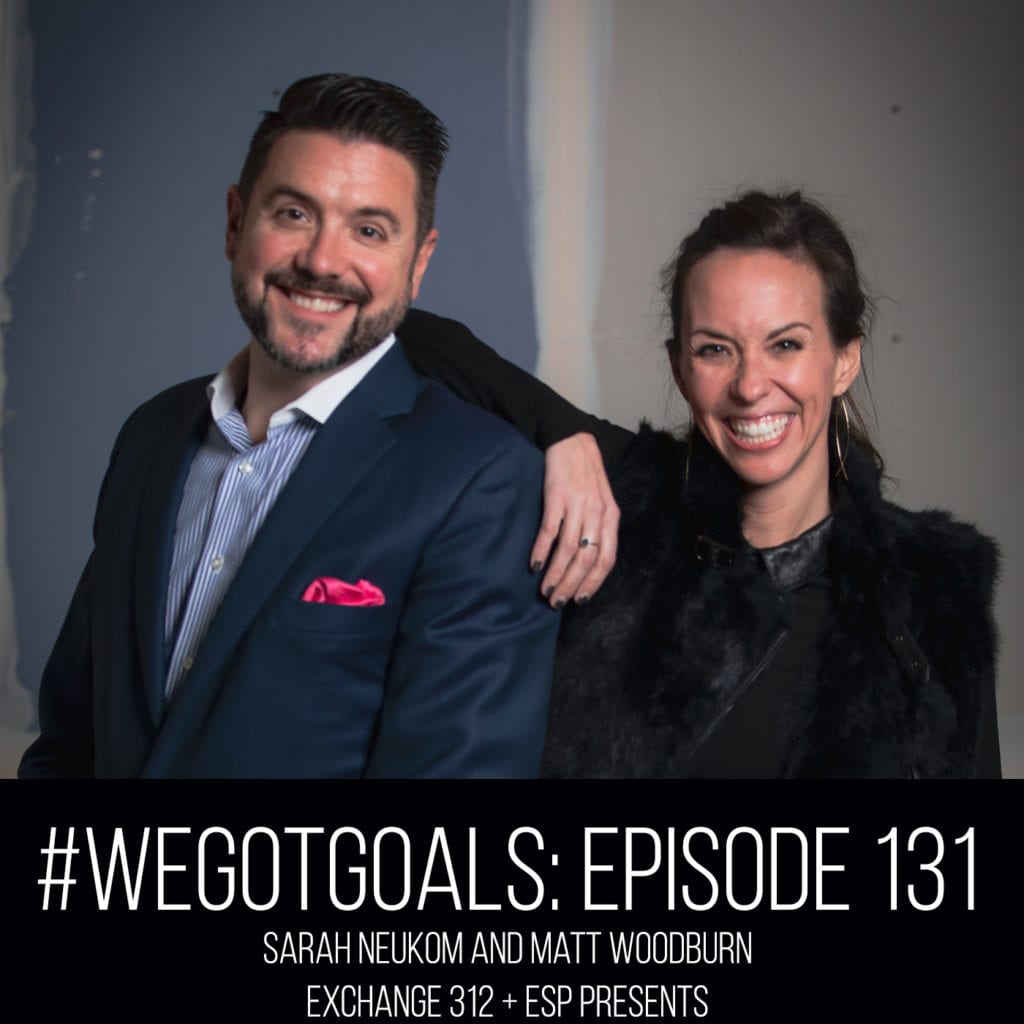 If you're looking to infuse your holiday shopping with some extra meaning, look no further than BIDE Market—it's a fully sustainable, plastic-free, vegan, and cruelty-free shopping experience that will fill Wicker Park's Exchange312 from 10 a.m. to 6 p.m. this Sunday, Dec. 15. Besides vendors, there'll be talks, panels, and refreshments, all from ethical brands.
The conscious marketplace represents just the kind of purpose-driven, yet still luxurious experience Exchange312's founders—passionate entrepreneurs Sarah Neukom and Matt Woodburn—had in mind when creating the space, as well as their event company that's headquartered there, ESP Presents.
Sarah and Matt hosted us in the gorgeous venue to tape this week's episode of #WeGotGoals, where Sarah explained how her background in event planning for a cancer center informs their current work; the fulfillment they get from creating memorable fundraising and other experiences; and all the failures and successes they've shared along the way.
On this episode, we discuss:
3:58: How this power couple—partners in business and life— joined forces
7:29: The dual meaning behind the name ESP Presents
9:13: Why missing out on a big goal was the best thing that could have happened to Sarah
11:46: What she learned about reading the signs, including the wise words of a steakhouse valent
13:26: The hard lessons entrepreneurship has taught Matt about goals, and why he doesn't always like setting them
17:35: How their partnership works, and takes them through 16- to 18-hour workdays (followed by evenings of house-painting)
26:11: The way they've built a team that works hard and still has heart
28:51: Why it's so important to them to help charities tell their stories
31:09: Why enabling others' success tops Matt's list of future goals
32:38: The potential for international expansion—and why Sarah isn't afraid of big, scary goals, even if she doesn't yet know how to reach them
Links/resources we mention:
If you love this episode as much as we do, subscribe to the #WeGotGoals podcast wherever you like to listen to podcasts, including on Apple and Spotify (and hey, leave us a rating while you're at it!).