Navigating the Holidays Away from Home
Holiday season is upon us, and while the same magic of cooler temperatures, fall flavors and scents, winter holiday decorations and shopping madness approaches, holidays seem to carry a different type of meaning for me. Choosing a life of adventure and living abroad comes with its own types of magic, but as always, also comes with sacrifice and compromise.
For me, this means I have spent nearly every holiday in the last five years out of the country. I've been away from those I hold near and dear while loved ones gather and participate in family and friend traditions Whether you're working, studying or living abroad, or just too far away to make it home for the holidays, here are a few ways you can still make the most out of the holiday season and find joy even far away from home.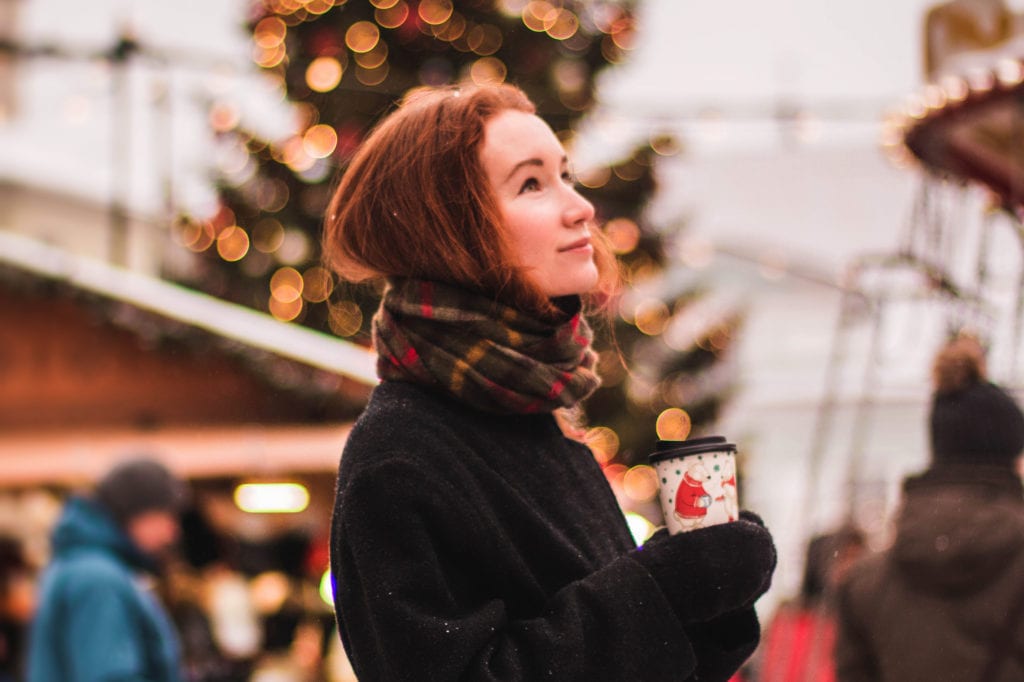 Celebrate holiday traditions with some local flare
While you may not be able to completely replicate your favorite traditions from back home, get creative and find a way to mix traditional holiday activities and tastes with your current country's resources and flavors.
I was living in Thailand doing my 200 hour yoga teacher training during Halloween one year, far away from holiday dress up parties, trick or treaters, and pumpkin everything. Instead of pumpkin carving, we took advantage of the abundance of island coconuts and had a group coconut decorating session, using brightly colored markers to decorate our blank coconut canvas to look like tropical pumpkins. Our teachers surprised us with local sweets that didn't quite resemble Reese's peanut butter cups and skittles, but instead allowed us to indulge halloween style and also try out the local snacks and sweets. This is still one of my best memories of a holiday away from home and embracing being somewhere new and celebrating, but in a different way.
Bringing the same traditions from home to you
During a fall semester study abroad in France, I was going to be spending my first-ever favorite holiday, Thanksgiving, away from home. Among many international friends, I had befriended three fellow American study abroad students, and we all decided we wanted to introduce and share with our international community of new friends and French host families in our tradition of Thanksgiving.
The four of us went all out with choosing the dishes we would make and we all gathered in one of our host families kitchens to begin preparing our traditional feast. We made green bean casserole, mashed potatoes, apple pie, rolls, cranberry sauce, and of course a massive turkey. We explained to our international friends our own unique family traditions while they helped us chop and prepare.
After hours of fun in the kitchen, we finally sat down to this absolutely beautiful feast with a global community of new friends that had become like family over the semester. I remember feeling so grateful and so present, even so far away from my own family. I was living my dream life, living with a French host mom and traveling around to different European countries on the weekends, while building life-long connections and friends I still keep in touch with to this day.
As we sat down, I introduced the group to my own family's tradition of going around the table one by one and saying what we are grateful for in our lives. It was so special and memorable sharing in this tradition with a community of people from all over the globe and one I will never forget.
Invite your loved ones to come to you for the holidays
In the grand scheme of life, a holiday is just a holiday! If you can't make it home, this could be the perfect opportunity for friends or family to forego their traditional celebrations to come your way, have a reunion, and make new holiday memories.
My birthday is always a little bit unique because I share it with my identical twin. Despite both of us living in different cities and having spent so much time abroad, we have only spent two birthdays apart in our lives. Two years ago, I was traveling around in Bali and my mom had arranged to come fly out and meet me to spend my birthday with me. While I was sad my twin couldn't be there too, it gave me something to look forward to and was so meaningful I would be able to spend my special day with my mom. Little did I know, my mom had also arranged for my twin sister to come, and as my mom and I were eating breakfast on my birthday morning, my twin walked up and surprised me to make the  most epic birthday present and surprise ever! The three of us had the most amazing holiday sightseeing together and sharing in this precious time.
Holiday or not, sharing new experiences together is one of my favorite ways to bond and get closer to the people you love in a new and different setting. 
Make technology your friend
It can be tricky to navigate calls and Facetimes home with time differences and different holiday plans, but make sure you schedule a video chat while your family or friends are all gathered together. Getting some face time with your loved ones makes it feel like you're there too, even for a few minutes and gives you that precious connection time you may feel like you are missing.
In addition, Keep Snail Mail Alive! Around the holidays, I always pick out holiday postcards unique to where I am and send hand-written letters to my family wishing them happy holidays and letting them know I am loving and caring for them even from abroad.
Get creative and celebrate not on the actual day
For me, it is not usually the actual DAY I miss when I am away, but all of the wonderful traditions associated with the holiday itself. As mentioned above, I have now missed a few years in a row of celebrating some of my favorite holiday traditions with my family back home. Luckily, I have the most thoughtful mom in the world who one year decided that we would have Thanksgiving dinner in August before I left for Southeast Asia. Even though it may feel awkward, get creative and have Christmas in July, celebrate a little differently, and as always, make the most of where you are, no matter what day it is.
Wherever you are this holiday season, look for gratitude and surround yourself with people and things that make you happy, chase joy and celebrate as traditionally or untraditionally as you'd like- you never know what new and precious memories you'll create along the way.