Hot Tea Recipes to Keep You Cozy This Fall
Nothing says fall like throwing on your favorite sweatpants and curling up in a cozy chair with a hot drink to watch a movie, read a book, or knock out a productive work from home day. Some of you might be trying to cut down on coffee or might be weird like me and not like coffee (unless it's iced and loaded up with almond milk and lots of pumps of syrup). That doesn't mean we should be left out from feeling cozy this time of year.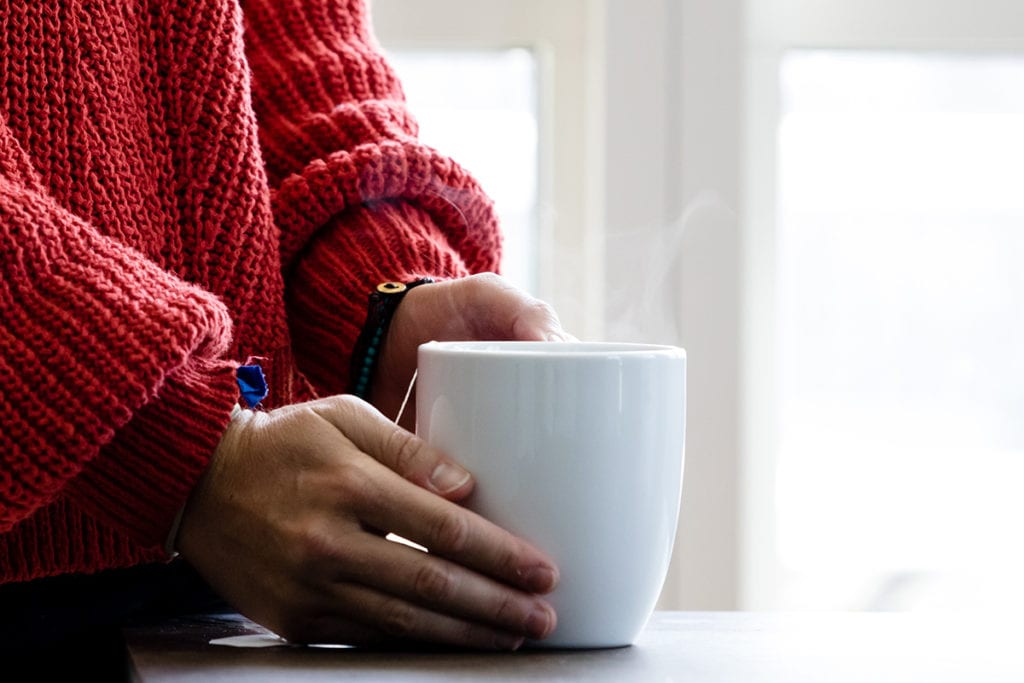 In addition to having lower amounts of caffeine than coffee, tea boasts health benefits from reduced risk of diabetes and cardiovascular disease to lower blood pressure and cholesterol levels.
Not only do I love tea as a sub for coffee in the morning, I also love pouring myself a mug of herbal tea at the end of the day instead of opening a bottle of wine. You can't go wrong with finding a go-to tea bag or loose-leaf blend that you love, but if you want to up your tea game this fall, you can make DIY takes on your favorite coffee shop drinks from the comfort of your own kitchen.
Tea lattes
Tea lattes are a great way to instantly feel like you're transported to a fancy coffee shop and paying five plus dollars for your morning caffeine fix.
Any tea latte generally consists of three to four main ingredients:
Tea (loose leaf or tea bags)
Additional flavors like herbs, spices, vanilla extract, etc. (optional)
Sweetener (optional)
Frothed milk of your choice (can be dairy or non dairy)
Steep the tea and any additional herbs or spices in hot water (boil in an electric kettle or on the stovetop) and then mix in things like extracts and sweeteners. Once your tea is ready go ahead and add in the milk. If you're a big coffee drinker, you might have a milk frother at home. But if you're like me and rarely have any need to froth or steam milk, try this microwave method. 
The best thing about making tea lattes at home is that you can make them totally to taste. Like it stronger? Spicier? Sweeter? Milkier? Play around with proportions and steeping time to make your perfect drink.
Here are some combinations for great tea lattes:
London Fog
Earl Grey, vanilla extract, honey, milk of choice
Chai
Black tea, cinnamon sticks, whole cloves, fresh ginger, maple syrup, milk of choice
Or for a shortcut use a chai tea bag and you can skip buying whole spices if you don't have any lying around
Faux Matcha
Green tea, honey or sugar, milk of choice
Chamomile Lavender
Chamomile, lavender extract, milk of choice
Other tea drinks
Not all cozy tea recipes have to be lattes or have any milk. Try elevating a great tea bag or loose leaf blend by steeping in additional whole herbs or spices, or making your own herbal tea blend without a pre made tea base. Steep your tea and its add-ins in hot water, then strain through a fine mesh sieve or a tea strainer and you're ready to go.
Just like the lattes, play around with the proportions and steeping times with these to get the exact flavor you like.
Try some of these combinations this fall:
Pumpkin Spice Tea
Black tea, cinnamon sticks, fresh ginger, whole cloves, whole allspice
Fresh Mint Tea
Fresh mint leaves, honey, lemon peel
Fall Fruit Tea
Apple peels, orange peels, cinnamon sticks, honey

Let us know!
Did this post help you get closer to achieving one of your goals?