Anthony Vennare, Co-Founder and CEO of Fitt talks growth, investment from MINDBODY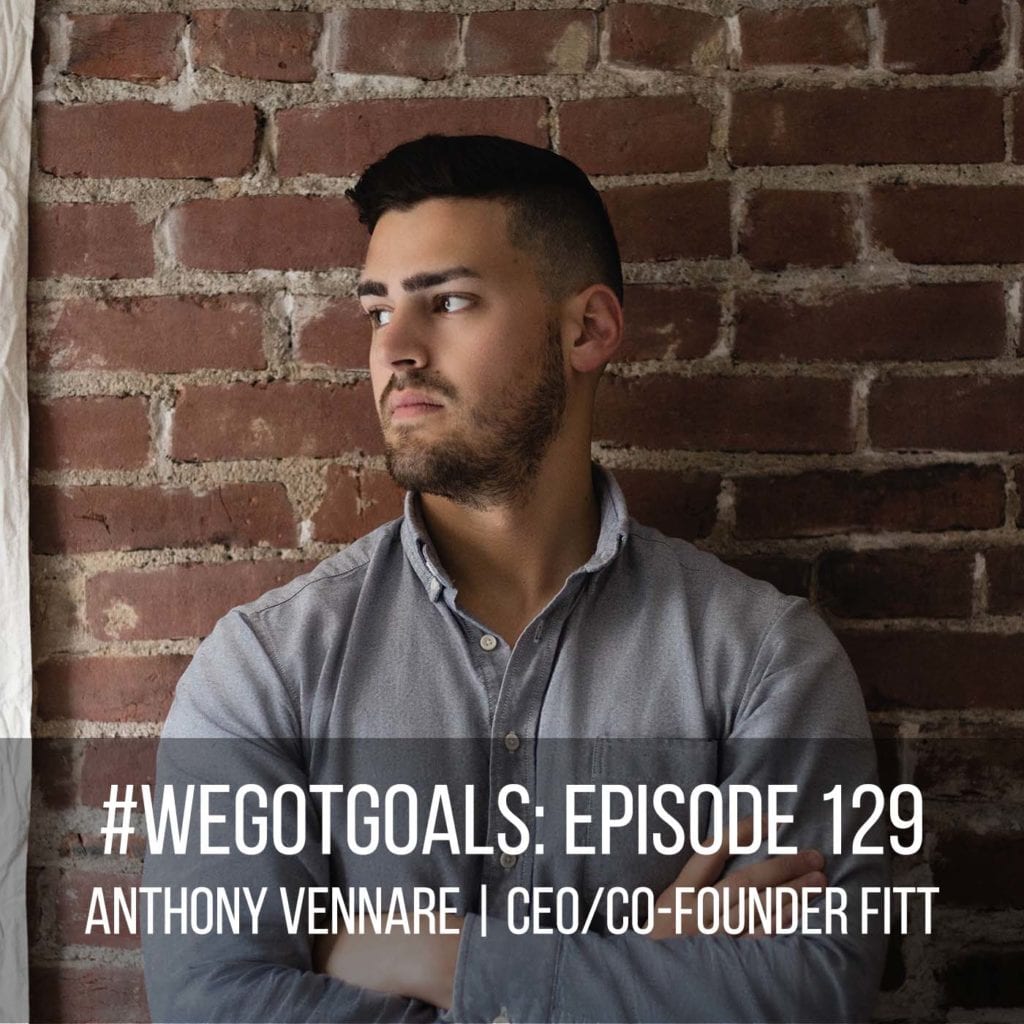 "The right thing is always the right thing."
That quote is inscribed on the wall at Fitt's headquarters in Pittsburgh where brothers Anthony and Joe Vennare built their location-based wellness discovery empire. And, more importantly, it drives every decision the company makes.
I spoke to Anthony Vennare, CEO and co-founder of Fitt for this week's episode of #WeGotGoals at the absolute perfect moment: just after Fitt closed a fundraising round that included MINDBODY's participation as a strategic investor. This, Anthony explained, was a big goal for the company from the moment it started to build what Fitt is today.
As an outsider, it's been fun to watch Fitt grow, innovate and help wellness-minded people discover new healthy experiences. But after speaking to Anthony, it would be impossible not to root for him – he's relentless, hardworking, disciplined and grounded. You'll hear that shine on today's episode – it explains much of the company's success.
On this episode:
2:15: Anthony explains Fitt in his own words, describing the location-based platform that's in more than 30 global cities.
3:15: Anthony talks about his childhood, his first job cutting grass and why he enlisted in the Marine Corps at the age of 17 – noting that his dad was diagnosed with terminal brain cancer just after he left for training.
6:41: Anthony shares how he, his brother and a team of friends converted a 12,000 square foot indoor skate park into a gym and how they were able to rent it for $1,500/month. At 21-years-old, he built a business and scaled that to 40 locations and a proprietary certification program called Kettlebell Cardio.
8:20: Anthony shares how he and his brother Joe decided to sell the gym and move into online media – keeping their eyes on Eater, Infatuation and Thrillist and deciding to build something similar for fitness and healthy living.
11:15: Anthony talks about Fitt's strategic partnership with MINDBODY – a relationship that took two years to build.
13:00: Anthony describes the unique positioning of Fitt in smaller markets like Cleveland, Pittsburgh and Minneapolis.
14:00: Anthony shares his secret to success – "I am just exhausting" and also talks about how his industry-facing content from Fitt Insider helped in getting his first meeting with MINDBODY.
16:45: Anthony teases the big vision for how Fitt's content will impact users of MINDBODY
17:30: Anthony speaks to the future of Fitt, including making the product the best it can be and his aspirations for potential acquisitions to truly reach a huge audience.
19:30: Anthony shares that about 30 percent of FITT's audience is made up of people who are traveling and what Fitt's building to empower that audience.
22:00: Anthony talks about what it's like working with his brother and how he lives way within his means and simply (he rides a vespa and doesn't own a car, by the way).
25:00: Anthony talks about he and his brother's unique take on business: creating companies that "fill voids in other companies."
Resources:
Anthony Vennare on LinkedIn where he shares a lot of industry reports and updates
If you loved this podcast episode with Anthony Vennare, please take a moment to leave us a rating or a review on Apple Podcasts or wherever you listen!