How Influencer Sharron Clear Balances Body Positivity and Health
Lifestyle influencer Sharron Clear brightens Instagram with her great sense of style, inspirational grace, and beautiful photos. But, she wasn't always so happy and confident. The Atlanta resident was a hundred pounds heavier at one point in her life. It took her approximately ten years to get to the size she is now.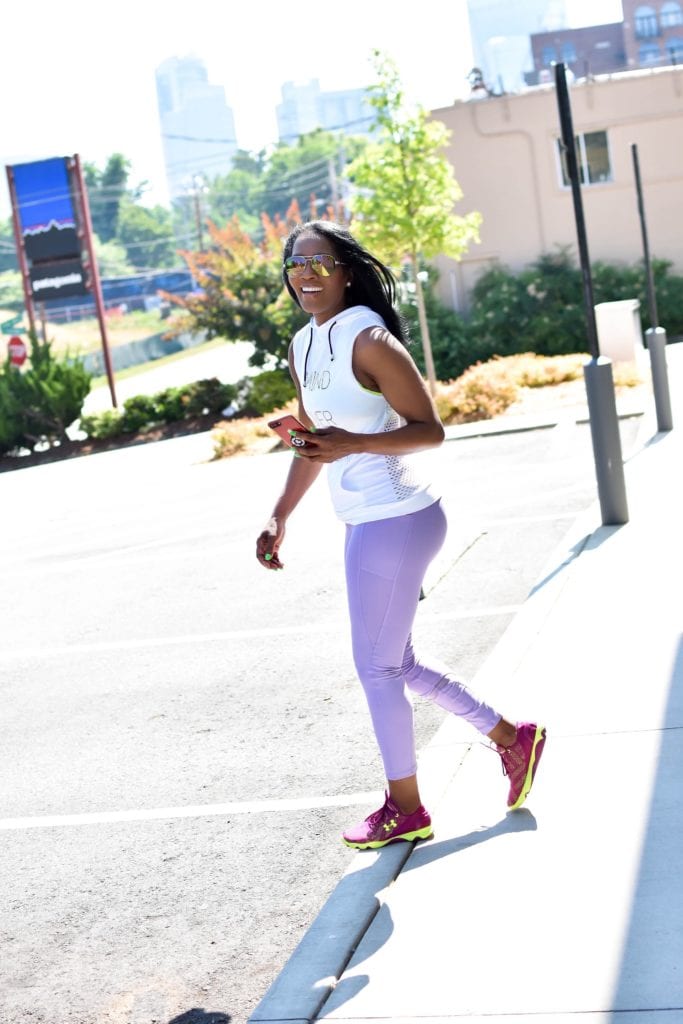 I recently spoke with Sharron Clear about what her breaking point was, the way running changed her life and how a simple approach to staying healthy works best for her. No gimmicks, no craziness, just hard work. She is nothing but brutally honest about being uncomfortable in her body, how dedication pays off and what she feels like now.
When did you realize you needed to lose weight?
I realized I needed to lose weight when I felt horrible about my body and didn't feel like myself in my clothes.
Was this a lifelong struggle for you?
I was not always overweight. I have been really small all my life. I started my struggle with weight after becoming pregnant with my first child. I gained over 100 pounds. I didn't lose all the weight and when I got pregnant with my second son, I was on my way to gaining even more weight. I struggled with the weight for years and years. 
Was there a particular breaking point?
When I looked in the mirror, couldn't wear any of my clothes and just felt horrible about how I allowed this to happen to me. I got out of control and had to find a natural way out. I wanted to fit this one particular pair of blue jeans. They were a size ten. I was never able to wear them because I surpassed it. I set other goals throughout my journey, which I achieved but still had a few setbacks.
What challenges did you have along the way?
Being consistent and disciplined. It was just so hard losing the weight because I gained so much at once. I was really so sad and depressed. However, I continued because I knew I didn't want to continue being in that situation.
How do you feel about yourself now?
I have struggles with maintaining, but still but I feel great. As I get older, I have to be extra cautious and careful with my diet. I love sweets, so I have to watch it and not get too crazy with my sweet tooth cravings. I'm also a foodie. I love brunch and on occasion, Mimosa or two.
What changes did you make to lose weight?
I fell in love with running and completely changed my diet.
How often do you run? Inside or outside? Do you have any running programs you adhere to?
I run about four times a week and it varies from inside to outside. It really depends on the weather, but I prefer running outside. I settle for the treadmill when the weather doesn't permit but it's not my favorite. I use a few apps on my smart phone from time to time. [But most of the time], I just tune up the music and just do what I love. Music really helps me to stay motivated.
What was your diet and exercise plan?
I cut out sodas, started baking and grilling all my foods.
What does a typical day look like for you in terms of food?
Breakfast: Typical breakfast consist of 3 boiled eggs and a fruit. Or smoothie and breakfast sandwich or oatmeal and fruit
Snack: Mixed nuts, light popcorn or fruit
Lunch: Salad or Smoothie and flat bread chicken sandwich or meat like chicken, veggies and sweet potato.
Dinner: Beans, meat like crab cakes or fish, corn or sweet potato.
What are your go-to foods?
I love seafood and veggies. I eat baked fish, sweet potatoes and green veggies on a regular basis.
How do you balance body positivity and health?
I have mindful eating and healthy physical activity is a part of my well-rounded lifestyle. I compliment myself as well as others. I don't compare and always emulate love and positivity, which creates balance for me.
Do you have a specific exercise routine?
I don't have a specific routine. I incorporate HITT training, cardio and major weight training. I typically work two body parts per session, including abs and cardio, four to five days a week. Weight training really changed my body.
Do you ever take group fitness classes?
I use to take classes when I first started my journey. I love dancing but I'm a terrible dancer. I took hip hop, kickboxing and Zumba. I also over time have incorporated spin and soul cycle classes. I was once a part of a workout group with a trainer. But, now it's just strictly running and weight training at the gym.
Were there any milestones along the way?
I've run the Peachtree Road Race over eight times and participated in other 3, 5 and 10k races.