Celebrate Homecoming with a musically inspired workout curated by D-Composed
(Ready to sign up now? Get tickets!)
For a few months, aSweatLife and the Chicago Athletic Association Hotel have created events built around the nostalgia of P.E. Class. But there's a special energy in the air as we bring on a third partner for November's installation of New School P.E.
D-Composed, a Chicago-based chamber music experience that highlights musicians and composers within the African Diaspora, curated a night inspired by Homecoming at Historically Black Colleges and Universities. November 1, their curated experience D-Compressed will be a meeting of music and fitness like you've never experienced before.
You'll be greeted by the heart pounding drum-beat of the marching band from Chicago's King College Prep. Then, Liu Gross will make you feel like you're under the lights of a stadium with his football-inspired workout. After, a string quartet arranged by D-Composed will accompany a yoga flow led by Asia Nichole Jones, creator of Trap Yoga.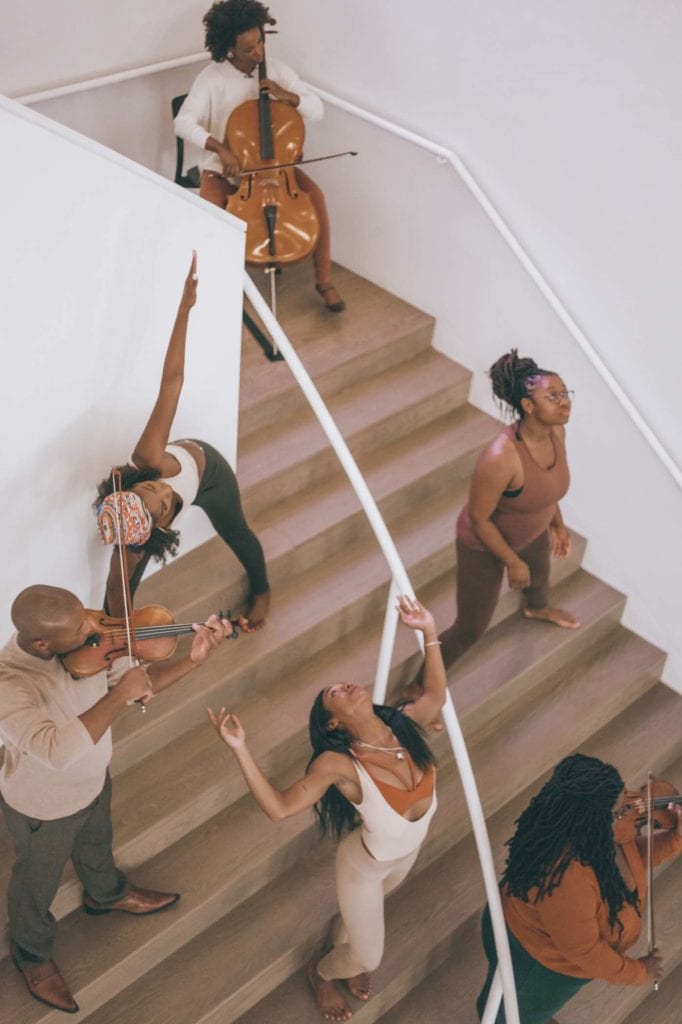 And if all of this makes you think of Beyoncé – you're not alone.
"Something that's important to acknowledge about Beyoncé's Homecoming is it's a tribute to HBCU (Historically Black College and University) culture," Kori Coleman, founder and Experience curator at D-Composed said. "With the inclusion of King College Prep, they'll play songs that HBCU bands traditionally play."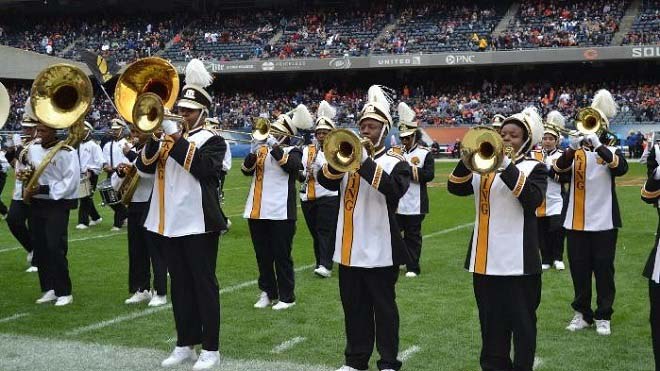 An important note about the evening: just because music's being played on stringed instruments doesn't mean the energy of Homecoming will end.
"Within the D-Composed setlist, we're performing selections from Beyoncé's homecoming but also nodding to songs that you would hear an HBCU band play," Coleman shared.
Ready for the details?
Where: Chicago Athletic Association Hotel, 12 S. Michigan
When: November 1 from 5:30-8:30
How do I sign up? Right here! Thanks for asking!
What's the flow of the night?
5:30 – Get pepped up! The moment you enter the door, we have the King College Prep marching band in the house paying homage to HBCU classics.
6:00 – Work through football skills and drills with Liu Gross, Professional Training Coach from Crosstown Fitness.
6:20 – The chamber music and yoga experience, D-Compressed, steps in from the sidelines to realign your "Inner G." The D-Composed ensemble — a 4-piece string quartet — will perform a live musical arrangement inspired by Beyoncé's Homecoming* while you wind down with Asia Jones of Trap Yoga.
After, plan to stay and enjoy an ice-cold Michelob ULTRA.
---
New School P.E.: The whistle dangling around the teacher's neck. Wood floors beneath your sneakered feet. The thrill of just playing. That's where New School P.E. comes in, a recreational partnership between aSweatLife and the Chicago Athletic Association Hotel, bringing back the nostalgia of elementary school gym class with a new-school flair. New School P.E. class combines old school fun with some of the things we love from adulthood: good music, cool instructors, and cold beer.
D-Composed is a Chicago-based chamber music experience that highlights musicians and composers within the African Diaspora. Since 2017, D-Composed we have created intimate out-of-the-box experiences that take music out of the concert halls and into art galleries and cafes. Our goal is to redefine and modernize the classical music experience – one event at a time.