What It's Like to Take A High Tech Spin Class in China
This year, my fourth year living in Shenzhen, China, a new gym opened, offering all of the things I look for when entering into a new fitness relationship: towel service, filtered water (not out of a big plastic bottle), new, well-oiled machines, and a number of classes, including Body Pump and cycling. 
My first spin class was at Europolis, the gym I joined in Barcelona, Spain, when I studied abroad as a junior in college. It was akin to riding a bike at your favorite discotec; crazy lights flooded the room and flashed as we pumped our legs to the instructor's shouts of "¡Más rápido!" 
Some years and spin classes later, I found myself seated in a Soul Cycle class with my sister Cassie and Jeana in Chicago. Kellen Townsend was the instructor, and upon seeing his photo on a fitness app, I decided I should sit in the front row so the cuuute instructor could see how fast I could pedal. It may be worth noting that 1. I did not know at this time that you can find Kellen on Instagram @homosweatual, and 2. I could not keep the beat to save my life on this particular morning after having done Barry's Bootcamp two days prior. 
It was with these experiences under my belt that I set the date for my first spin class in Shenzhen at my new gym with the new glossy Schwinn bikes and a new instructor this past September.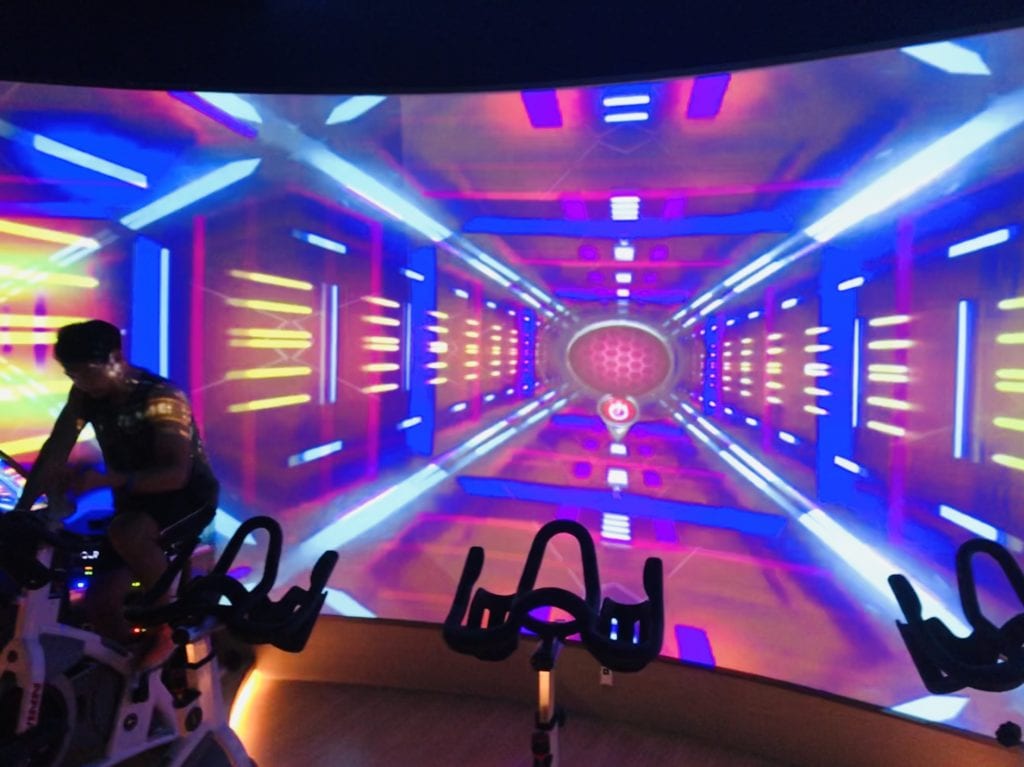 My friend Alli and I walked into class on this particular Monday evening to find that we would be the only spinners. My mouth gaped at the high tech screen that panned the entire convexed wall in front of the bikes. Our spin instructor greeted us with a big grin and broken English, which was notably better than either of our Mandarin. 
In one 45-minute spin class, we were in the pampas of Argentina and riding down the highway of Nowherestown, America. We were spinning underwater with coral reefs and a sunken ship and then heading down the road of a South American town with flat architecture. And then we were entering in to a psychedelic universe that seemed to me to represent the lights, the shapes, the energy of high tech Shenzhen. 
Shenzhen's motto, carved into a big boulder near the Hilton blocks from my apartment, is "Time is money, efficiency is life." What does efficiency and progress look like here? Skyscrapers go up seemingly overnight, blasts are daily heard near my school as the metro system is extended, and the city is lit up brighter than Paris, brighter than Vegas as I look out over my balcony at night. Shenzhen has a rapid pulse, like my pulse felt as Consoul Trainin's Take Me to Infinity blasted out of the speakers. 
At the end of class, the teacher wanted to urgently speak to us. Was he going to ask about our fitness goals? If we were regular spinners? If we liked his song list? Nope, he was going to tell us we needed to shower within 10 minutes of class. For hygiene's sake. Alli and I giggled and hurried out of the studio to gather our belongings and see if we could bike home in time to make his suggestion. She did; I didn't. And we returned the next class to find that the instructor had actually been trying to tell us that we should  wait at least 10 minutes before showering because our heart rate was elevated. #lostintranslation
What I have learned over the course of my spinning career, in addition to a handful of foreign words about pace and breath, is that hopping into a cycle class will offer a sense of the culture of the city you are spinning in, provide a place to build muscular endurance, and that most days I am better off getting my yoga flow on. 
By the end of class, endorphins had flooded my veins. I also felt I might need to hit up my Calm app for a meditation before I would be ready for bed in a short while. The stimulation from the music, the high tech lights, and my rapid pedaling had been intoxicating, but I was also a bit dizzy from it all. When you're living in an Asian city of prosperity, sometimes it pays to pass on the fast-paced fitness class and find your mindful moments on the mat. Most of the time. So, until Monday, my Schwinn.