Racing—and Laughing—on the Great Wall of China
"Let me tell you a secret," began our Great Wall race organizer on a blue-skied Beijing May day. My good friend — and Ironman finisher — Alli and I tuned our ears in for the words to come. "We couldn't put the toilets out," finished the man, wearing a big, apologetic smile. Alli and I burst out laughing, looked at each other, shrugged our shoulders and said, "This is China."
Alli was to be running a marathon while I had signed up for the 10k. We had flown in from Shenzhen, where we are both international school teachers, the night before. We would be in Beijing for a total of 20 hours, flying back to our southern city nearly directly after the race because the classroom calls.
Coming to the end of his welcome speech, the man with the microphone signed off with, "We will be starting at 8:20, 8:30, something like that." I giggled. Living overseas has taught me innumerable lessons. Among them: go with the flow. And be cool with Plan B (or C or D).
Just days before we flew to Beijing, Alli and I had received an email from Zhu Guihua, founder and director of Great Wall of China Marathon, explaining that the race route may be changing because world leaders like the Kremlin would be in the city for a big to-do. Having zero ideas what this really meant, Alli and I shrugged at the message; we would show up on race day, and take on whichever path that was set before us.
And now the day had arrived for us to set foot on that path.
As we finished warming up, the organizers brought in a small group of female dancers to perform, and then a young musician strummed us a tune. In the midst of this action, we had made a new friend. As we chatted with Kimberly, an expat living in Guangzhou, the port city two hours north of Shenzhen, I finally asked, "Where are you from?" "Minnesota," came her reply. I laughed, shook my head, and thought of course you are.
As a Minnesota native who has settled down abroad for the past six years, I still delight in these small world moments. I love meeting new folks from all walks of life, backgrounds and cultures, and there is also something so comforting about connecting abroad with people from home.
As 8:30(ish) arrived, runners closed in on the starting line. The gun went off, and Alli and I began our measured run, my seven-time Ironman finisher friend keeping pace with my 10k gait as she has endurance for days.
We ran, largely uphill, for over a mile. The Great Wall was nowhere in sight, though we had passed it on the bus ride to the race start. Eventually the group of runners we were trotting along with turned onto a trail. Our running almost immediately turned to a hike as we hit a steep incline. We marched one by one along the narrow trail until Alli taught me how to politely and assertively pass a woman seemingly out for a stroll.
Some 4,000 steps into the race, we finally faced a makeshift ladder that would put us on top of the Great Wall. I became a bit more giddy as a millennia's worth of history was nearly underfoot.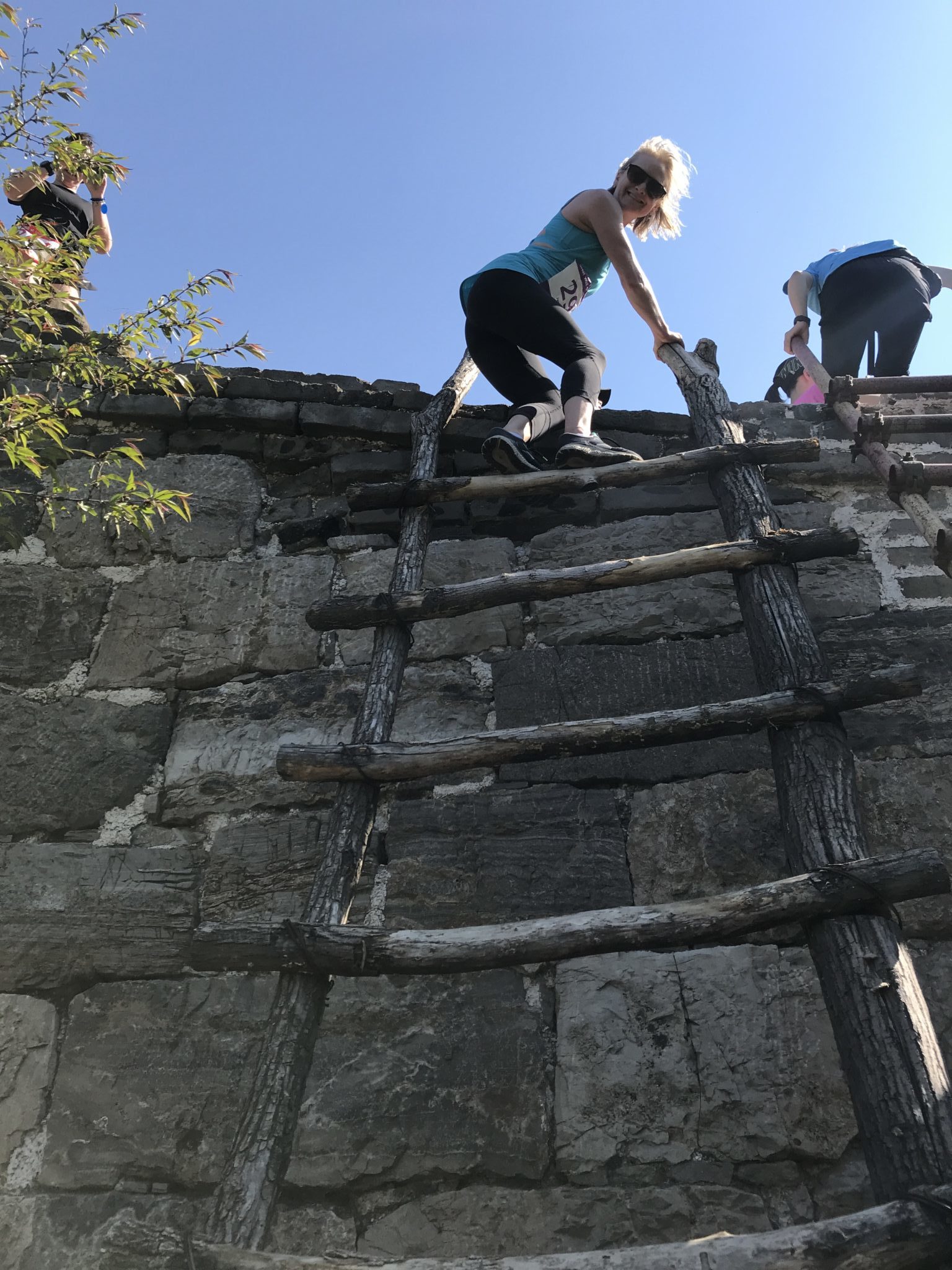 Once we had climbed our way onto the wall, we set our sights on pathway before us. What we saw? Stairs. So many stairs. In my videos, much of what we climbed looks simply like a flat-faced brick wall, individual stairs indiscernible as the steps were so steep. There were moments of running, but much of the race I now found myself crawling up — on my hands and knees — what felt like a cliff. It was like I was Free Soloing The Great Wall's Steep Stair Cliff.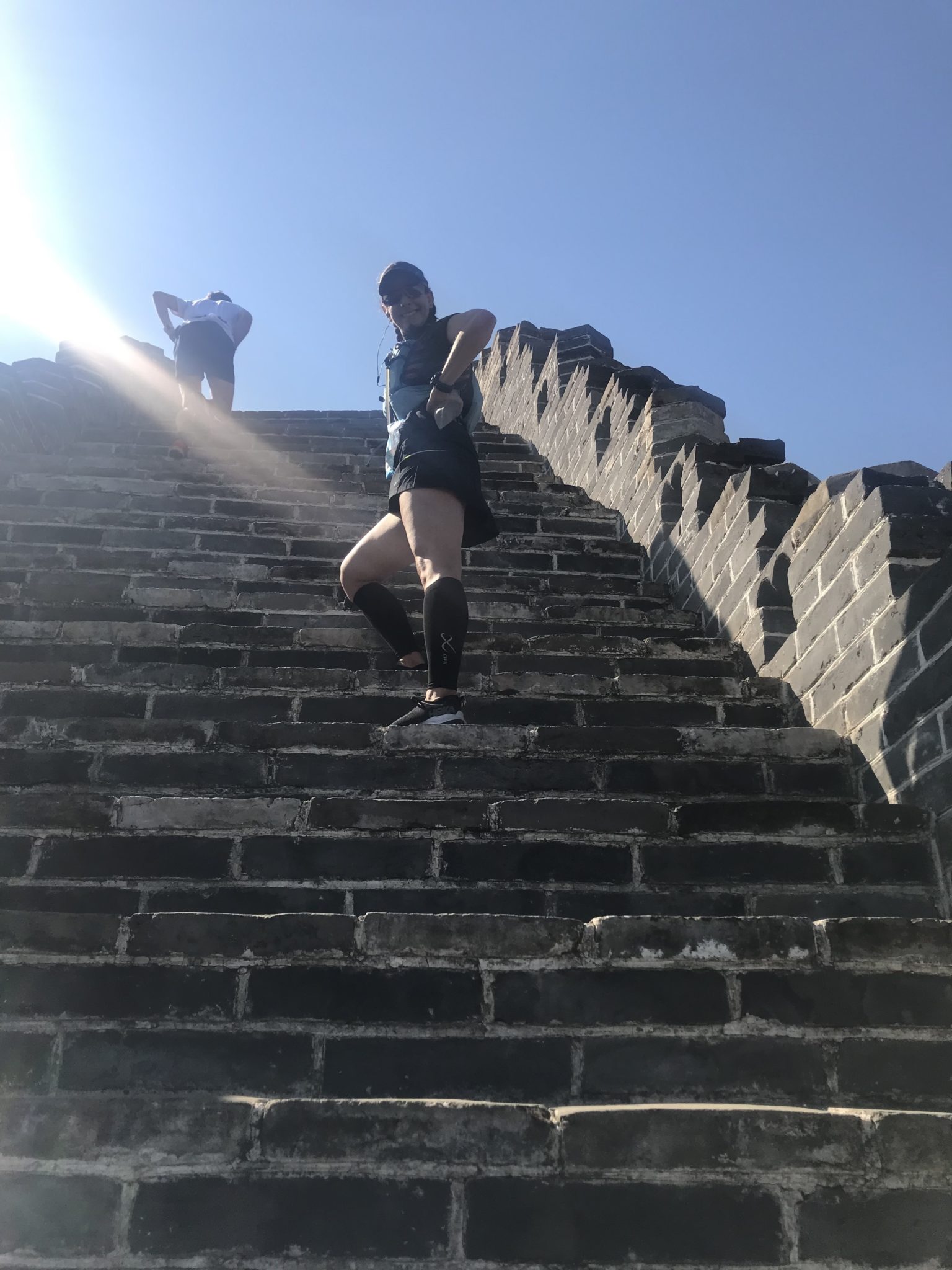 After surviving a climb that was at once terrifying and exhilarating, Alli and I reached an impasse where a number of other runners had stopped. The Great Wall simply crumbled in front of us. A dozen of us looked at one another, shrugged, and for lack of official guidance, turned around to run back in the direction from which we had come …. errr, climbed.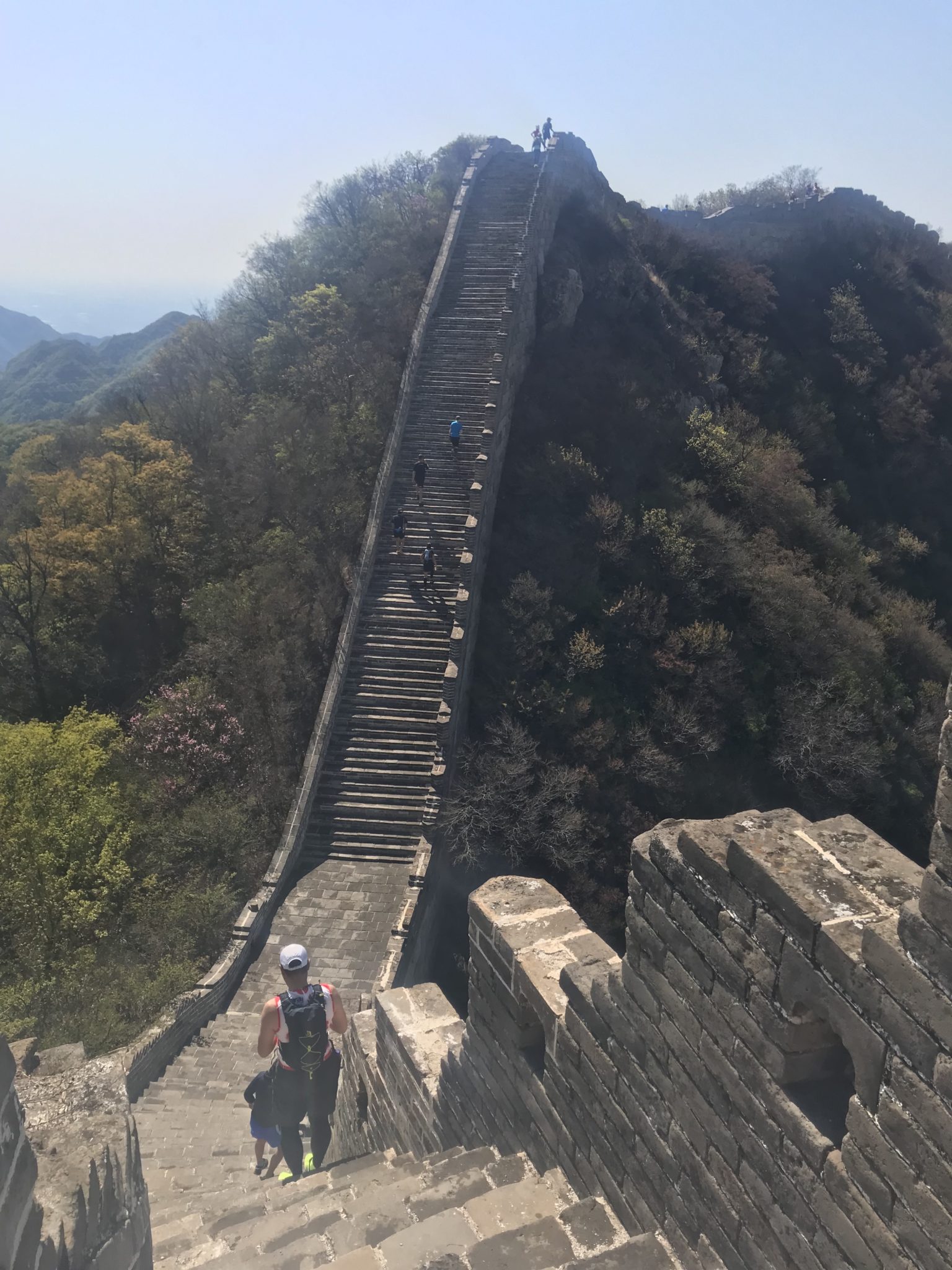 On the return trip, Alli dug into her trail-running-marathon-conquering spirit and broke away from my modest pace. I finished the Great Wall 10k in 1 hour and 53 minutes. The time was not notable, but the feat sure felt like something to write home about.
My legs were quivery, my lips were dry and my lungs were putting out an SOS for oxygen. And I still felt grand, having accepted the challenge of the Great Wall.