How Erin Oprea, Celebrity Trainer & Life's Biggest Cheerleader, Sees Big Goals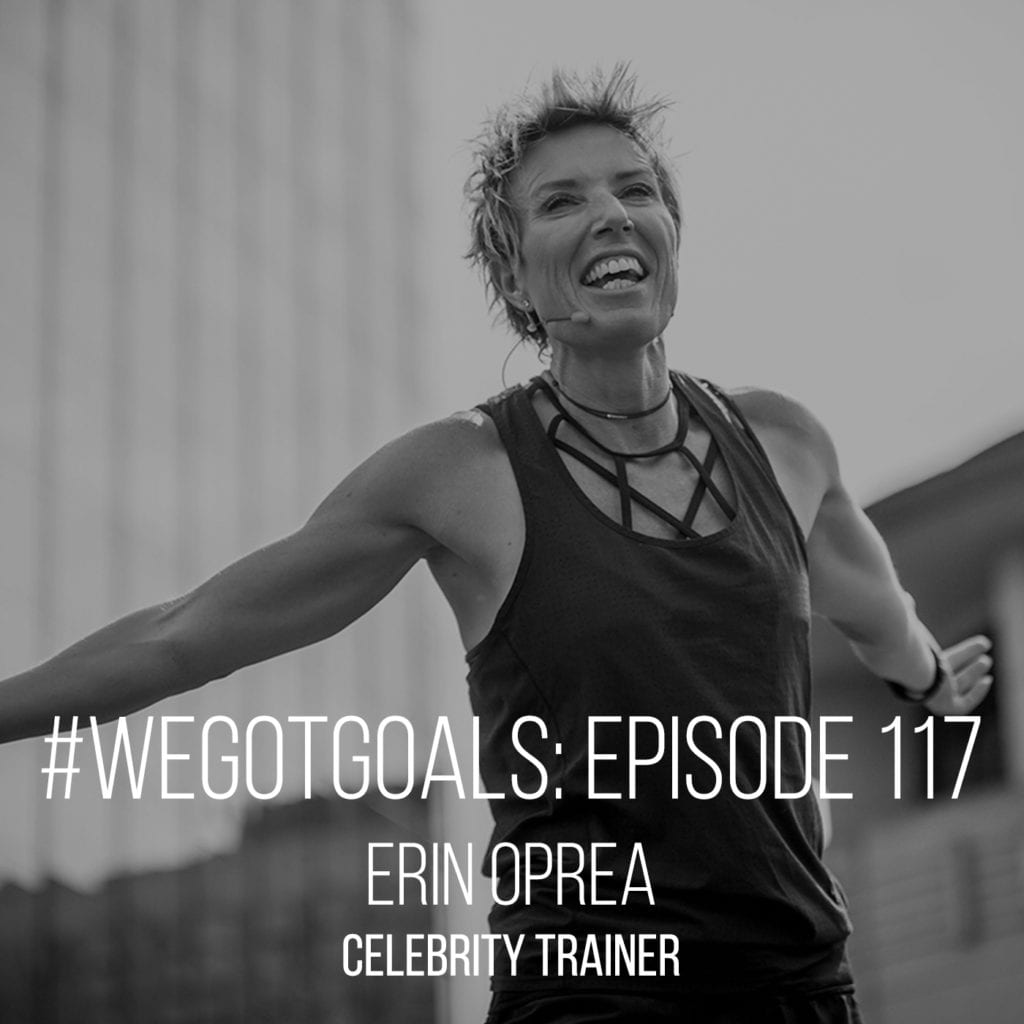 Erin Oprea arrived at 10:59:59 am on the morning of our #WeGotGoals recording. Scheduled for 11 am, I noted how punctual she was, despite the fact she walked all the way from the opposite side of town to get the our recording studio. Over the next hour, I grew increasingly impressed by Erin, a personal trainer to stars like Kacey Musgraves and Carrie Underwood, author of The 4×4 Diet, and expert in virtual training, recipe planning and sold out workout tours across the U.S.
[Love Erin Oprea already and want to work out with her in Chicago? She's visiting this weekend for THREE workout opportunities—click here to learn more!]
In fact, Erin is one of those people you just want to know everything about once you meet her and learn a few key things about her.
Like the fact that she was a Marine, and made history when she was appointed to lead the first female platoon attached to the infantry in a war zone.
This fact is likely a major contributor to the next most fascinating thing I found out when chatting with Erin for the podcast. She is the definition of full-out fun with a capital F, but you better believe she's got a strict regimen that enables her to fit in everything she's passionate about.
Erin trains upwards of 11 clients every day, so her working day generally starts by 5 am. Afternoons are filled with "media time" – working on books, virtual training, press, etc. – and then comes her personal workout time. In the episode, you'll hear her say, "I'm not good at sleep," but that when it comes down to it, it's either sleep or work out, and she's not willing to let go of her "play time" (also known as her own time in the gym). On Saturdays at 4 pm, you might catch her at Whiskey Row in Nashville with her homemade beet juice and tequila cocktail in hand.
But then again, to accomplish what she has, achieved the level of recognition she attained, and to still train celebrity clients with their own crazy schedules on a regular basis, how else would you manage your time?
And even with a huge list of accomplishments, can you guess what she told me when I asked her what big goal she's most proud of? "I see that I have so much more to hit… I don't know at what point my mind is going to say, wow, you've done a good job. You're successful."
The moment that really stuck out to me out of our entire interview was how she described new, big goals.
Until she sees the right opportunity, little ideas stay in the back of her mind, lying dormant. As soon as the moment is right, that idea bubbles to the surface and takes over everything in its path.
"I am in overdrive and I will work 24/7 until I hit what I decide I want to hit, and that's how my mind works," Erin says.
Right now, the big goal that's still in its sleepy phase is starting an activewear line of her own. And my money's on us seeing one hit stores sooner rather than later, if we are to use any of Erin's previous massive achievements and passion for her job as our guide.
But ultimately, Erin's continuous forward momentum is rooted in the simple fact that she knows who she is, where she's been, and what her purpose is.
"Every experience in your life leads you to the next thing," she reasons. "You learn so much. I never would have thought this is what I would be doing today. I planned on retiring in the Marine Corps…"
But now that she is where she is, she reasons: "All I wanted was to train people to feel better and be happy. I want to see people happy."
You'll hear a consistent theme across this episode. It doesn't matter to Erin that she's considered one of the most well known trainers in the industry, she wants to be your biggest cheerleader. She is hell bent on making sure you feel supported in your fitness path wherever you are, and to help you smile and see the beauty in movement along the journey.
When I asked Erin some parting advice, she answered, "Change your perspective… there are so many people in the world that cannot move, and we don't cherish it enough."
Run, don't walk (or you know, walking is fine, as long as you're not sitting) to listen to this episode of #WeGotGoals with Erin Oprea. If you love it as much as we do, subscribe to the #WeGotGoals podcast wherever you like to listen to them, on Apple, Spotify, and more.