How NEOU Blends Digital Wellness with In-Person Connection
When you think of workout videos, do you still think of Jane Fonda? Well, whether or not you're a fan of leg warmers, Michael Alfaro and Nathan Forster have been working hard to change that association with NEOU, the live-streaming and on-demand fitness app.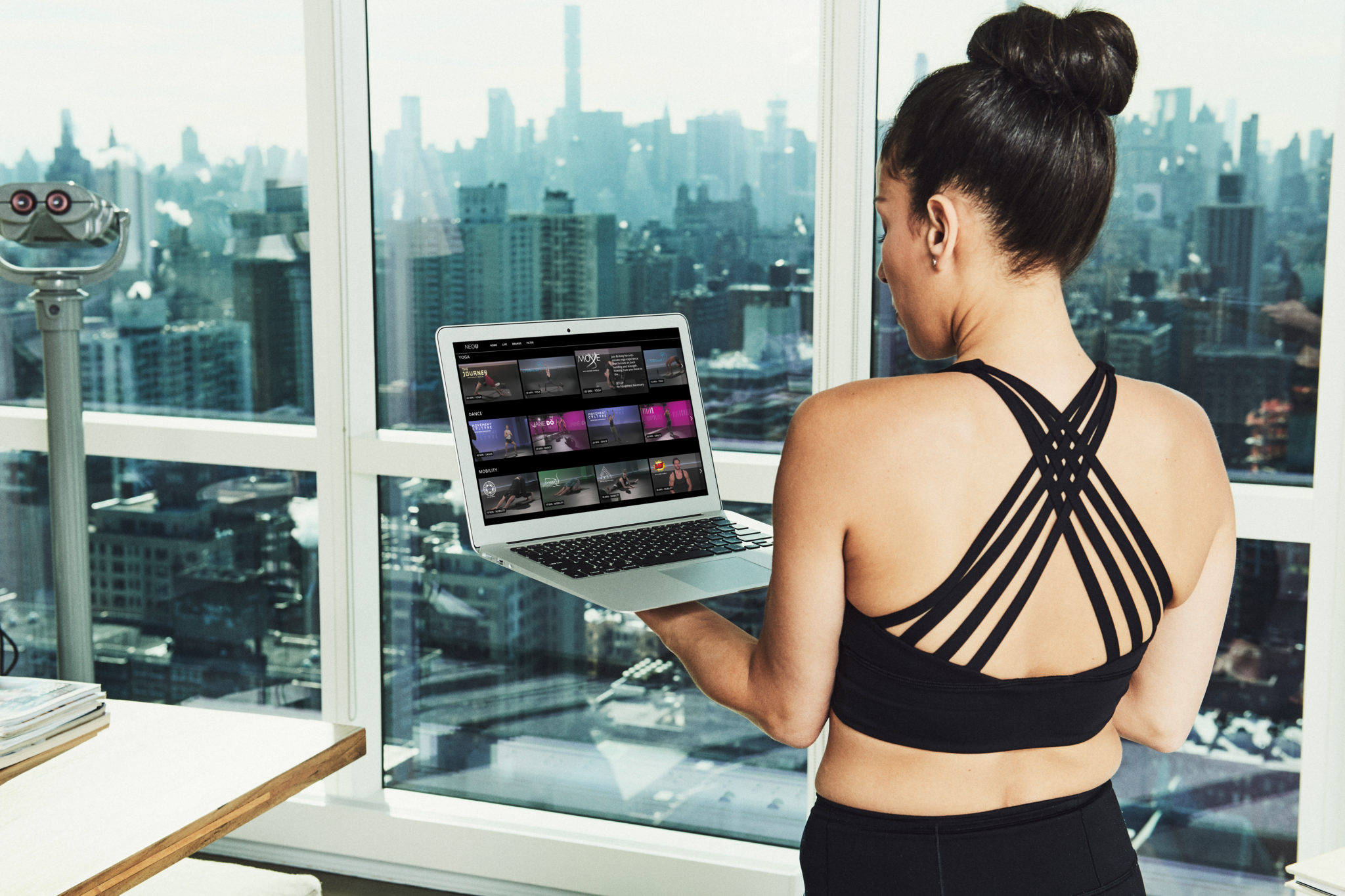 Alfaro and Forster's fitness careers started in CrossFit gyms, where their idea sparked: what if we could increase the scale and reach of these businesses? Soon after, they sold the CrossFit gyms and bought a studio in Manhattan that would serve as the "hub" for NEOU, the official digital wellness hub where all future content creation would take place.
Since its beta launch in October 2018, the response has been very positive. It seems that users are realizing that Jane Fonda workout videos are a thing of the past and connecting with your favorite trainers on an expansive platform is now the wonderful present and future.
"The space today is pretty crowded, and over the next two to three years, you're going to see a ton of players getting into the digital wellness space," Alfaro explained. "It's a very hot industry, and it will be moving forward as people continuously perfect the product."
How NEOU stays true to the boutique fitness experience
As one of the leaders in the renewed on-demand fitness trend, NEOU strives to stand out not only with their innovative technology, but with their strong background and understanding of the boutique fitness experience.
"We understand the experience of a person walking into the studio, interacting with their trainer, and how powerful that connection really is," Alfaro stated.
The next challenge is to create that powerful connection between the user and the platform. "We're going to bring not only the best instructors, but their brands, their personality," Alfaro explained. "We're going to highlight their personality and their story."
Still, NEOU's real secret sauce isn't necessarily something that you can take notes on and learn. "We're fitness people," Alfaro began. "We're not tech people building a fitness tech product. There's a big difference."
Making reach scalable for trainers and gyms
And as they set out to be different from other digital platforms people have experienced, Alfaro and Forster take maintaining high standards and authenticity very seriously.
"Every brand that we have on the platform goes through a rigorous process to make sure that they're the best in their genre," Alfaro explained. "The biggest thing for us is authenticated fitness content creators that… are very, very good at their craft and know how to run an at-home fitness experience."
"You have tons of great entrepreneurs and fitness brands that are either pushing their content out or training out of their local gym, but they can only impact so many people," Alfaro continued. "The best New York trainer can probably make $300 per hour and impact the lives of 40 people in their class. The scale of what they're able to achieve is limited by the physical component of their business."
And trainers can now go to NEOU to push past those limits and reach a new level of potential.
"NEOU gives them the ability to come in, shoot content, have their brand on the platform, digitally scale that over time, and then create a compounding revenue for the lifetime of that content on the platform," Alfaro described.
What users get from the NEOU platform
Alfaro and Forster have spent a great amount of effort focusing on helping trainers to reach their full potential, and from there, they focus on meeting the needs of their users.
"For the users, it's all about convenience," Alfaro began. "They might not have time to spend two hours of their day to go to a boutique studio and work out, or they may not want to pay $30 per class for a 45 minute to an hour-long experience. For $10, you can get great wellness programs from these instructors at your convenience."
One wonderful perk is that users aren't limited to the talent in their area but can explore trainers from all parts of the country. For instance, a user who has always wanted to try a well-known studio in a different part of the country can experience that studio from across their own living room.
"NEOU also allows people to find what they want from who they want and engage with that content from wherever they want," Alfaro says.
How digital wellness and brick-and-mortar studios co-exist
Digital wellness is the leading new fitness trend, and historically, a new trend tends to leave something old either replaced our outdated. However, Alfaro does not predict that neighborhood gyms and studios will ever go out of style.
"I don't believe that digital wellness will ever replace the brick-and-mortar businesses. I think it will be complementary for some, and it will be a replacement for some. They will both work in unison."  
For brands looking to launch a digital content platform, Alfaro warns of some barriers.
"To truly do it, there's a big barrier in trying to do it right," Alfaro began. "Some people try to cut corners, and you're only going to get such a great experience like that. To do it a very high level, you have to be all in, and you have to know what you're doing. There's an educational learning barrier as well as a financial component. You have to be heavily invested to do it properly."
"Most, if not all, of the platforms today are similar to Peloton," Alfaro continued.  "They build out and pay their trainers, but it's not about them. It's all about the brand. NEOU isn't about NEOU. NEOU is about allowing these great brands to digitally scale."
And that's just another way that NEOU stands out from any other competition.
"There is not one platform out today that is the Netflix of fitness for the users and the Amazon for the content creators," Alfaro states.