Bone Broth Protein Powder, Two Ways: Savory and Sweet
This post was written in partnership with Fruitful Yield. As always, we only write about products and brands we love (and love working with!).
We've dabbled with bone broth in its liquid form in the past, and when Fruitful Yield approached us with the idea to use their new Bone Broth Protein Powder in a lunch and learn, we were curious—and we became even more curious when they told us they had a sweet recipe they could bring to the table. Sure, we're down with drinking bone broth to heal our guts, improve our skin, and increase bone strength, but how on earth were we going to incorporate it into other ingredients to make real food?
We should have known the genius Chef Alia Dalal and the team at Fruitful Yield would get creative with it. With the World of Whirlpool kitchen so fresh and so clean and the Fruitful Yield goody bags fully stocked with must-have healthy ingredients, our #SweatworkingWeek Lunch-and-Learn attendees set off to use Bone Broth Protein Powder two ways: a Very Veggie Soul Bowl with Dairy-Free Caesar Dressing and Chocolate Chip Energy Bites.
Intrigued? Skeptical? Hungry? Try the recipes below—and let us know how they turned out by tagging us on Instagram @asweatlife and @fruitfulyield!
Very Veggie Soul Bowl with Dairy-Free Caesar Dressing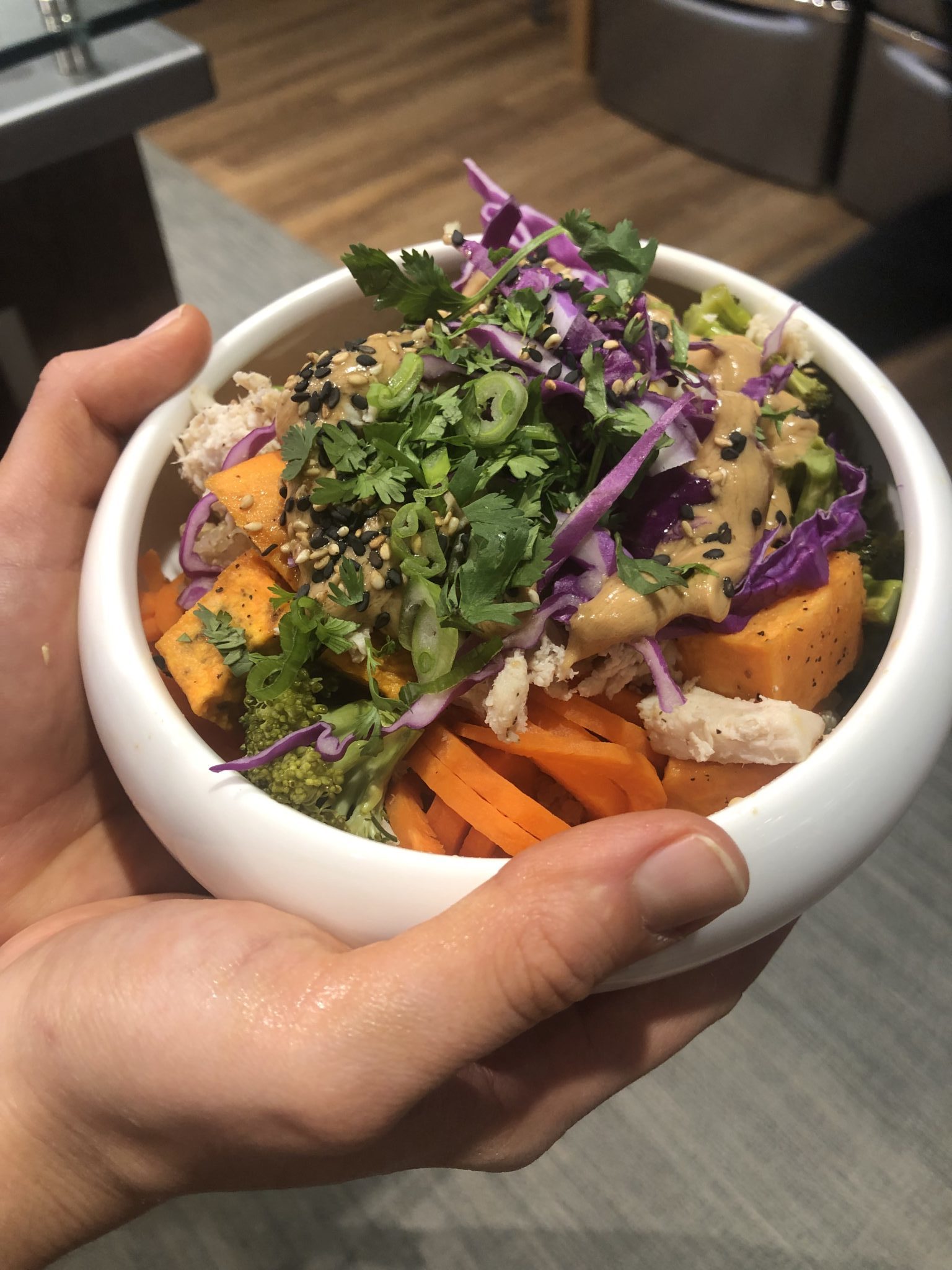 Dairy-Free Caesar Dressing: Makes 1 cup
Ingredients:
1⁄4 cup store-bought hummus
2 teaspoons caper
2 teaspoons caper brine
2 tablespoons lemon juice (1 lemon)
1 teaspoon dijon mustard
2-3 garlic cloves, minced or pressed
3 tablespoons extra virgin olive oil
1 scoop Bone Broth Protein Pure
Instructions:
In a blender or food processor, pulse all ingredients until combined, leaving a little texture.
Very Veggie Soul Bowl: Serves 1
Choose 2 veggies:
Carrots, spiralized
English cucumber, spiralized
Baby spinach leaves
Shredded purple cabbage
Roasted broccoli
Sauteed kale
Choose 1 healthy carb:
Cooked brown rice
Cooked quinoa
Roasted potatoes
Roasted sweet potatoes
Spiralized veggie noodles (zucchini, sweet potato, squash, and beet taste best
lightly cooked)
Choose 1-2 proteins:
Roasted chicken
Hard-boiled eggs
Edamame
Chickpeas
Choose garnishes:
Cilantro, sliced scallions, sesame seeds, avocado slices, microgreens, chopped
peanuts, or chopped cashews
Instructions:
Assemble bowl with veggies, healthy carb, and protein. Drizzle generously with Dairy-Free Caesar Dressing, and garnish to your heart's content!
Chocolate Chip Energy Bites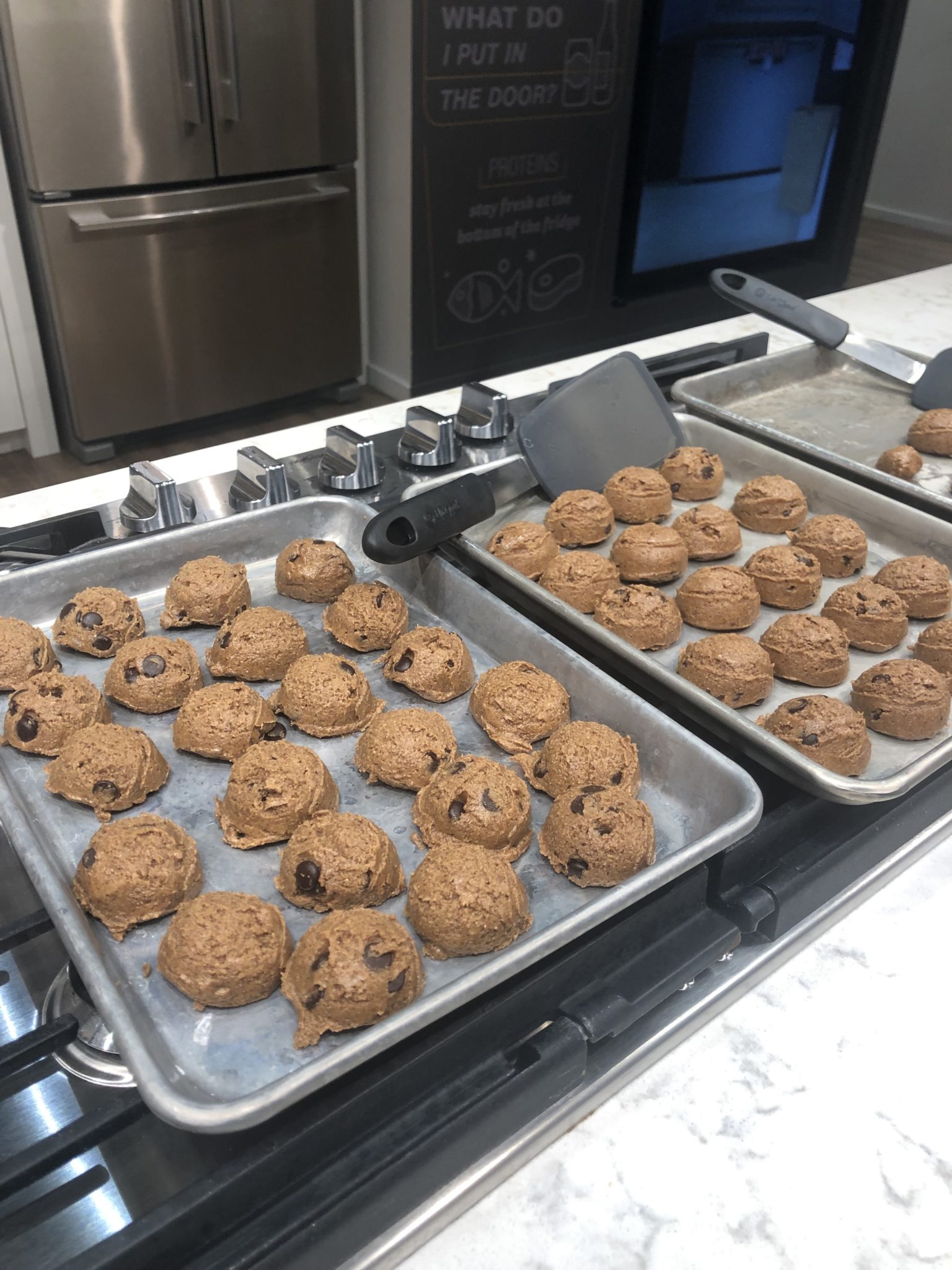 Serves 8
Ingredients:
Instructions:
1. Stir almond butter, honey, vanilla and sea salt together.
2. Add protein powder and combine thoroughly.
3. Stir in chocolate chips.
4. Form into balls and refrigerate for 2 hours.
Want to shop from Fruitful Yield? Shop online & save 15% + Free Shipping on first-time orders! Use coupon code: SWEATWORK15. Limit one use per customer. Valid on first-time orders only. Not valid in-store. Expires 7-31-19
Let us know!
Did this post help you get closer to achieving one of your goals?