What 4 Real-Life Nutritionists Eat for Breakfast
Overnight oats. Siggi's with granola. Whole grain cereal. Eggs and bacon. Tropical fruit. Pancakes. Green smoothie.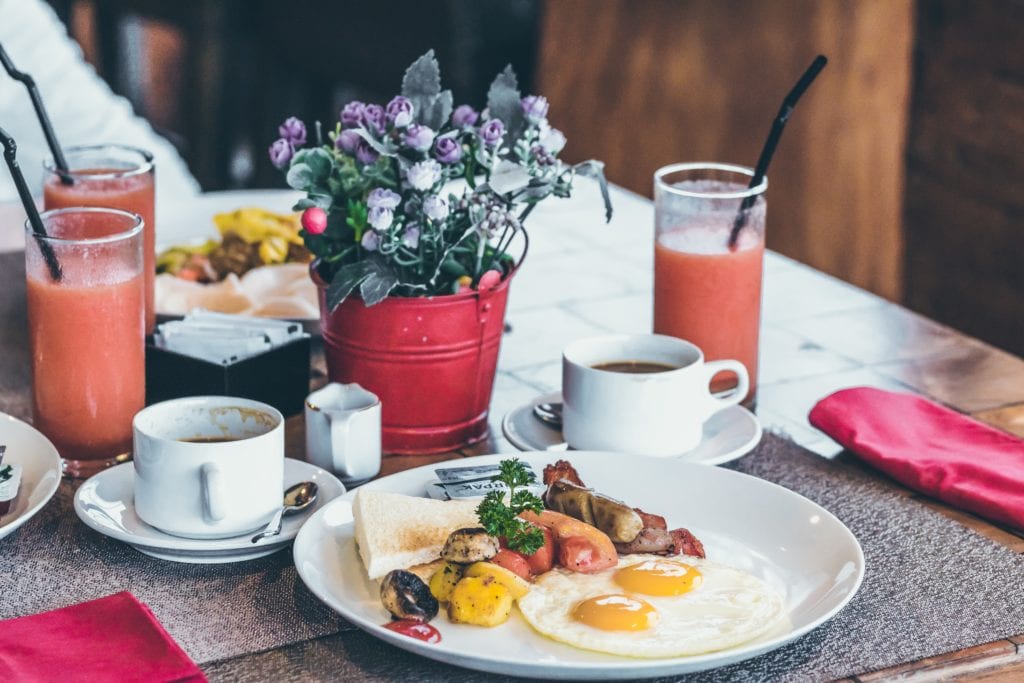 The breakfast menu is endless. But what I really want to know is what I SHOULD be having for breakfast. So I chatted with four health and wellness professionals to find out!
Two whole eggs and veggies
Danielle Prestejon, who has a Master of Science in Applied Nutrition, focuses on the perfect combination of protein and healthy fats.
"I do two whole eggs and veggies, usually the riced veggies every morning," she explains. "I love starting my day with vegetables because they are filling and it sets the tone for my day. I ALWAYS eat the egg yolk for the added nutrients."
Egg scramble or a Fab 4 smoothie
Kimberly Bender, a holistic health coach, aims for a balance of protein, fiber, healthy fats and greens – especially since she is expecting a little one.
"My breakfasts tend to vary especially being pregnant—it's sometimes difficult to determine what I'm in the mood for!" Bender adds, noting that she also has a few staple foods she returns to morning after morning.
"This often comes in the form of an egg scramble, with spinach and avocado. If I'm not feeling that, I'll opt for a #fab4 smoothie. My go-to is: almond milk, spinach, 1/2 frozen banana, 1 tbsp almond butter, 1 tbsp flax, 1 scoop vanilla protein powder. When all else fails, I'll do some toast and almond butter with hemp seeds sprinkled on top!"
Over-medium eggs over toast or a tortilla, or a protein smoothie
Mary Ann Stancel, a wellness accountability coach, says breakfast is her favorite meal and she tends to stick between two options. She loves two over medium eggs with gluten-free toast/tortilla and fruit since you get your good protein, and sources of selenium, vitamin D, B6, B12 and minerals such as zinc, iron and copper. Each egg has about 77 calories with 6 g protein and 5 g of healthy fats.
She explains, "The toast or tortilla, I look for ones that don't add fluff to their gluten-free bread, and have some fiber to help with my gut. Sometimes if I know I'll be having a jam packed morning or going to a workout, getting in some complex carbs is good, as it gives me the energy I need."
Her second option is a chocolate protein smoothie. She explains, "What I like about a protein smoothie for breakfast is that it is quick, and I can get a good source of protein in it to help me jump start my day. When I'm using a protein, I choose one that is gluten-free and dairy-free, uses minimal amount of ingredients, with no thickening agents if possible and no added sugars if possible. As fresh as I can get it! Then I will add the protein powder to the blender, 1/2 frozen banana, 1/2 water and 1/2 plant milk for the liquid base. I like my smoothies to be thick so I'll add in a few ice cubes"
Nothing at all
Certified Nutrition Practitioner Jenna Pixner says she doesn't eat breakfast most of the time.
"Sounds crazy right?" she acknowledges. "We are all told breakfast is the most important meal of the day! Well, I intermittent fast. I stop eating in the evening and I won't eat until the next afternoon. And no, I haven't jumped on the weight loss bandwagon, I do it to heal. Our bodies actually can't heal while they are digesting. Fasting gives our bodies the break it needs to heal and rejuvenate. As weird as it sounds, intermittent fasting gives me more energy, clarity, and overall I feel amazing."
Now that you've heard it from the professionals, what's on your breakfast menu?