How Runstreet's Marnie Kunz Creates an Artistic, Athletic Community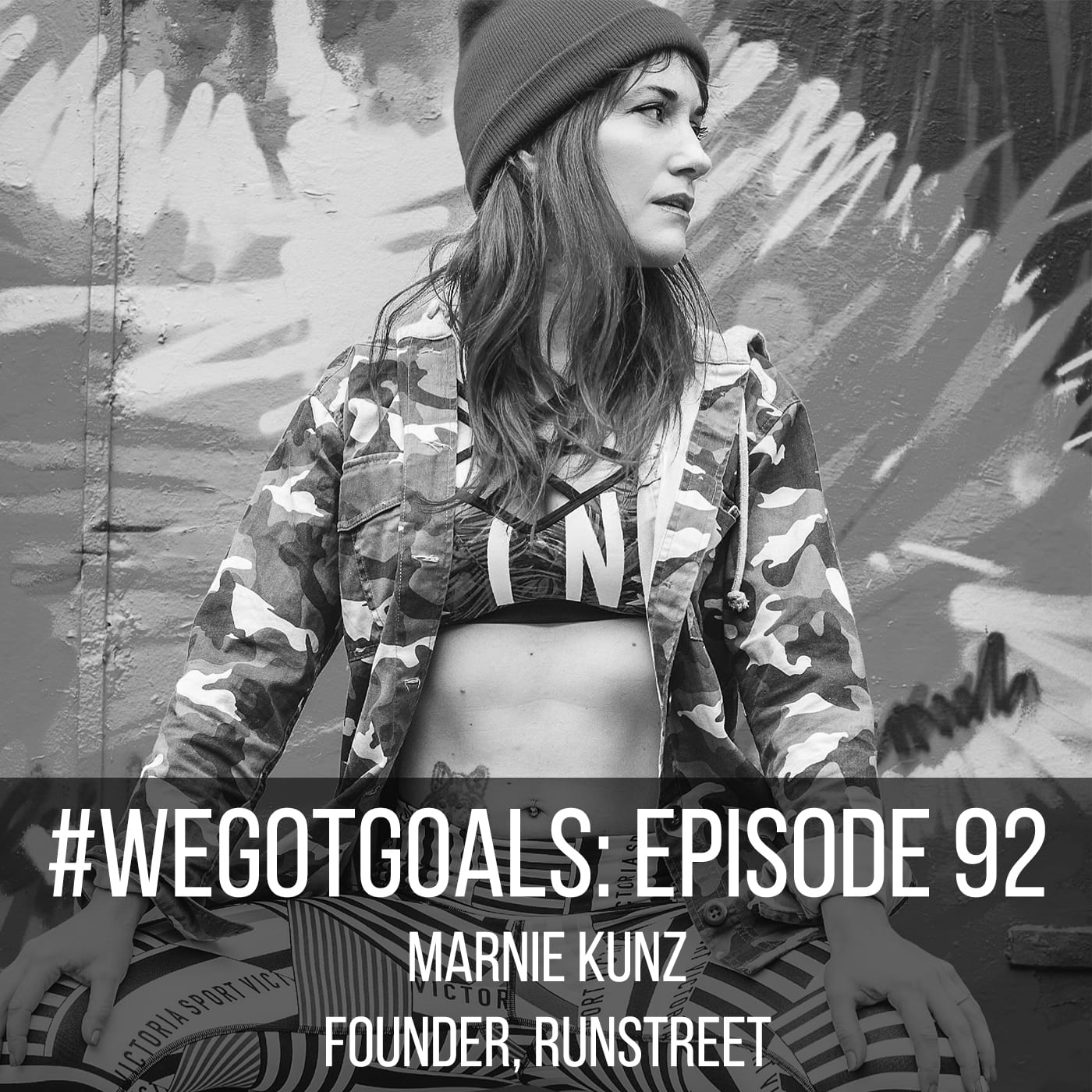 Runners might travel the streets of their city for years without noticing some of the art that decorates alleys, buildings, and walls. Marnie Kunz aims to change that—and to bridge gaps between the communities of athletes, artists, and local businesses while she's at it.
Through her company, Runstreet, she hosts approximately three- to four-mile guided art runs at a relaxed pace through New York and other major cities (a goal she's particularly proud of—leveraging sponsorships and other relationships to expand into new locations).
"It's a way to connect to people while staying inspired on the run," she told me on this week's episode of #WeGotGoals.
The idea came to her about four years ago. She was already a running coach and a blogger; on her own runs around the city, she'd find street art, then document it on social media. Her followers eventually started asking questions about what they were seeing.
"I thought, well, I'll just organize an event where we run and go to the art and I can show people," she said. "That's easier than replying to all these comments."
From there, interest grew relatively quickly. In large part, that relates to the sense of community that begins the moment runners sign up for an art run. Because it's clear the event isn't competitive, people who might hesitate to race a 5K or join a regular group workout tend to feel more welcome, Kunz said.
Once they arrive, they swiftly start to discover the sense of belonging running provides. "When you're running, you're actively doing something, and runners always have stuff to talk about," she said. "It opens people up because on the run, you kind of let down your guard."
Over time, they might come to learn what Kunz has: running boost resilience to life's tough times, in part because of the bonds between athletes. "What running means to me is just overall health and also connection with other runners," she said. "Runners tend to be very reliable and they make great friends you can always count on. So you see them supporting each other in other areas of their lives."
Learning more about their neighborhoods also helps foster that sense of interrelatedness. Many runs start and end at local businesses or benefit area charities. Plus, Kunz does research beforehand on the art they'll pass and allows time for participants to pause and consider it (as well as snap selfies, of course).
Art can tell you a lot about a community, she said. Look closely, and you'll see signs of the struggles—she's guided runners past scenes of gentrification, immigration, and environmental destruction. Or, you might get a sense of a city's aesthetic style, or even its silly quirks (she points to pizza art in Chicago and New York as examples).
Sometimes, the runners have a chance to learn from the artists firsthand—several have actually joined Runstreet runs. Watching them interact, she's realized the two groups can learn a lot from each other.
Goal-oriented, data-focused runners might benefit from artists' creativity and mindfulness: "It kind of helps to take a step back and just appreciate the experience of it and appreciate just being in the moment," she said. Meanwhile, artists have found inspiration of their own in runners' discipline.
The relationship continues long after the sweating's done; photographer Marques Jackson tags along on most of the group's events, and participants receive a host of high-quality images to post, share, and tag each other in afterward.
Kunz collectively calls both the runners on her art runs and those she leads in weekly track workouts in NYC the Wolfpack. Alone, she said, lone wolves struggle. "But as a pack, they're able to hunt more and to succeed more and survive," she said. Using the hashtag #JointheWolfpack, even if you can't come on a run in person, represents "a way to boost each other up," she said.
Listen to the full episode and check out Runstreet's website and Instagram feed to earn how you can join, IRL or virtually—Kunz and her team have runs planned in cities across the country, some of which have creative and community-building themes (think: a dog run that will benefit Second Chance Rescue, pride runs in NYC and Philly, and a Daydream 5K Art Run & Festival in Chicago this summer).
If you like what you hear, please subscribe on iTunes, Spotify, or your podcasting app of choice. And if you'd be so kind as to leave us a rating or a review, that will help us continue to grow our own community of goal-getters.