3 Flexitarian Recipes For Beginners
Flexitarian is a fancy word for a semi-vegetarian diet. In other words, flexitarians try to eat a mostly plant-based diet, incorporating meat and other animal products occasionally. What I love most about a flexitarian diet is the flexibility to get all of the benefits of a vegetarian diet – from reduced risk of certain cancers and heart disease to environmental benefits to simply eating more veggies – without cutting out your favorite animal products forever.
The trick to any type of plant-based diet is to make sure you're eating foods that will actually let you reap the rewards of the diet. I remember trying to be vegetarian for two weeks in high school and eating nothing but pasta and getting my protein from highly processed packaged veggie burgers. Needless to say, that didn't stick.
My favorite way to actually embrace a plant-based diet is to eat foods that celebrate the plants and make veggies the star of your plate, rather than trying to hide and disguise them as faux meat. These three recipes are adaptable, high in protein, and will let you remove animal products from your diet at your own pace. Even better, they highlight and celebrate plant-based flavors.
Use these recipes as a guide to start reducing the amount of animal products you eat while increasing your plant-based meals with these strategies:
Slowly reduce the amount of meat in your meat heavy faves. Most chili recipes have about 1 lb of ground meat to 1 15 oz. can of beans. The recipe below reduces the meat to ½ lb and doubles the beans for more plant-based protein. Use this strategy with your other traditional meaty recipes to move to other plant-based alternatives like this cauliflower Bolognese.
Add protein to your veggie sides. Veggies have so much to offer, but protein doesn't tend to be their strongest area. Take your favorite roasted veggie and toast some nuts to toss on top. Walnuts are high in omega 3 and make a great choice if you're not incorporating seafood into your diet.
Feature legumes. Despite getting a bad rap from certain diets, legumes are a great source of plant-based protein and fiber. They can be used to make soups and stews, dips like hummus, add protein to salads, or they can be eaten on their own for healthy snacks.
In the words of my roomie, "I can be vegan but still have the occasional bacon cheeseburger right?" And you know what, yes she can, and you can too!
Slow Cooker Flexitarian Turkey Optional Chili (vegan if omitting turkey)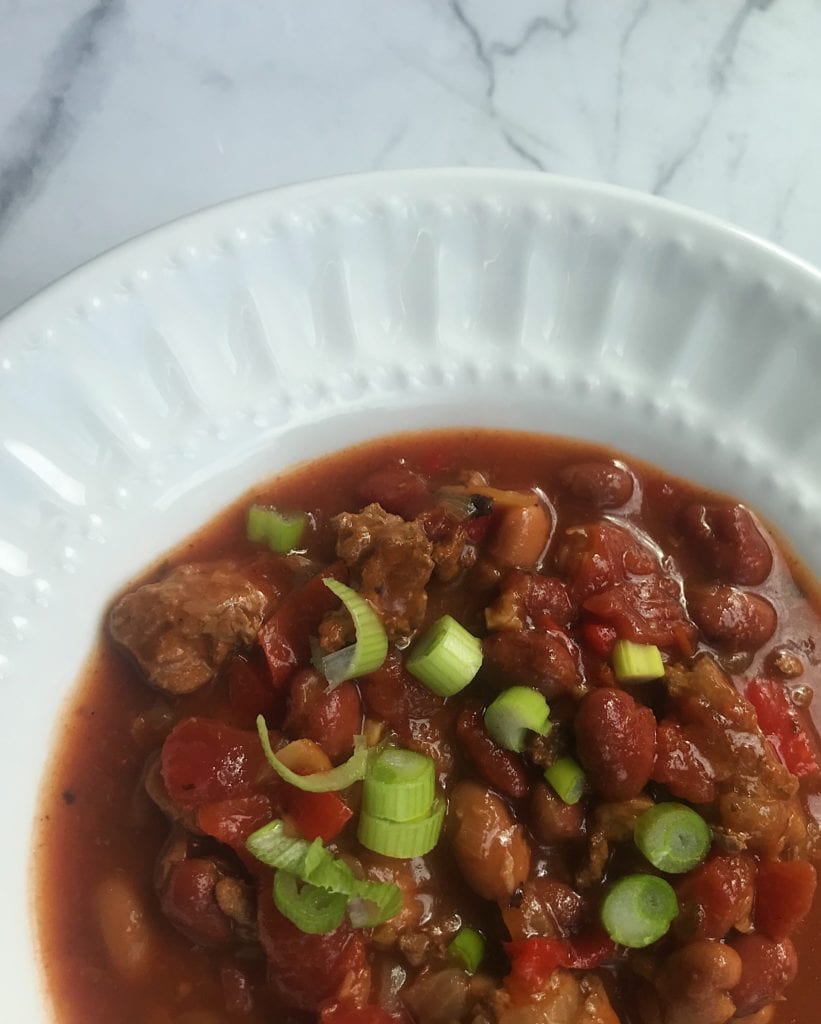 Ingredients (6 servings):
1 Tbsp Extra Virgin olive oil

1 medium yellow onion, diced

4 cloves garlic, minced

½ lb ground turkey (optional)

1 bell pepper, diced

1 15 oz. can pinto beans

1 15 oz. can kidney beans (use 2 cans if omitting turkey)

1 15 oz. can diced tomatoes

1 Tbsp tomato paste

1 cup vegetable stock

½ Tbsp chili powder

½ tsp dried cumin

½ tsp dried oregano

¼ tsp paprika

¼ tsp cayenne pepper (optional)

1 whole cinnamon stick (optional)

Salt and pepper to taste

Scallions or cilantro, for topping (optional)
Directions:
In a medium skillet, heat olive oil over medium heat. Add turkey, onion, and garlic, and sauté until turkey begins to brown and onion is translucent, about 5-7 minutes. Season with salt to taste. If skipping turkey, you can omit this step, but sautéing the garlic and onions before adding to the slow cooker will add flavor, so this step is still recommended.

Add turkey and onion mixture to the slow cooker along with the rest of the ingredients. Stir to combine and cook on low for 6-8 hours. If you don't have a slow cooker or are in a rush, you can cook this over low heat on the stovetop for 45 minutes to an hour.

Top with scallions or cilantro and enjoy!
Roasted Brussels Sprouts with Toasted Walnuts (vegan)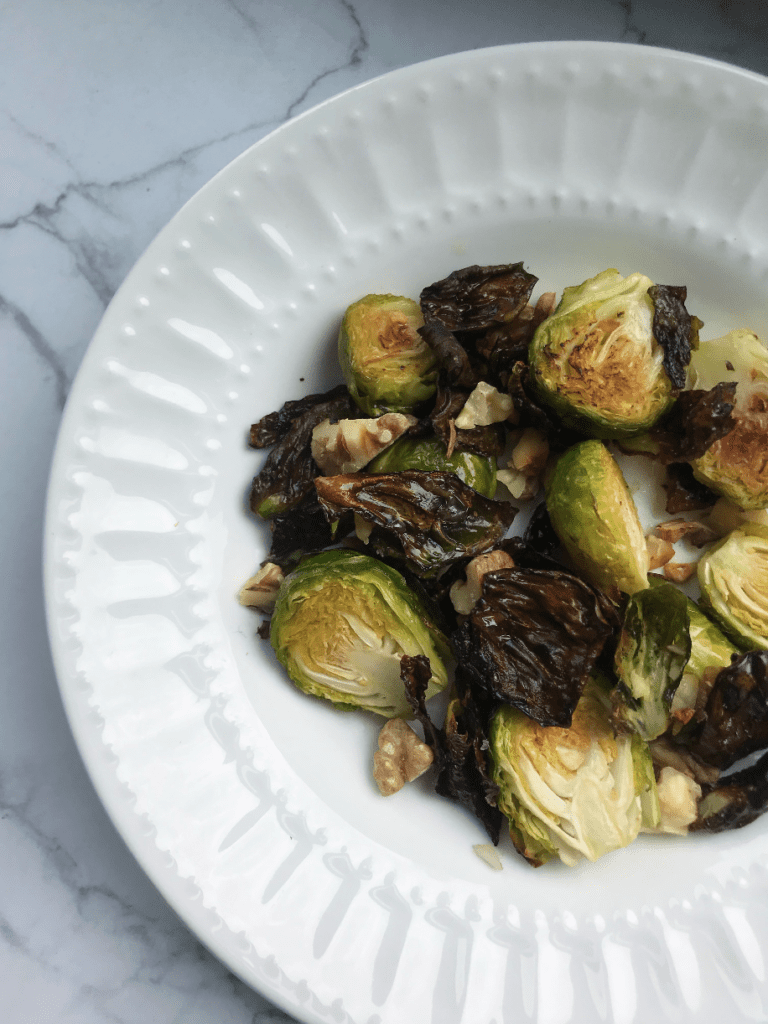 Ingredients (4 servings):
1 lb Brussels Sprouts, halved

2 cloves garlic, minced

1 Tbsp Extra Virgin olive oil

Salt and pepper to taste

¼ cup walnuts, chopped (can sub any other nut you prefer or have on hand)
Directions:
Preheat oven to 350ºF.

In a large mixing bowl, combine Brussels sprouts, garlic, olive oil, salt, and pepper. Toss to combine.

Transfer Brussels sprouts mixture to a sheet pan and roast in oven until golden brown, roughly 25-30 minutes.

Meanwhile, toast walnuts. Place chopped walnuts in a dry skillet and toast over low heat, stirring regularly, until walnuts are golden brown, roughly 10 minutes.

Top Brussels sprouts with walnuts.
Roasted Eggplant Hummus (vegan)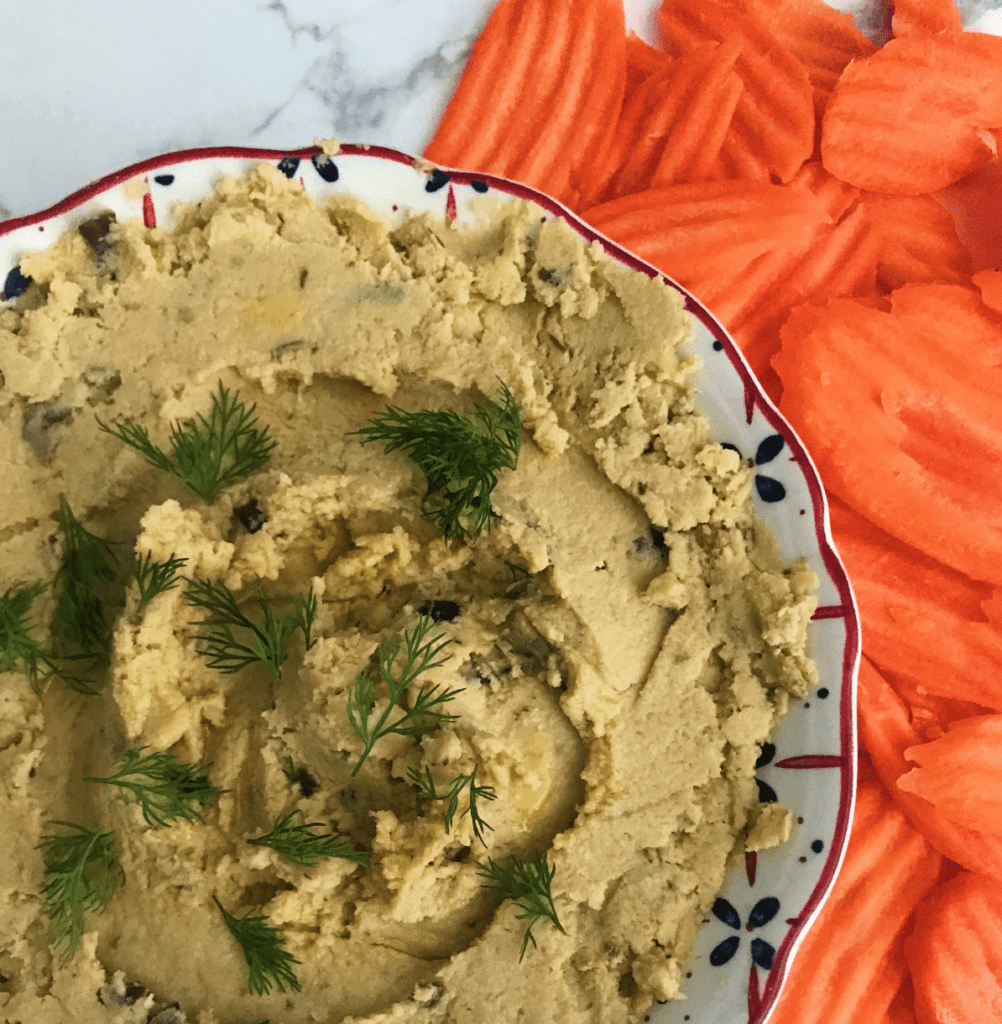 Ingredients (8 servings):
½ eggplant, cut into 1 inch chunks

1 cup canned chickpeas, drained (save liquid from chickpeas which is called aquafaba and works as a great vegan egg substitute for baking!)

Juice of 1 lemon

1 clove garlic, roughly chopped

2 Tbsp tahini

2 Tbsp Extra Virgin olive oil

Salt to taste

Fresh dill for topping (optional)
Directions:
Preheat oven to 350ºF.

Place eggplant chunks on a paper towel lined plate. Sprinkle with salt and let sit 20 minutes, pat dry with paper towel and transfer to a sheet pan. Bake until eggplant is golden brown, roughly 45 minutes.

In a blender or food processor, combine eggplant, drained chickpeas, lemon juice, garlic, tahini, olive oil, and salt. Blend until mixture is pureed.

Transfer to a bowl and top with fresh dill if you're feeling fancy. Serve with whole wheat pita or veggies.