How Jillian Lorenz Built The Barre Code, a Fitness Empire that Empowers Women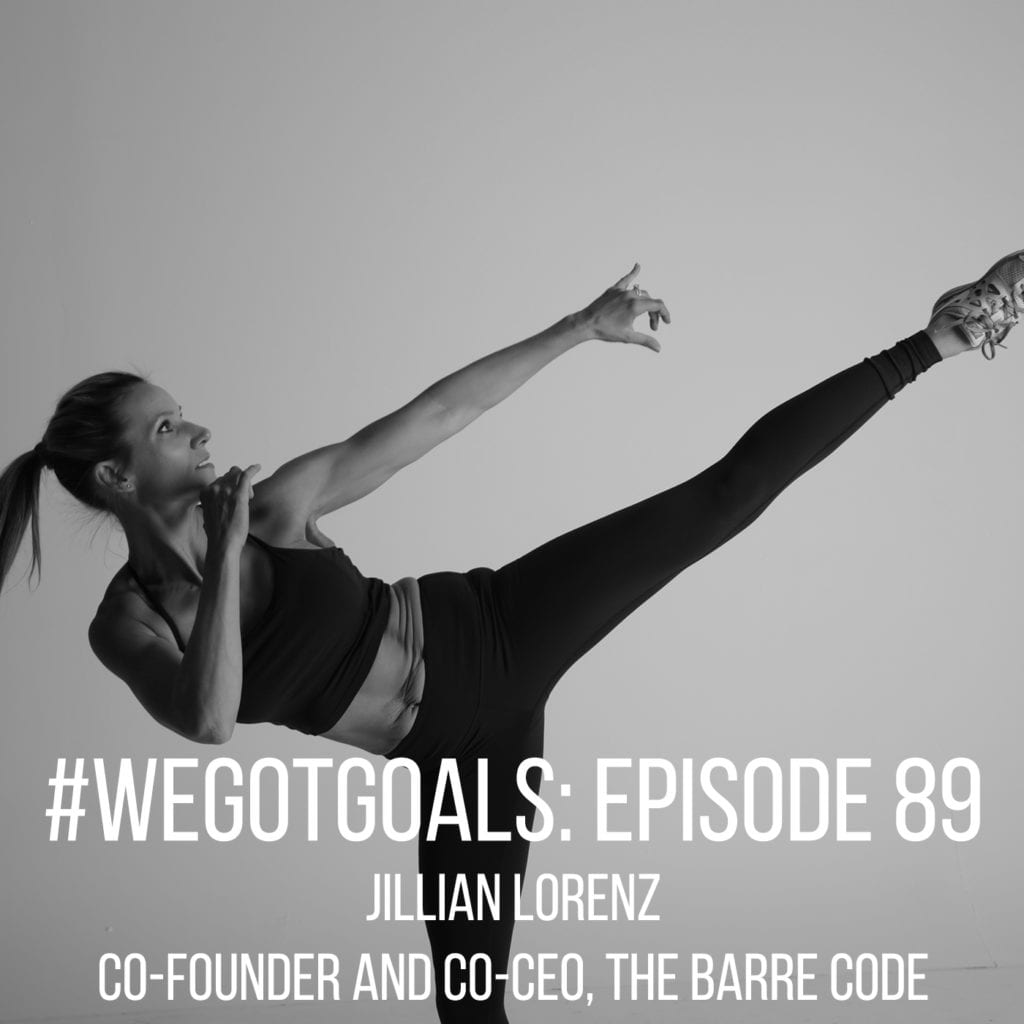 When The Barre Code first opened its doors in River North eight years ago, there was something different about it from the start.
Rather than touting what women could lose—weight, say, or "cottage cheese"—founders Jillian Lorenz and Ariana Chernin instead put their focus squarely on what each and every person who walked in the doors could gain.
"Our studios are so much more than just fitness," Lorenz told me at a special live recording of #WeGotGoals at the Hotel Moxy in Chicago. "We use fitness as a vehicle to provide self-acceptance and love to ourselves, and then support others in their pursuit to find their own."
The approach helped start a sea change in the fitness world overall, Lorenz said. Now that The Barre Code is a national franchise—with 59 locations sold and 31 open, and plans for an even larger expansion—she hopes they'll continue to set the tone for a broader definition of well-being.
Launching that franchise program is one big goal Lorenz is particularly proud of, and getting there was more hard work than it may seem from the outside. Ensuring the brand stays intact as it grows has required first carefully selecting studio owners—"they're likeminded women; they're passionate; their work ethic is solid and strong," Lorenz said. "They breathe, live, and sweat The Barre Code."
Then, her team works incredibly hard to make sure these franchisees have all the tools they need to deliver not only a kick-ass workout, but a total empowerment experience. "Spreading the sparkle dust" involves not only inspiration, but also nuts-and-bolds deliverables like an intranet and step-by-step guides to launching a business and marketing.
Being an entrepreneur and the co-CEO—she and Chernin share the title, something else she discussed in this episode—while also growing a family hasn't been easy. Lorenz just had her third child, a son named Lyric, and she said that's put her life in a bit more flux.
She balances it all by surrounding herself with a great team, including a partner she trusts and adores. "Life as an entrepreneur is hard," she said. "You have to do it with somebody you really love."
That person doesn't have to be your soul sister necessarily—though she said Chernin is "like a sister to me"—but you do need to pair up with a person you appreciate and trust and with whom you can evolve and explore new ideas and interests. "You have to really respect and care for that person so that you can make it through together," she said.
She and Chernin balance each other out in part because "she's the more aggressive go-getter natural entrepreneur … and I worry a lot by nature," Lorenz said. But a change she made last year in her daily routine proved particularly useful in managing that worry: incorporating just 10 minutes of daily meditation.
To do it, she set aside a block of time at the same hour each day, then experimented with different guided meditations and videos—including Headspace and Abraham Hicks. "That small change of 10 minutes really changed a tremendous amount of stress in my life," Lorenz said. Not only was she able to navigate pregnancy with much less anxiety, she felt the benefits carry over into her work life, too.
"Being a CEO of a company this size, you have to have a clear mind and you have to have a positive outlook because things are never going to go as planned," she said. "You can do all the preparation work, but things are going to come up and you have to take it in the moment and make decisions."
With that sense of focus and purpose, she and her team plan to continue taking The Barre Code in new and trend-setting directions. She and Chernin recently brought on their first partner, a company that specializes in franchising, and are looking to eventually go global.
And, they're also taking the experience to where the customer is, partnering with the SweatWorking app to deliver mobile workouts "so people can Barre Code with us out of their homes."
Listen to the full episode to hear more, including how The Barre Code delivers the same message of self-love and empowerment through your phone; her advice for fledgling fitness entrepreneurs; and how you can take a class with Lorenz (and even with Lyric).
Like what you hear? You can subscribe to the podcast on Spotify, Apple Podcasts, Overcast, or any other podcasting app. And if you don't mind adding a rating or a review, that helps other people find the show too.