#DelosYourself Anytime, Anywhere With the Delos Channel on the SweatWorking App
From shin splints to tech neck and tight hips to weird noises your body makes, we've worked with the experts at Delos Therapy to help you treat your tight muscles and relapsed injuries through our #DelosYourself series. And while we KNOW you've appreciated seeing our faces in our very candid, very #nofiltered images, we realized it was time to upgrade this content series to the next level.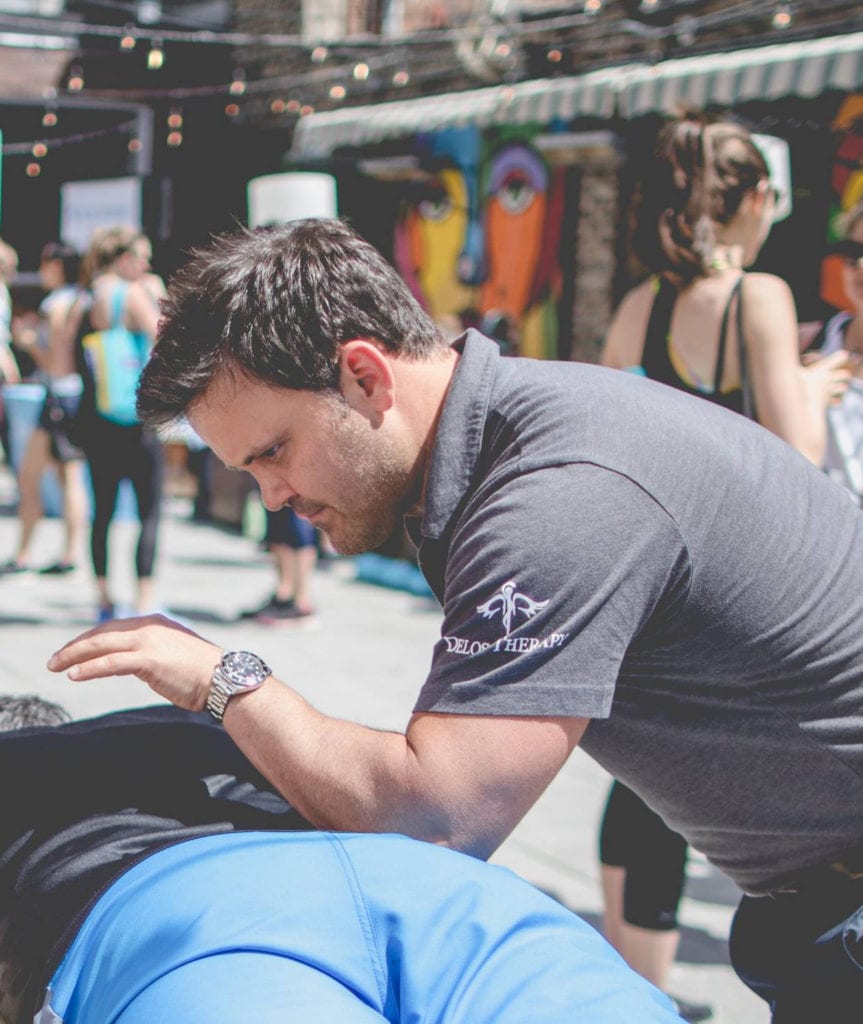 That's why, starting today, you'll find Delos Therapy on the SweatWorking app as a free channel (!!!). We worked with co-founder Eric Owens to show you how to relieve your tight or aching muscles, from plantar fasciitis to IT bands and beyond. You'll use tools like the Thera Cane and a lacrosse ball to apply pressure to your tight muscles, restoring pliability and relieving pain without having to leave the comfort of your own home.
If you're new around here and wondering what the heck Delos Therapy is, Delos offers precise, innovative therapy for chronic pain, muscle stiffness, and athletic injuries. Their therapists apply intense pressure to the affected muscle, restoring muscle pliability and eliminating tightness to restore muscle health and get you back to hitting those PRs in the gym while staying pain- and injury-free. Basically, they're total magicians, and we love having their #DELbows at #Sweatworking events.
But we know it can be tough to make time to get yourself to a Delos location. That's why we decided to partner with them to give you the video instruction you need to Delos yourself at home. Each video is 15 minutes or less in length, and you'll watch as Owens and a demonstrator work through a particular muscle or muscle group. Owens explains exactly what muscles you're treating, how they affect the areas around them, and gives clear cues so you know exactly where you're applying pressure on your body.
You'll finish each session feeling looser and more mobile, ready to tackle your next workout or your regular day. And of course, you can always supplement your Delos sessions on the SweatWorking app with in-person appointments at one of their four locations—your initial evaluation with treatment is on the house.
Ready to #DelosYourself at home? Download the SweatWorking app here and then find Delos Therapy via the "Channels" tab. Or, go straight to the Delos channel right here. Make sure to review and leave comments after you finish each session to help the community!
Disclaimer: This post includes affiliate links, meaning we'd earn a small commission if you purchased through our site. It doesn't cost you any extra, and it helps us keep the lights on. Thanks for your support!