My Worst Fitness Nightmare Came True — Here's How I Survived
It was one of those mornings. I was running a few minutes late as I frantically ran up the steps to the gym.
I was trying out a new strength class and wanted to make sure I got there early, but that wasn't happening. At this point, I was hoping I could find a place in the back of the class and blend in.
Of course, the studio was packed. I rushed in, looked around and grabbed the only space I could find. To my horror, the instructor noticed me frantically trying to set up my equipment.
"You won't have enough room back there," she called from the front. "Come up here next to me." All eyes followed me as I crept towards the front of the room, awkwardly juggling my mat and weights.
She motioned to the spot next to her. I had no choice but to set up even with her – it was like we were co-teaching the packed class.
"Have you ever done a Step Class before?" she asked.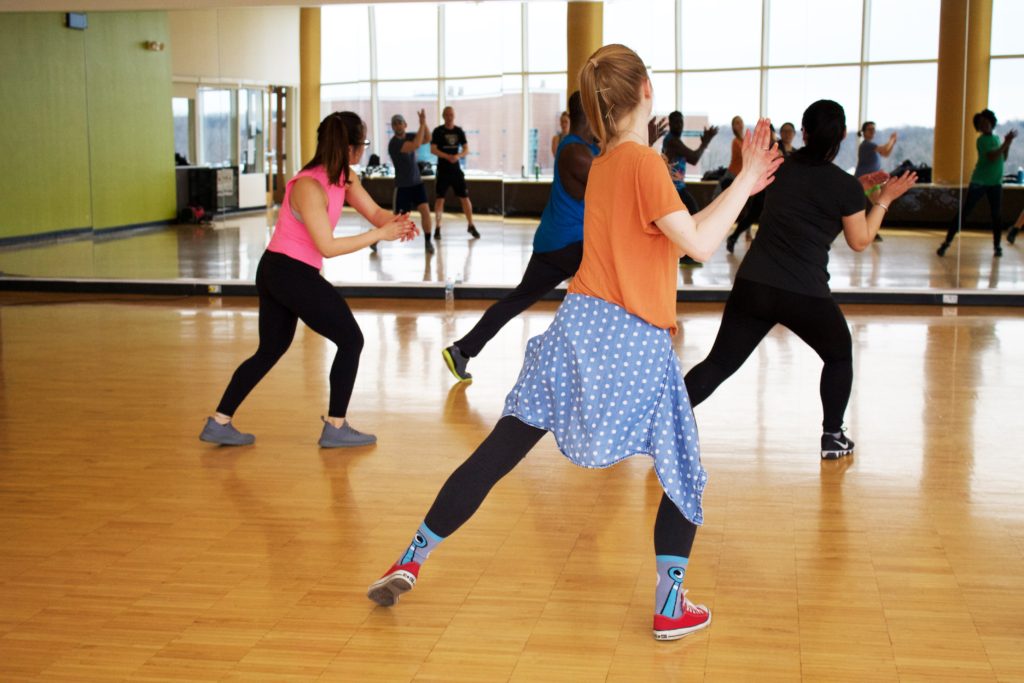 Panicking, I looked around, slowly realizing that those around me didn't have the usual strength gear – it was all Zumba and ankle weights.
This was NOT the HIIT class I thought it was.
As the instructor quickly explained that this would be a Zumba/Step fusion class, my mind quickly went to worst case scenario mode. I was new to the gym and didn't know anyone. I was the new girl about to embarrass herself in front of EVERYONE – it was my fitness nightmare. Not only was I about to take a dance class, but I had to be FRONT AND CENTER. I was about to make an absolute fool of myself.
Peppy dance music started blasting, and the class jumped into a rhythmic warm-up. Before I knew it, I was tripping over my feet as I desperately tried to follow the instructor through the mirror.
You need to understand that I can't dance. I tried when I was younger, and sure, it's cute when toddlers have no rhythm and coordination. I hoped one day I would wake up with the grace and poise of a dancer, but that never happened. The highlight of my short-lived dance career was when I accidentally kicked off my tap shoe during my final recital. At least I knew how to go out with a bang!
I glanced around the room, convinced that a group of Beyonce's surrounded me. They knew every move, combo, and routine. They were confident, graceful and clearly having fun, while I kept stumbling and turning the wrong way. You know those workouts where you feel invincible? This workout wasn't one of them.
I desperately wished my friends and family could see me sashaying across the room. I couldn't wait to share this with them. I started giggling as I pictured their reactions, which didn't help my coordination.
The music got faster, the combinations got more complex, and while I was still mortified, I started to have fun. I even made up combos – I figured I'd blend in better if I kept moving. I'm sure no one behind me mistook me for the instructor, but they certainly weren't laughing at me. (At least not to my face)
When the last song ended, I wanted to sprint out of there and forget it ever happened. However, I couldn't deny the positive energy and sense of accomplishment in the room. The women behind me were smiling and congratulating themselves on a great workout. I had survived – no one came up to make fun of me, no matter how atrocious my dancing had been. (And the dancing was terrible, like so bad.)
It was a humbling reminder that we all start somewhere. We won't always be the strongest, most coordinated, or most enthusiastic person in every workout – but that's okay.
And besides, between the sheer embarrassment and cardio moves, I sweat my ass off that day.