How Dr. Mark Cucuzzella Goes Slow to Go Fast—Really Fast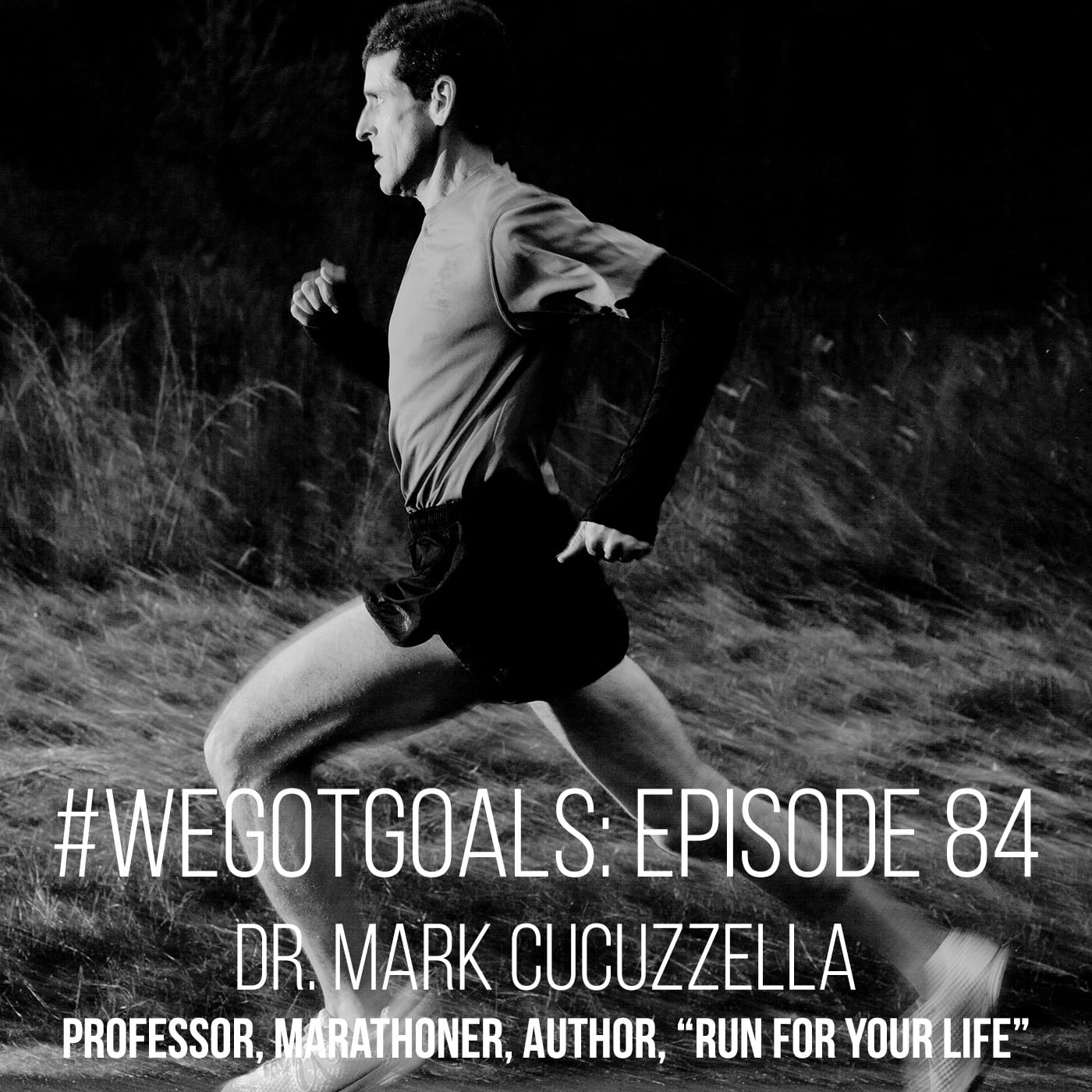 Dr. Mark Cucuzzella is the author of the new book Run for Your Life—all about how to achieve longevity in the sport—and has finished marathons in under three hours for 30 straight years. But at one point earlier in his career, he was told he'd have to give up running altogether.
For this week's episode of #WeGotGoals, I caught up with Cucuzzella in Austin at The Running Event, a trade show for running retailers. The way he overcame setbacks serves as a powerful example of charting your own path to your goals—and how slow, steady progress really can lead to major accomplishments.
Cucuzzella—who's now a professor at West Virginia University School of Medicine, a family physician, shoe-store owner, and race director, among other titles—started running in high school. Back then, he told me, coaches and sports scientists didn't understand nearly as much as they do now about training methods and biomechanics. "We just ran as hard as we could until we broke, repeat," he said.
He continued to train through college and beyond, finding the sport provided a welcome source of stress relief and focus during medical school. And he ran well—he came close to qualifying for the 2000 Olympic Trials in the marathon. The time he needed was two hours and 22 minutes; he ran a 2:24:42 at the Chicago Marathon in 1999.
But he was still training hard, putting his body through more than it could bear. After that race, he needed surgery to correct a bent big toe and arthritis in his foot. His doctors said he'd never run again, at least not any more than a jog—and definitely not at a competitive level.
By then, Cucuzzella knew enough not to accept that without questioning. "I'd realized pretty early in my medical career … things were constantly changing," he said.
Referencing a historic Harvard commencement address, he said: "Half of what we learned in med school is wrong. We're just spending a career trying to find out the half that's right."
Besides, he had a border collie mix who wasn't satisfied with walking. So, he began jogging slowly. About six months later, he lined up at the Marine Corps Marathon without ever picking up the pace on this training runs—and finished in less than two and a half hours, taking third place.
What's more, he felt a sense of peace and joy while doing it: "I'd never felt that easy before in a marathon," he said. "it just opened the doors to all the things yet to discover."
Since then, he's kept nearly all his running easy, only speeding up during a few key workouts leading up to a race. As a result, he hasn't missed a day due to injury. His low-key approach to training and his method of open-minded self-experimentation, rather than blindly accepting conventional wisdom, form the basis for his career—and his new book.
It's a volume jam-packed with ways to assess where you are as an athlete and suggestions for small changes based on the results. "It's like a little menu," he said. Using the self-tests he provides can help you identify your weaknesses in mobility, nutrition, and even sport psychology—whether that's tight hips, an over-reliance on sugary carbs, or a mind panicked by stress—and start to shift them so you can not only run more and better but also live a longer, healthier life.
And healthier is the key, Cucuzzella stresses. Though Americans tend to live long lives, our "healthspan"—the amount of time we survive without major medical problems—ranks low. Fortunately, he said, there's a lot we can do to care for our bodies and reduce our risk of chronic diseases.
Listen to the full episode of #WeGotGoals to hear more about how Cucuzzella is trying to put his ideas into action on a larger scale (for instance, speaking out about his opinions on the Dietary Guidelines for Americans); how writing the book was like running a marathon (or perhaps 19 marathons); and how big goals and challenges like races add not only motivation but also meaning to our lives.
Like what you hear? You can subscribe to the podcast on Spotify, Apple Podcasts, Overcast, or any other podcasting app. Adding a rating or a review, if you're so inclined, helps other people find the show too.
And don't stop there, goal-getters—YOU could be featured as one of our real-life goal-getters in an upcoming episode. Just send a voice memo with your first name and your hometown, then a goal you've crushed, a goal you're eyeing, or your best goal-getting tip to me at [email protected].