How Keturah Orji, Olympic Athlete, Wants to be Remembered
"The Lord has not given us a spirit of fear, but of power, love, and a sound mind."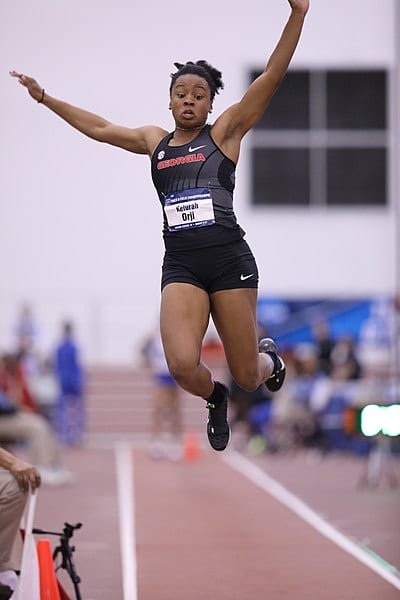 The verse that American track-and-field athlete Keturah Orji says to herself before every competition not only keeps her calm but also captures her essence perfectly. In just a twenty-minute conversation, I was fortunate enough to learn about Orji's journey as well as how powerful, loving, and compassionate she has been and continues to be throughout her athletic success.  
After dreams of being an Olympic gymnast fell through, Keturah joined her Mount Olive High School's (New Jersey) track team as a sophomore. It wasn't long before she realized that perhaps her gymnast background had prepared her to excel with her greatest talent: triple jump. Keturah broke her high school record, set a New Jersey state record, and proceeded to compete at the collegiate level at the University of Georgia.
During her time there, Keturah won 8 NCAA championships: 7 in triple and 1 in long jump. As a sophomore, she qualified for the Olympics in triple jump and finished three centimeters out of a bronze medal. Keturah now has her sights set on the 2020 Olympics in Tokyo, where she has the opportunity to be the first American woman to win a medal in the triple jump in the Olympic games.
Although very strong, driven, and passionate about her sport, my favorite part about Keturah is how humble she is. As I was asking her about all her success, she responded graciously; and as the conversation shifted focus to the people and causes that she cares about most, it became obvious that Keturah would much rather spend her time boasting about all of that instead.
One of Keturah's most passionate topics is actually a mentorship program she created during her time in college called "Amara's Pride"; Amara meaning grace or gift, and pride referring to a pride of lions. "Lions are king of the jungle, but they're also the queens of the jungle," Keturah reminded me.
The program serviced 8th graders in a low-income area, and Keturah soon learned that the participants didn't value education nor have much self-worth. Keturah set up each participant with a mentor, and the group met regularly to talk about things such as self-worth, goal setting, future plans, etc. Their mentors would then listen to their stories about social situations they were struggling with and helped them to come up with solutions. The group made vision boards, volunteered in the community, and really formed a bond over the course of the program.  
"The last day of the program, we asked for feedback, and they said they loved the time and wish they could have it more often," Keturah recollected. "They loved sharing their time and stories with their mentors."
As someone striving to become a historic athlete, Keturah wants young women to know that they can be themselves and do great things in life. She admits that there are still challenges that women face, and she would like to continue to inspire young women to face them head on.
"When we try to give our opinion, it's not fully respected or fully heard," Keturah described. She also spoke of the fact that there are still multiple expectations for women who practice in high-level athletics, some that men don't always have to deal with.
To anyone looking to be a record breaking athlete, Keturah advises, "Never doubt yourself. You can accomplish everything you want to. Keep working hard, but have fun with it."
Perhaps Keturah is able to be such a strong mentor because of the strong women that have helped guide her through her life and career as an athlete.
"The person I am today is because of my mom," Keturah gushed. "Her character, personality, and faith in God are all in me because of her."
Keturah also attributes her inner strength to Avita, her pastor's wife. "Whenever I have to make difficult decisions, I always go to her. I look up to her."  
And this whole, beautiful journey has led her to amazing things… and the most amazing one is officially on the horizon.
"The thought of being the first American woman to win a medal in the triple jump at the 2020 Olympics gives me chills," Keturah began. "The emotions that come with winning a medal are hard to put into words. It is something that I have always dreamed of, but for it to actually happen would be incredible. It would mean all of my work and effort has paid off, both the highs and the lows."
"[Winning a medal] would be a way to leave my legacy in the sport of track and field, especially the women's jumps," Keturah continued. "I hope I can pave a path for future USA female triple jumpers to know that they can achieve this milestone too."
Of course, Keturah always manages to turn the conversation from talking solely about herself to talking about impacting others. And ultimately, that is how she wants to be remembered.
"The main way I want to stand out is in my passion for helping others grow, especially young women. I hope who I am stands out above all else. I want people to remember me for my personality — genuine, funny, caring, humble — rather than just a successful triple jumper."