Cold Busting Vegan Carrot Soup Recipe
After five years in Los Angeles I developed a habit of reaching for juice and wellness shots every time I felt a cold coming on. But I just moved back to a colder climate and faced a brutal cold in late November — AKA a reality check reminding me that most people don't have perfect weather year round and might prefer something warmer and cozier in the winter cold and flu season.
This carrot soup uses all of the main ingredients I usually turn to in my cold busting juices so that I can boost my immune system curled up under a blanket drinking it from a mug. You can even make a big batch of this and freeze it to pull out every time a wave of sickness hits everyone around you, because let's be real, it always happens at the worst possible time — right before vacation, anyone?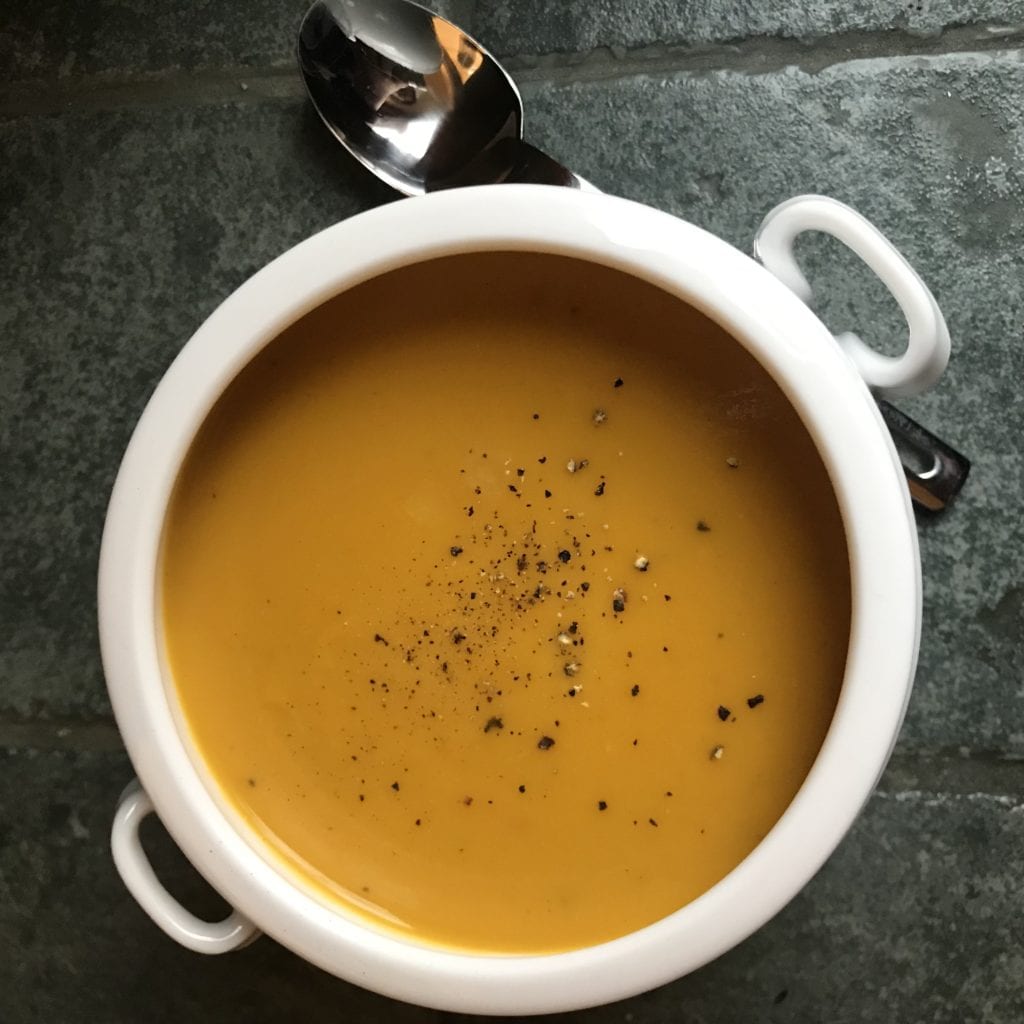 Diet and Immune System
The best way to avoid getting sick is to be sure to keep your immune system strong all year, because no matter how great one recipe may be, you can't do an overhaul on immune health with one bowl of soup. One of the best ways to do that is to eat a diet high in fruits and veggies, which this soup is chock-full of.
Vitamin C and Immune System
You've probably been told many times to turn to vitamin C when everyone you know is getting sick. That's because cells in our immune systems rely on vitamin C to perform their functions, so a deficiency in vitamin C can inhibit the body's ability to fight off certain ailments, like colds. Research suggests that vitamin C may not be able to prevent a common cold, but that an increase in it right before catching the cold can reduce the longevity of the cold — and may get you feeling better in time for that big trip you always have coming up right when a cold hits. One orange contains 51mg of vitamin C, or 116 percent of your daily needed vitamin C.
Vitamin A and Immune System
Just as important as vitamin C but less talked about when discussing immune health is vitamin A. Like vitamin C, vitamin A supports the immune system and a deficiency can be linked with infectious diseases, like the common cold. Carrots, the base of this soup, are major sources of vitamin A, with just one carrot providing over 200 percent of your daily vitamin A.
Inflammation and Colds
Inflammation is a major culprit for your nasty cold symptoms. Curcumin is the component of turmeric that you've probably heard boasting its anti-inflammatory properties all over social media. Likewise, ginger has been found to have anti-inflammatory properties and can help ease the unpleasantness associated with colds.
All of the ingredients featured in this soup are great for helping ease or fend off a cold, but unfortunately there's no surefire way to make sure you avoid getting sick during cold and flu season. So just in case you do catch that cold, the cayenne gives this soup the perfect amount of kick to clear out those sinuses!
Ingredients:
1 Tbsp extra virgin olive oil

1 yellow onion, diced

2 cloves garlic, minced

1 lb carrots, peeled and cut into one inch chunks

2 inch piece ginger, peeled and grated

2 inch piece turmeric root, peeled and grated (or 2 tsp of dried turmeric if you can't find turmeric root in the store!)

Zest and juice of 1 orange

4 cups vegetable stock

¼ tsp apple cider vinegar

¼ tsp dried cayenne pepper

¼ cup coconut cream (heads up —

 this can be found in cans now! But, if you can't find pure coconut cream, you can use a can of full-fat coconut milk, pour off the water, and save the cream as a substitute)

Salt and pepper to taste
Instructions:
In a large stockpot, preheat olive oil over medium heat. When oil is heated, add onions and sauté until translucent, 5-7 minutes. Then add the garlic, ginger, turmeric, and orange zest and sauté until garlic is fragrant, 1-2 minutes.

Add carrots, vegetable stock, and orange juice and simmer, covered, until carrots are tender, roughly 30 minutes.

Transfer soup to a blender and blend in batches into a puree. You can also use an immersion blender and complete this step in the pot.

Mix in apple cider vinegar, cayenne, and coconut cream, season with salt and pepper.