NW Method Creator Nicole Winhoffer is Where Fitness Meets Art
"Believe in yourself!" Nicole Winhoffer roared from stage at the Propel Co:Labs Fitness Festival in Chicago in a black asymmetrical jumpsuit standing next to the star of stage and screen, Chris "Ludacris" Bridges. As fringe cascaded down one arm, she confidently demonstrated a dance move with a single, bare, stanky leg.
Winhoffer has been a lifelong performer, often given the credit of being "Madonna's former trainer," but she's danced professionally for as long as her memory will allow her to recall. And she has visions for a big future with her growing brand, NW Method.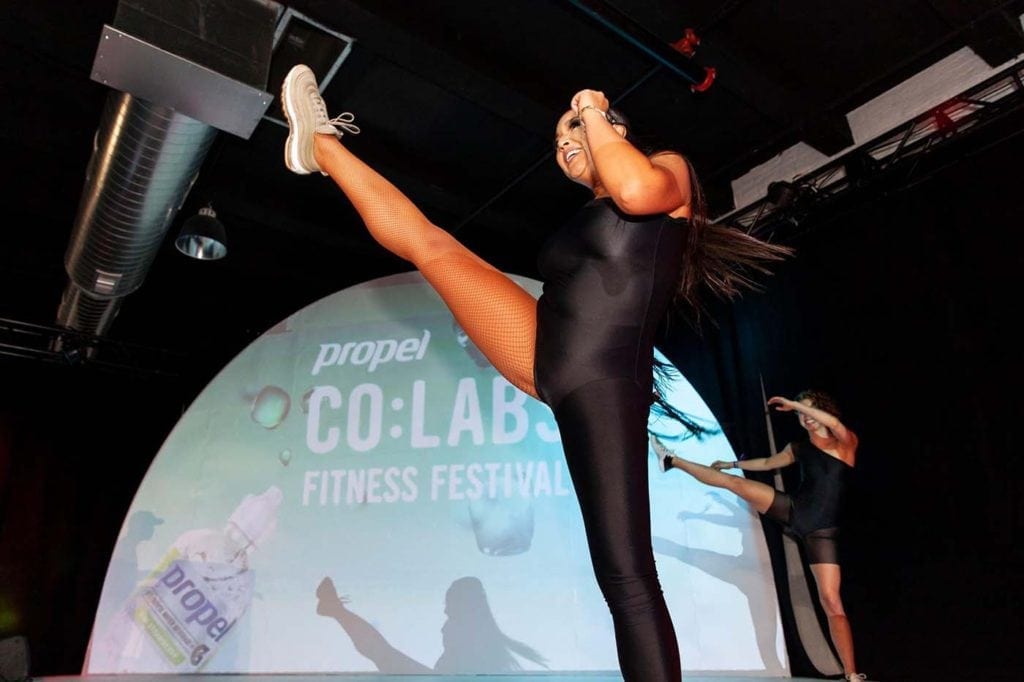 Finding dance
At the beginning, crafting her artistry was as much of an escape as it was empowering – an experience she looks back to as she works with clients.
"I grew up in a Filipino-German household and I was a Catholic girl. I wanted an escape" she said. "When I was seven, I started dance classes and I just felt so happy and free – it's like the best healing process."
At 16-years-old, Winhoffer pursued dancing professionally. She took short drives into New York City for auditions and inevitably landed a role on Broadway's 42nd Street. Nicole started working and never looked back.
"I was able to graduate high school my senior year on the road. I did not go to my senior prom, but I was able to graduate and start working at a really, really young age," she recalled.
Also on her list of credits? Broadway's Wicked, a play that's known for its poppy soundtrack that I'd guess she still hums in the shower.
Becoming an artist
And after meeting Madonna – yes, THE Madonna – Winhoffer trained the performer and her dancers, developing the NW Method while co-creating the Hard Candy Fitness brand.
Winhoffer described her grueling schedule and everything she learned from the "Like a Virgin" Performer in Forbes: " I traveled on two of Madonna's world tours with two mobile gyms, stopping at 90 different cities within 9 months. The goal was to create the exact same experience for her, no matter where we were. It was intense, as I needed to communicate with people that didn't speak English, and operate in countries that had different products, within environments that had different temperature extremes. I had to be well prepared, and always have a backup plan. Lessons learned … Prepare. Be patient. Arrive early."
And when Winhoffer struck out on her own, she followed the instinct that led her to dance in the first place. Embracing the practice of physical movement, sure, but enhancing the connection to the spiritual – mind, body and soul.
"People don't realize how powerful they truly are. And I like to help people transform and shape their bodies, their minds, their hearts, and their spirituality. And give them the power that maybe they've forgotten or didn't think was possible," she said. "I like to think of myself as a fitness artist because I create a magical world of wellness and use each person's body as a vessel to shape them into their infinite possibilities."
Finding the power to touch people through fitness
To be in a room with Nicole Winhoffer is to be seen by her.
From beginning to end, NW Method classes are an experience meant to create a collaborative out of a room full of people. I've experienced this first-hand and the first time I took her class, I didn't understand how deeply she cared about each person's experience.
In Los Angeles, I crash landed in a Nicole Winhoffer class at the 2017 Propel Co:Labs fitness Festival, stumbling into the room late. I thought I was entering through the back door, but I may as well have entered from stage left. Winhoffer pointed at where to stand in the room and I dutifully took my spot, listening intently as she held rat-a-tat dialogues with students in the room. Assuming they were regulars, I considered how hard it must be for her to keep up with all those names as she serves communities in Los Angeles and New York City.
But in 2018, at the Propel Co:Labs fitness Festival in Chicago, I arrived with ample time to get a spot near the front of the classroom built for 600 people. There early, I caught soundcheck and danced along with Winhoffer as she asked everyone in the room to tell her their names.
"JEANA!" I shouted. "WILL!" I heard two rows back. The list of names continued to stack, but as the real workout within a concert took off, Winhoffer engaged with each person whose name she'd learned.
She has a gift to make people in her presence feel important.
I asked Winhoffer about this.
"I have a gift of intuition that I've been exercising and it's the ability to see people," she said immediately. "In order for me to connect with people, I need to feel them. So that means being really personable. Being really truthful. Knowing their names, what sign they are."
Winhoffer is a Scorpio, by the way, recently celebrating her 34th birthday with far more accomplishments than years to celebrate.
A spot on Khloe Kardashian's Revenge Body. The launch of Transformation Nation, an at-home 12-week training program. Creating a nationwide network of NW Method instructors and junkies. But the most notable accomplishment? The amount of times she's gotten back up and kept going after a setback.
"I'm constantly pitching ideas to brands and people. And I've been told no a million times. I think people see the glory or what people paint on social media as like all of the progress but I've been told 'no' way more."
Find Winhoffer teaching classes online and across the country. If you have a chance to work out with her in real life, try to be on time. I can promise it's worth it.